Avian World's Yin & Yang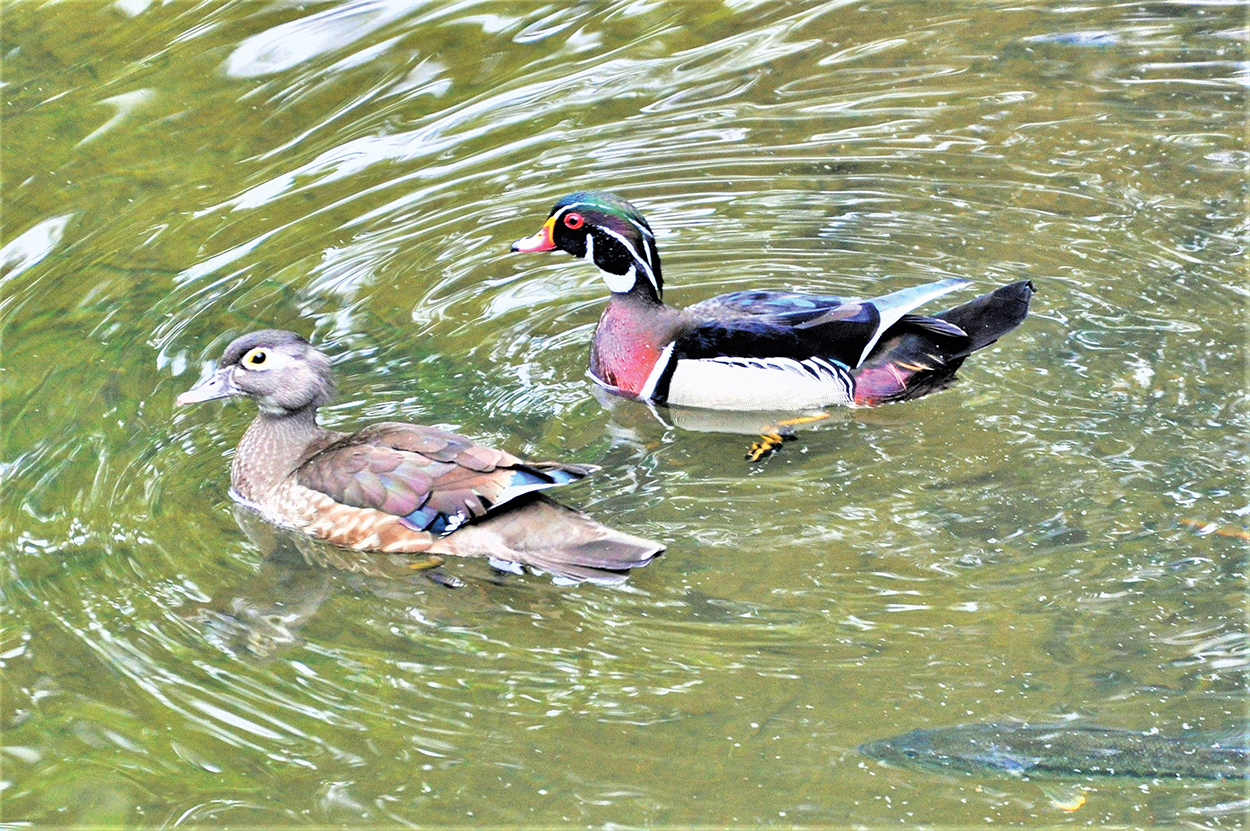 Written By: William McReynolds - Highlands Plateau Audubon Society | Issue: 2021/10 – October | Photograph By: William McReynolds
It's always Showtime! Wood Ducks are a classic example of guys sprucing up to charm the ladies.
---
Among birds, the males of the species often sport bright plumage and perform elaborate displays. Females, by contrast, are understated, even drab, in plumage and manner. 
We know intuitively that these differences are about mate selection. He is built to get her attention and she is hesitating in her choice.
In the barnyard and in ornithology, peafowl show the most obvious gender dimorphism, male-female differences in size and appearance. Male peafowl or peacocks seek favor with peahens by extending and fanning out the elaborate tail feathers they drag around every day. What an effort all that must take. The peacock's demanding display vexed Charles Darwin who found it necessary to extend his theory of natural selection to include "sexual selection." 
The phrase "survival of the sexiest" soon followed.
Males display and perform; females deliberate and decide.
In the part of the avian world where males compete for female acceptance, the males are likely to be colorful and flashy. 
This is true among the woodland songbirds such as Cardinals and Goldfinch. Among waterfowl, male and female Wood Ducks, shown above, are very different. The male Wood Duck is a work of art. The female is sublime in her own modest way. 
Some male tropical birds have colorful and copious plumage and also dance and offer gifts to court the female. She is mostly unmoved but alert to the strong, fully expressed male who would father strong chicks and, perhaps, help her with guarding the nest. Females often favor more than one importuning courtier and her clutch might contain eggs fertilized by two or more males. 
In species where males and females form monogamous bonds, barn owls and geese among others, there is less male-female dimorphism: males and females look alike. What's more, in species where females compete with each other for nesting sites and mates, as is the case with some parrots, females are the more colorful gender. In the avian world, color is where color matters. 
The end result is a menagerie of winged creatures that populate and animate our lives in colors of yellow and blue, red and green, and with songs that are heaven sent. 
Happy October birding from the Highlands Plateau Audubon Society.
The Highlands Plateau Audubon Society, focused on enjoying and preserving birds and their habitats, is a Chapter of the National Audubon Society and a 501(c) (3) organization. For information on all our activities and membership, please visit www.highlandsaudubonsociety.org.
---
---