Adapting to Bears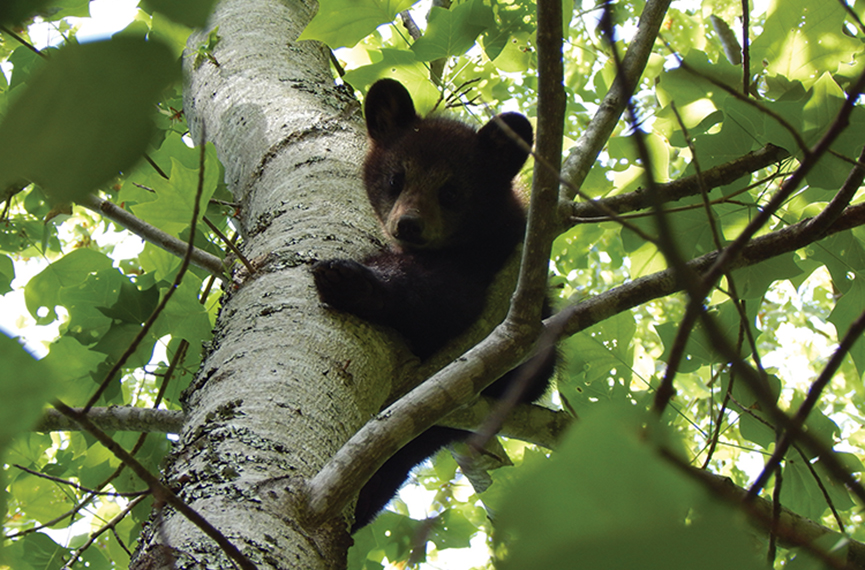 Written By: Donna Rhodes | Issue: 2016/01 - Winter
Nicholas Gould, a North Carolina State University doctoral student, has a bear of a job…and he couldn't be happier.
In partnership with the North Carolina Wildlife Resources Commission and the university, he's part of a five-year black bear study ending 2018. This is the first North Carolina study that focuses on the ecology of bears living in an urban/suburban area (Asheville).
The hope is that by capturing, collaring, and tracking bears, as well as ascertaining susceptibility to harvest in urban areas, determining causes of mortality, and locating dens, the team can formulate novel management guidelines to reduce bear conflicts, allowing people and bears to better coexist.
So far the team has captured 104 bears in the Asheville area, 87 of which were first-time captures. Residents have been eager to report sightings of both collared and un-collared bears, making citizen science a unique and rewarding part of the study.
The largest bears captured so far were two 500-pound males and a 300-pound female. But 2014 yielded a bumper crop of soft (berries) and hard (acorns and nuts) mast. When that happens, bears fatten up and females may have multiple births. In the first part of data collection, many of the captured bears have been labeled resident bears. This means that they live in the area in which they were captured and tagged. Based on GPS collar data so far, some bears spend less than five percent of their time inside city limits while others spend 90 percent in Asheville proper. Some bears are denning close to houses, roads, and highways. Residents might have a bear living near them and not even know it.
The collars that are used to track bears are iridium satellite GPS collars with additional VHF (radio frequency) capabilities. By the time the satellite gets the info to the computers there is a delay of about four hours and the bear has moved on. The collars are not as much about finding a bear but being able to track it to see where its daily activities are conducted. When bears enter the city limits the collar triggers an email to the research team helping them document where the bear has entered. And don't worry. Collars are designed to fall off over time so the bear will not wear one its entire life.
To date the team has learned that Asheville is home to potentially more bears than anticipated. Nick reminds us bears are opportunist eaters. If food is left out, it's an invitation to dine. Removing attractants is the key to coexistence. Cleaning grills, removing fruit from trees, securing garbage, keeping pet food inside, etc. will eliminate temptations.
"Bears have adapted to people now living in bear country, so we hope people can adapt to living with their bear neighbors," says Gould.
To follow Nick and the study's progress, visit facebook.com/urbanbearstudy or email [email protected].
---
---