A Trip to Rainbow Falls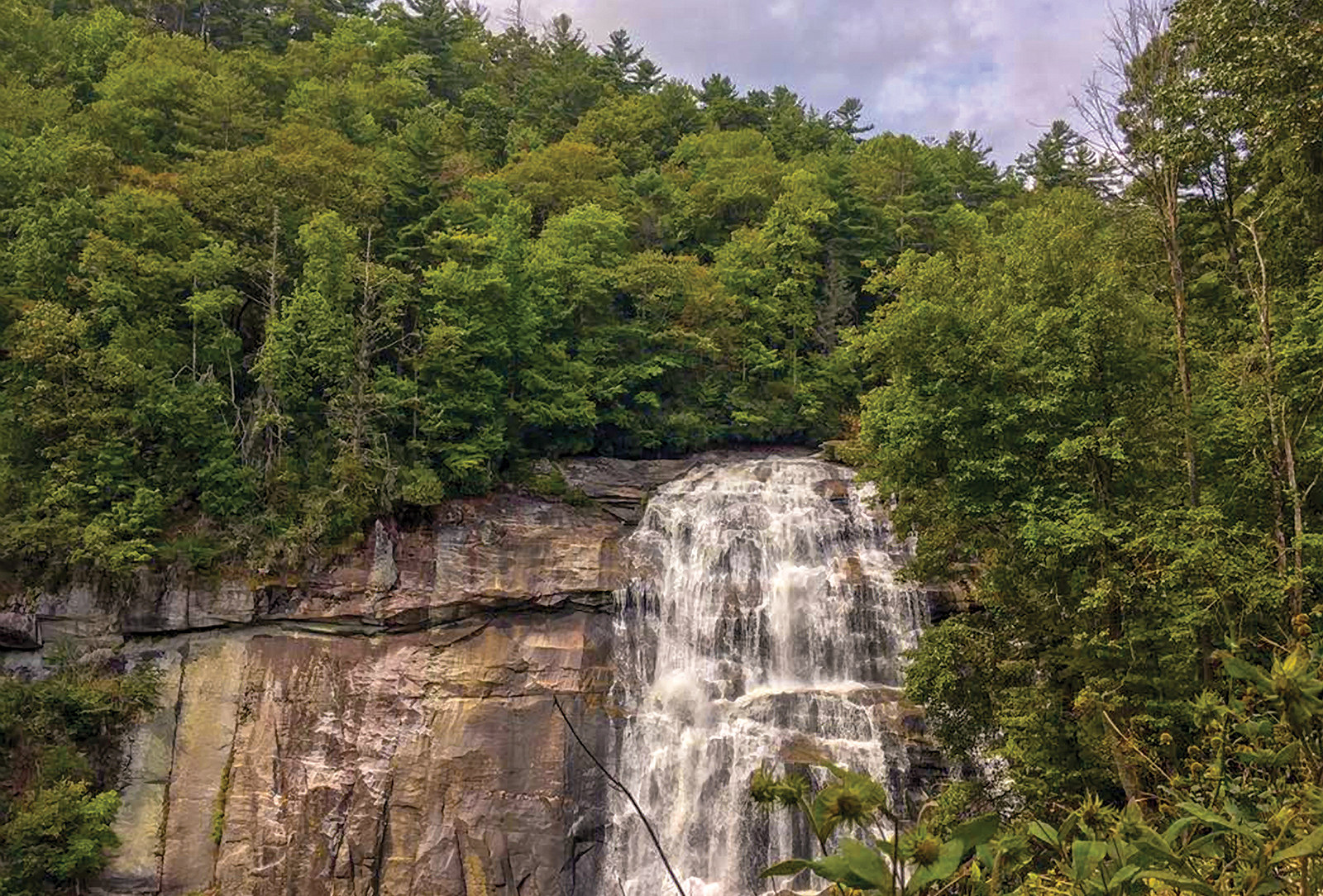 Written By: Emily Crowell | Issue: 2018/11 - November
Some aspects of nature seem made for interaction, while others seem built for contemplation from a respectable distance.
Rainbow Falls on the Horsepasture River in Pisgah National Forest is one of the latter.
This roaring cataract seems to make it into the news most years not because of its righteous thundering splendor, but because someone thinks it's a good idea to wade in the river above the falls and is then swept over the falls to their death. Let's go ahead and lay this ground rule: Don't wade in the river above huge, powerful waterfalls. The currents are stronger than you might think.
Okay? Okay.
The hike to Rainbow Falls is a moderate three-mile out-and-back that starts at Gorges State Park in Transylvania County. Follow the park sign toward the Rainbow Falls Trailhead, and then take the orange-blazed trail into the woods. The path starts out as wide gravel but gets narrower and dirtier when you leave the park boundary in almost a mile.
Don't be fooled by the quietude of the forest as you enter – the clamorous music of the river gets louder the closer we get to our destination. Most of the trail going in is a relatively steady downhill, but the last half-mile or so is uphill that can be steep at times. Luckily, we have steps built into the trail to help us lift ourselves up.
Rainbow Falls is right where it needs to be. You start to wonder how much more uphill this allegedly moderate hike has, stumble up over a rise, and there it is in its awesome glory. This is, of course, the spot to take a rest, take a selfie, take a snack break, take it all in.
I didn't linger long at the overlook, preferring to turn back around and take one of the side trails to the river further downstream. The day was just the right amount of overcast to park myself on a boulder in the middle of the river and hang out for a while. A small tree appeared to be growing out of rocks in the middle of the river just down from me, which may have been an optical illusion, but lent itself as an ideal object of contemplation regardless. Life will find expression one way or another.
Gorges State Park is a popular one, and it's inevitable that you'll meet many other people on the trail, so just accept that and move on. I leapfrogged with a family made up of a mom, a dad, a little girl who seemed to be using trekking poles for the first time, a baby hitching a ride on dad's back, and a bunny (who must have been a cousin of the velveteen rabbit) hanging floppy-eared out of the back of mom's daypack. That endearing sight was just as "worth it" as seeing Rainbow Falls.
To reach Gorges State Park, follow U.S. 64 East from the Cashiers Crossroads for almost 10 miles. Turn right onto NC 281-South (there's signage), and in almost a mile take a left into the park. Plan some time to poke around the visitor's center while you're there – there are interactive and informative displays inside that are fun for all ages.
---
---