A Bout with Trout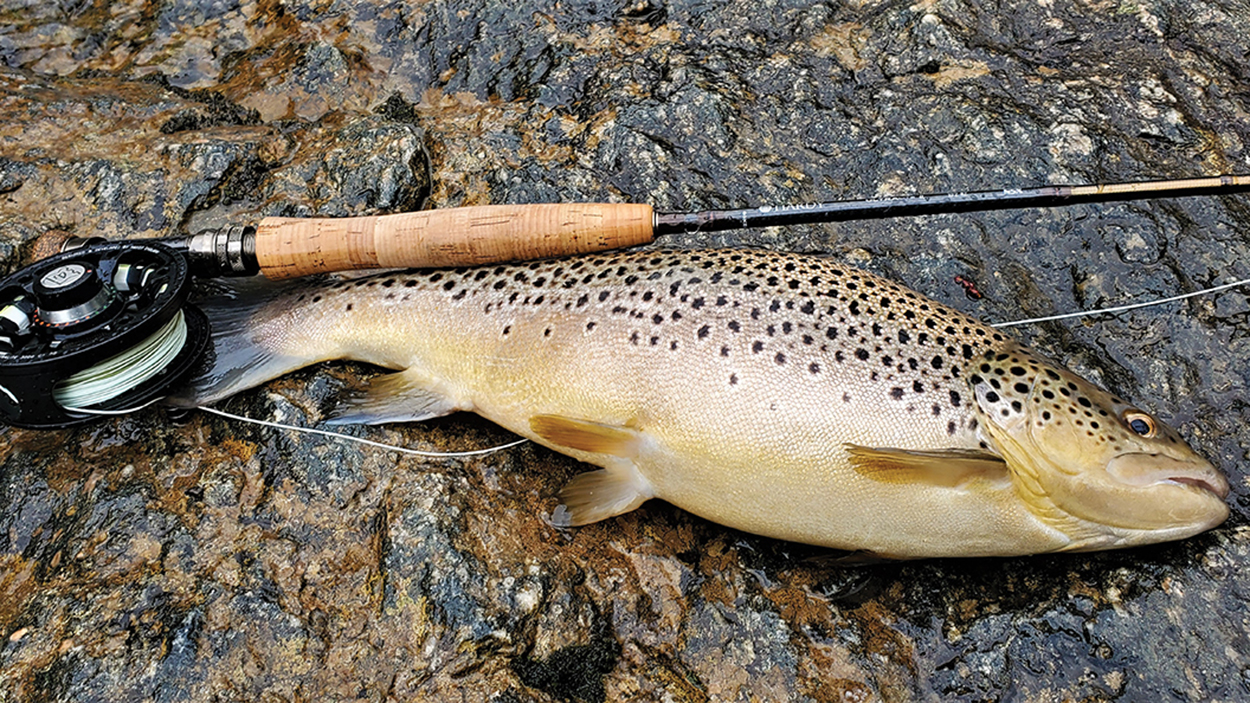 Written By: Kirk Dornbush | Issue: 2021/10 – October
Bringing in the Big Fish demands a herculean fortitude and an almost sisyphean resolve.
---
The mountains of Western North Carolina are old, really old, and wending through their valleys and gorges, carved by trillions of gallons of water deposited over millions of years of rain, are equally ageless rivers. 
  The Nantahala, the Tuckaseegee, the French Broad, the Davidson or the Chattooga, all have one thing in common: leviathan lairs. In these haunts lie big trout, pre-historically big trout, of iridescent color and beauty; the fish of my nightmares.
It's the 4-5 lb Falstaffian brown trout, that lives at the bottom of a pool on the East Fork of the French Broad, beneath a submerged ledge, feeding on crawfish and two-inch stoneflies, rising only for mice at dark;
It's the 2-3 lb rainbow that feeds on late-evening spinners in the scum line of a backwater eddy in the Davidson river;
It's the 12" brook trout, in the Tuckasegee headwaters deep in the bowels of Panthertown Valley, three miles away from the nearest parking lot, which maybe, just maybe, will take your Adams, if you don't first get bit by a timber rattler.
These fish are near-impossible to catch with a fly. They live in difficult-to-reach places because, there, they have leverage on the angler.  The water is either too deep or too shallow, too fast or too slow, too clear or too murky, or too damn hard to hike to.    That is why you rarely see anyone, other than guides, in these places.  Sometimes you drive four hours, to fish for an hour at dusk, and put down the entire pool with one bad cast.  
There is a stretch of the West Fork of the Chattooga River that is 100 feet long, 20 feet wide, 12-15 feet deep.  After driving 40 minutes on dirt roads that have been rutted out by the torrential rains of Smoky Mountain temperate rainforests, it takes a 3.5 mile hike, 3.25 miles of which is upriver, to reach the run. 
While it's true these old trout best us more times than not, they are still trout and you can win, but you've got to want them if you're going to catch them.  If you are going to play (again, there's no shame in not) then bring your A game.  
But if you're in, bring your will, skill and a backpack full of 6x-8x tippet with size 18-22 dries; your Czech-nymph leaders with size 12 tungsten, bead-head Prince nymphs; split shot; two rods and reels (just in case you break one); snake-bite and first-aid kits; SPF 70 sunblock; rain gear, a granola bar or two, water and bear spray. 
---
---