40 Pounds of Spitfire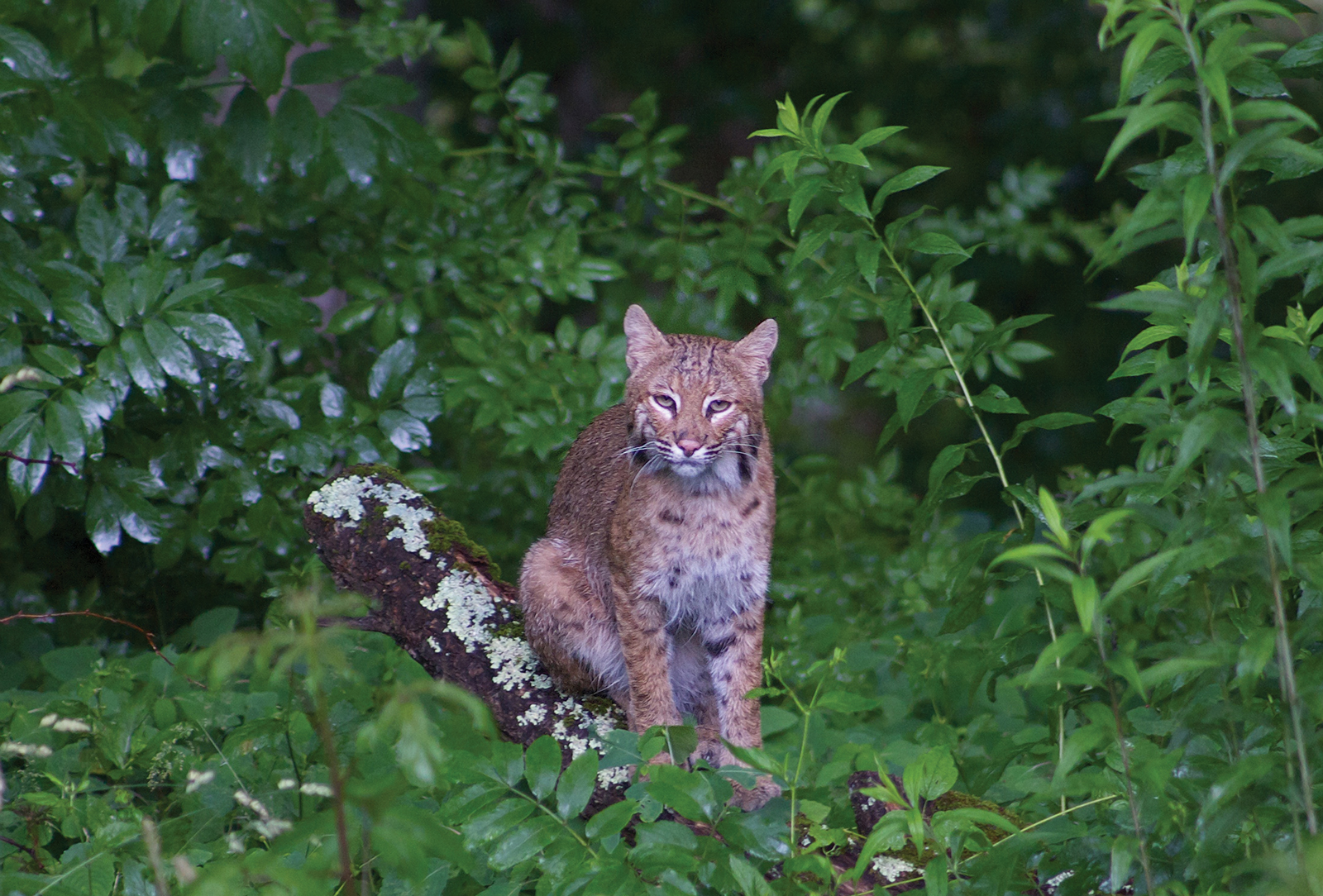 Written By: Donna Rhodes | Issue: 2016/10 - October | Photograph By: Guy Fielding
Early regional settlers called him the Woods Ghost and Ol' Spitfire.
Today we call him the Bobcat, so named for his short tail. If you're unfamiliar with this critter, you should know Bobcat is not a nickname for Robertcat. But out of respect you might call him Mister Cat for he is a formidable predator with razor-like claws and athletic ability worthy of the Animal Olympics.
Nearly double the size of a household feline and weighing up to 40 pounds, the Bobcat is a member of the Lynx family. Pound-for-pound he's a force to be reckoned with. He's been known to take down a small deer, but he's more likely to dine on rabbits, rodents, squirrels and an occasional snake. We should send these fellas thank-you notes for keeping the pest populations in tow.
Bobs are North Carolina's only remaining wild cats, though every so often someone claims to have seen a Mountain Lion or Catamount. Eleven years ago I saw a large cat on Cowee Mountain. It wasn't panther-big, but it wasn't bobcat-small either. According to the North Carolina Wildlife Resources crew, however, our large cats are creatures of the
distant past.
Bobs are reclusive. You'll probably never see one, though you might hear one in the night. When I was in my teens we had a mountain cabin. One rainy night we heard a wildcat's yowl. The next morning his muddy footprints decorated my uncle's new red car hood and top. Mister Bob slid down the back window, leaving four skidmarks, before he leapt from the vehicle, no doubt admiring his auto decorating skills and nose-searing scent. Phwew!
Bobcats live three to five years in the wild, but three to four times that long in captivity. Visit Missy, the Bobcat, now in her mid-teens, at the WNC Nature Center in Asheville. She will be happy to show you her stuff and reminisce the good old days when her great great grandpa, Ol' Spitfire, did his scent-ilating scat-a-mount imitation along the Bobcat trails of the Carolina forests.
---
---