Words That Launched Love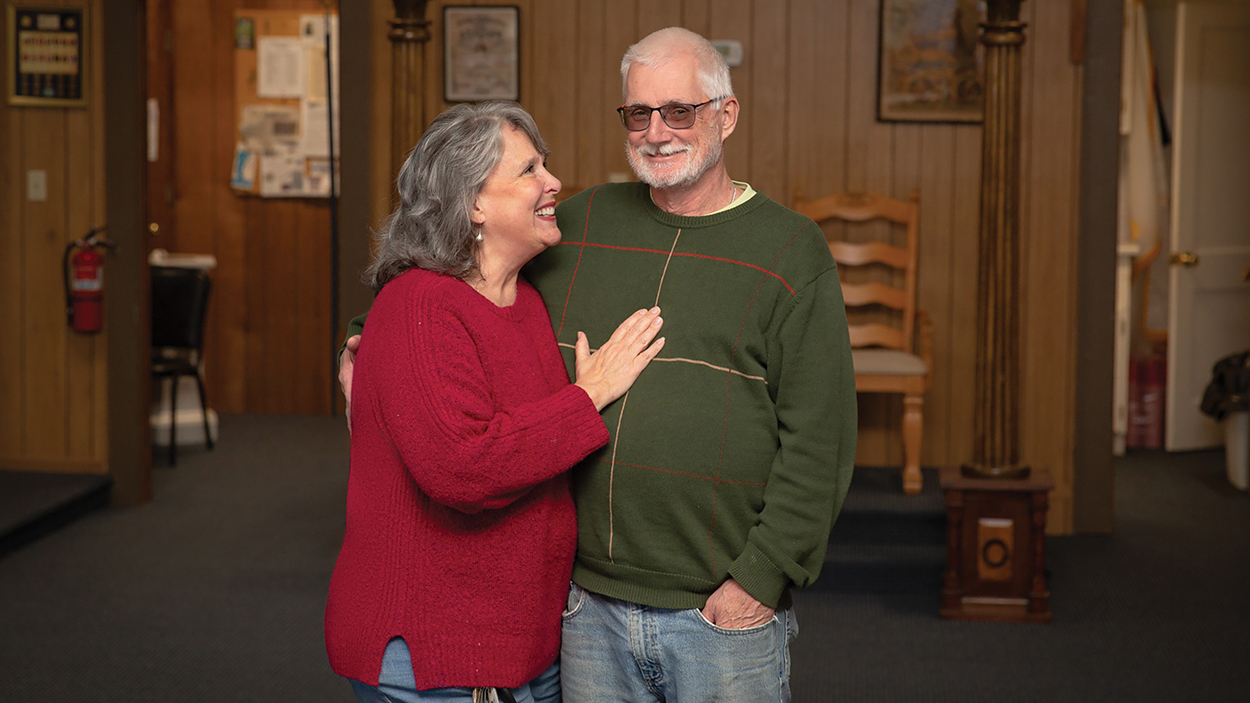 Written By: Marlene Osteen | Issue: Winter 2022
Sabrina and Dave Cashion's loving relationship is based upon a healthy dose of laughter and a romantic sense of inevitability.
---
It began in 2001 with an email – or so it may seem.  Because really, they'd met nearly 20 years earlier, when Sabrina Cashion, then a teacher's assistant, met shop teacher and coach Dave Cashion at Highlands School.  
That was the early 80's.  At the time, Dave was married with a young son. And Sabrina was about to return to college and embark on a 15-year teaching stint in Virginia.  
Though born in Alaska, Sabrina always called Highlands home, and she longed to return to teach at the Highlands School where her mother, father, and grandmother had taught. 
On a trip home to interview for a teaching position, she encountered Dave, now single, at a conference.  
he must have made an impression because he was quick to send an email: "Welcome back to Macon County. I know you always wanted to teach at home.  How about you take me to the movies? I'll drive and buy the ticket."  
And those were the words that launched a love story.  They can no longer recall the movie's name – a comedy, perhaps?  What is remembered is that they spent the evening in laughter – not at the cinema but with and at each other, and simply having a good time.  Sabrina was smitten not only with Dave's sense of humor but his intent on "treating her like a lady" – a value that aligns with his membership and allegiance to the Freemasons.
They quickly became involved.  Sabrina secured a position at the Highlands School teaching Family and Consumer Sciences, while Dave continued to teach carpentry, woodworking, and computer drafting skills.   
She was reminded of her observations of Dave so many years earlier: "He was always so happy.  He loved teaching and working with the students and had such a positive attitude."  Now she fell in love also with "his love of Masonry, his love of family, his love of God." 
When Sabrina experienced a brief rough patch due to a bureaucratic snafu at school eight months later, Dave was reassuringly by her side.  She knew then that the relationship would endure.  
The following year Dave told her to "Go ahead and find yourself a ring and pick a date." They got married in January 2003 at the Highlands United Methodist Church, where Sabrina had been baptized.
Dave retired from teaching this year, and Sabrina misses being with him on campus.  
But, they still, as Sabrina says, "fit like two peas in a pod. I feel like I have known him forever – we finish each other's sentences." 
Throughout 18 years of marriage, they have enjoyed traveling and laughing and, most of all, their son and the two grandchildren whom "we spoil every chance we get." Their hopes for the rest of the marriage?  More of the same – "to continue loving and laughing with and at one another."
---
---