Women Who Shape the Plateau: A Generosity Of Spirit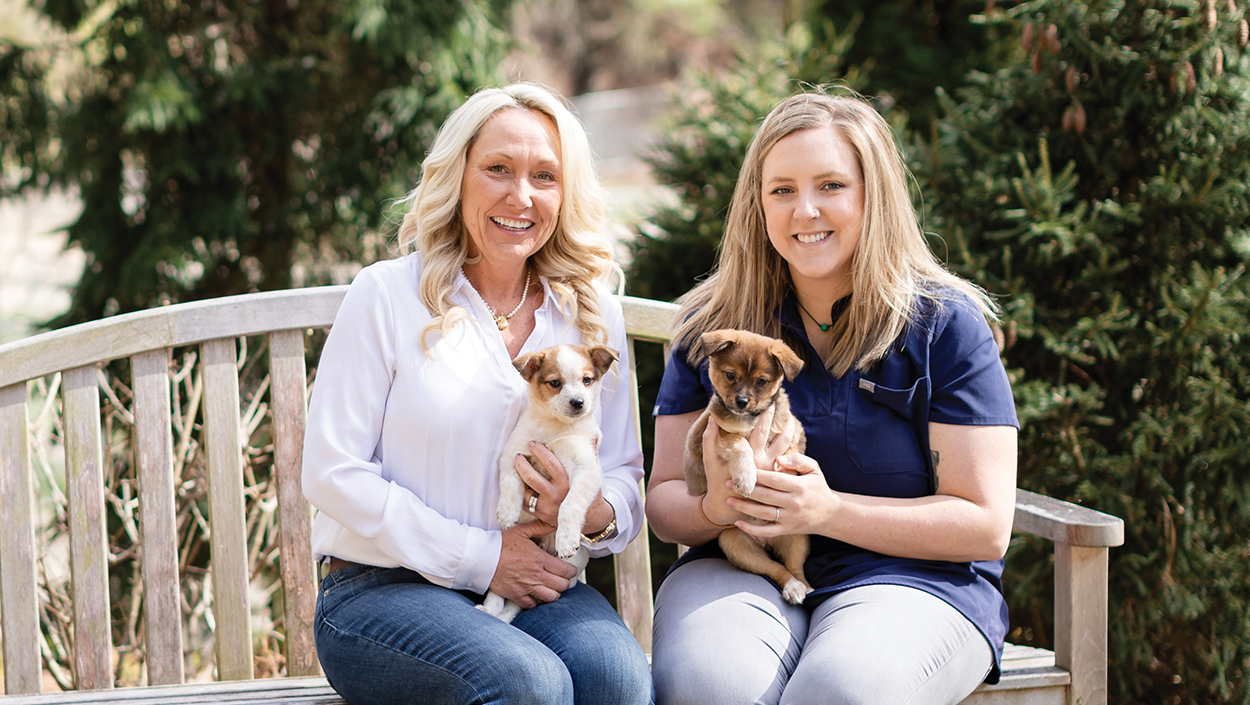 Written By: Luke Osteen | Issue: April 2023
The sweet pastures of Jenny Smith's and gentle comforts of her home are available to horses and assorted creatures looking for sanctuary.
---
If you're a little foal like Juice, grievously wounded by a bear in an apple orchard, your life was transformed by your owner's decision to call Dr. Brad Smith to your farm for emergency treatment.
That's not simply because Dr. Brad (as he's known throughout the Plateau), decided that you would survive the catastrophe, but also because he was accompanied by his wife, Jenny Smith.
Jenny, who's known in the community through her compassionate work at the front desk at the couple's Animal Wellness Hospital of Highlands (she placed a tender arm around my shoulders when it was time to let my beloved Pebbles go), also bears a tender heart that's turned their farm (and home) into a sanctuary.
Soon enough, Little Juice was enjoying a swift recovery in the Smith's pasture and learning to deal with Jenny's herd of rescued and fostered animals.
"It's as though God turned on a 'Vacancy' sign at our place and all sorts of animals turned in," she said. "Our latest 'guest' is the kitty named Marbles, who showed up at our door. Marbles is an Inside Cat now."
That generosity of spirit at the farm and at the animal hospital isn't really a surprise, though. It had its roots decades ago, when she was a little girl in Boca Raton, Florida.
"I couldn't ignore the animals all around us – I was the girl who'd somehow bring home the neighbors' pets (dogs are always willing to follow kids)," she explains. "When I was allowed to take riding lessons – my parents had offered ballet, tap dancing, baton lessons, nothing stuck – I immediately fell in love. Horses are such amazing animals – they do so much for us, and yet they're often treated so badly when they're no longer in top form."
When Jenny was 12, the family moved to the mountains and it was finally her chance to own a horse. Since then, equines have always been in her life. She found equestrian work at Rabun Gap-Nacoochee School and farms in this corner of Western North Carolina and Georgia – including Tarheel Farms in Franklin. It was in the latter that she was introduced to the lineage that produced Juice, the bear-attack survivor who'd find new life on the Smith's farm.
In fact, it was her love of horses that brought her to her true love, the aforementioned Dr. Brad.
"I'd brought my injured horse Missy to the University of Georgia Veterinary School for treatment – Brad wasn't the attending vet, he was just a student," she says. "When we came home, that student sent along a note saying that if Missy got worse I should call him. Later there was a note from that same student saying that if Missy got better to call him. Finally I got a message saying that if Missy remained the same to call him.
"I tell friends that he's the boyfriend who followed me home from school." Their marriage would produce two sons – Kyle 31 and Skyler 15, though there'd always be horses in the background. "At the moment we're caring for five rescued horses and a miniature horse named Sprinkles, who's only 40 inches tall," Jenny says. "Don't feel sorry for Sprinkles, though, she's able to boss around all the other horses."
---
---