Women Who Shape the Plateau: A Compassion That Has No Limits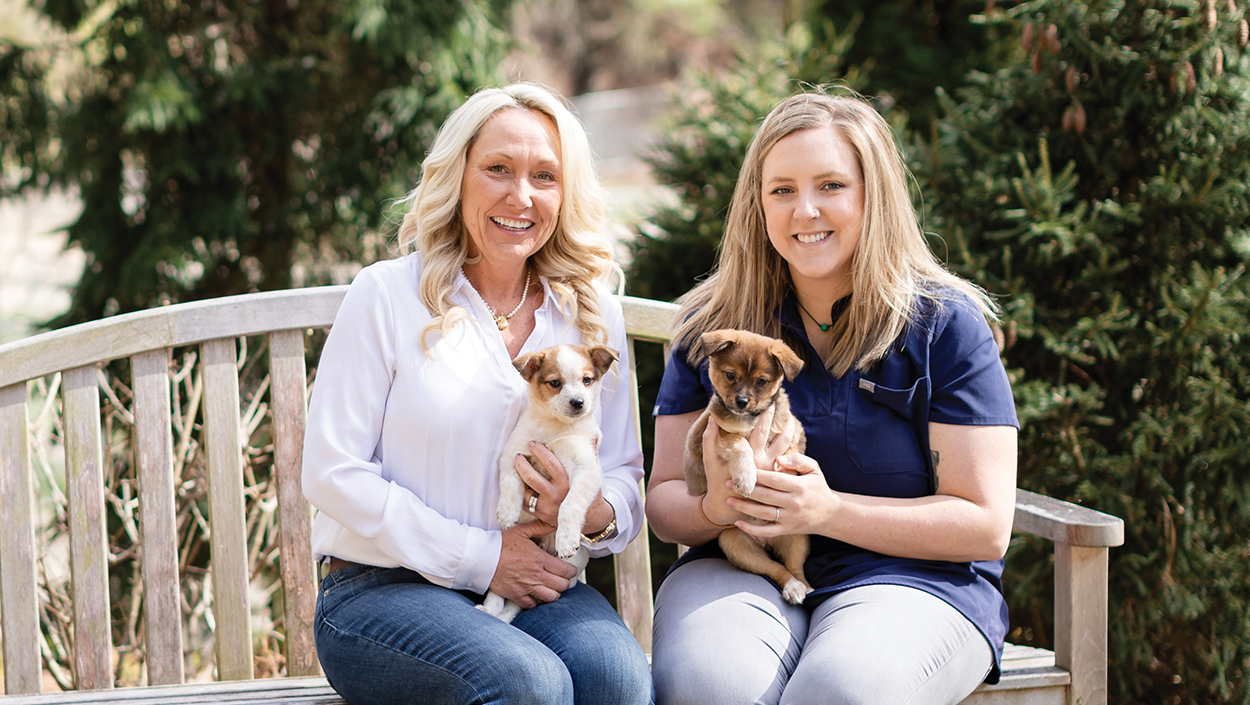 Written By: Luke Osteen | Issue: April 2023
Thanks to a heart loaded with love and inexhaustible energy, Kaitlyn Moss Villarreal is surrounded by creatures great and small, at work and at home.
---
When you look back at it, Kaitlyn Moss Villarreal's ascent to Cashiers Highlands Humane Society Shelter Manager seems as natural and inevitable as a dog rolling on a sun-baked roadkill. There was no way it wasn't going to happen.
"When I first started working at CHHS nearly 10 years ago, I had all intentions of it being just a summer job," she says. "I was working part time on the weekends and eventually started full time. After the summer was over, I realized that I was in love with the mission and decided to stick around. I worked my way up and took on the role of Admin Assistant and then eventually Assistant Manager.
"In 2016, I actually left to work briefly at an inn. That was extremely eye opening for me. I was good at my job, but I was miserable. I missed getting dirty and feeling like I was making a difference. Two months went by and I came back to CHHS as Shelter Manager. I truly feel at home here."
CH Humane Society Executive Director David Stroud has divined why Kaitlyn's such a natural fit for the shelter, which has won a national reputation for its extraordinary level of care.
"Kaitlyn's compassion for animals knows no limits," he says. "Two of the best examples I remember came from rescues. In 2016 CHHS was among the first shelters in North Carolina to take in rescued dogs from South Korea. Thirty-one canines arrived in Raleigh and 30 of the 31 dogs were two years old or younger. The 31st dog was 10 years old, heartworm positive and had cancer. The ten-year-old was the first dog that Kaitlyn selected.
"The next year, we partnered with other animal agencies to rescue 120 dogs who arrived in Atlanta after surviving Hurricane Maria in Puerto Rico. We were told that of the 120 dogs, only one had special medical needs. Yep. Kaitlyn picked the special needs dog first."
Stroud's observations are corroborated by Kaitlyn herself.
"I love feeling like I'm making a difference for not only our community but for the animals in our care. My coworkers can attest to the fact that I tend to gravitate towards the old, decrepit animals. Buddy, a senior plott hound that came to us as a stray was one of those. I was his person. We just clicked from day one. Over his time with us, he grew older and maybe even developed a touch of dementia. He would only get out of his bed if I came in to get him. I took him home with me of course but he was not a fan of the fact that I had another man living there (my husband)! He spent his last days with us. Just something about an old hound dog that just tugs on your heart a little more."
Of course, Kaitlyn's heart will not be limited to four-legged love of the slobbery kind.
"This past June, I actually welcomed my first child with my husband, Jonathan," she says. "My free time now pretty much revolves around her. Georgia will no doubt be an animal lover just like me. We have four dogs that she's obsessed with. We enjoy spending time with family and just being homebodies. We also enjoy camping and lake days."
But let's let her boss, David Stroud, explain why Kaitlyn's found a place in our Women Who Shape the Plateau series: "CHHS is a better place because of Kaitlyn. And so is the Highlands-Cashiers Plateau.
---
---