The Heart & Start of it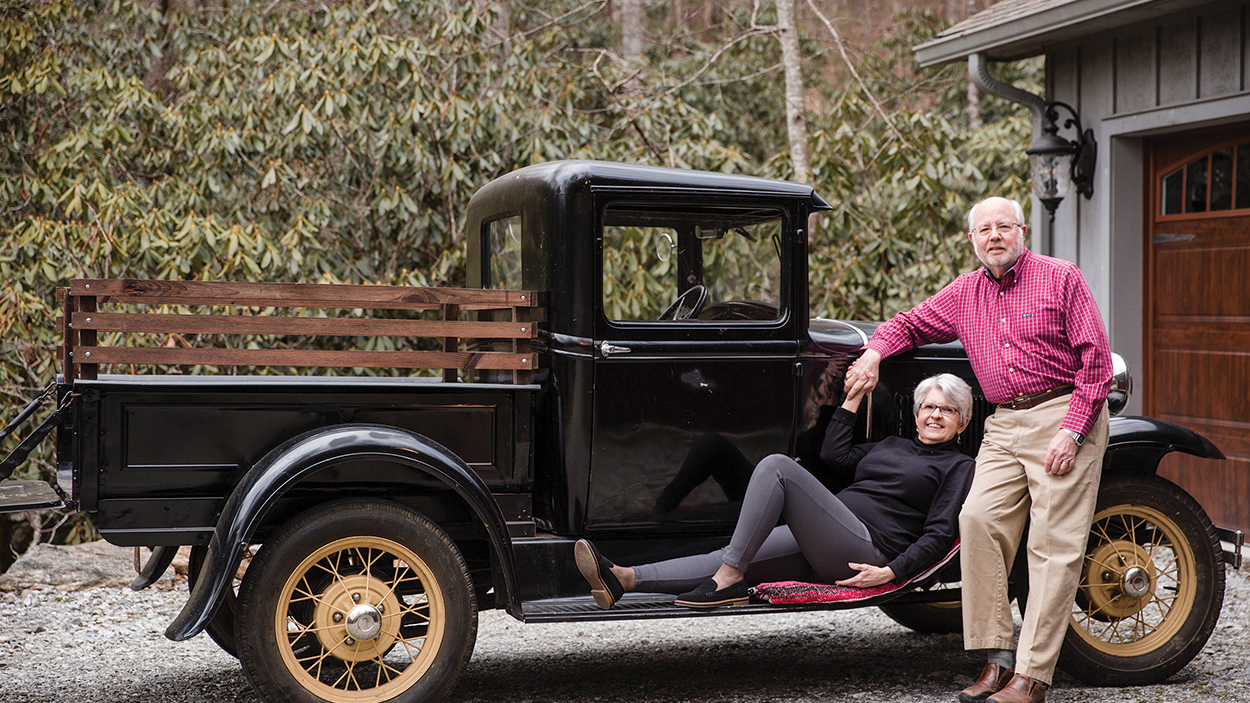 Written By: Luke Osteen | Issue: April - 2022 | Photograph By: Susan Renfro
For Delaine and Steve Mehder, their differences have somehow led to an abiding complementary love that will not be denied.
---
The first conversation Steve Mehder had with Delaine was shortly after his graduation from Western Carolina.  It was the start of summer 1968 and a week or so into the beginning of Delaine's summer job at Highlands Country Club.  
As Steve recounts, "I was told there was a girl there from Mocksville, so I asked her if she knew Anne Stewart.  Anne and I had dated while I was in college, and as it turned out she and Delaine were good friends. So, we started talking."
Immediately, he fell for her, and she for him. They began dating, seeking out mountain tops and pastoral spots to go with their friends – to build a fire, drink and talk, making sure to return before Delaine's 1:00 A.M. curfew. 
It must have been the case that those nights piled up to create something meaningful, because by the Fall they knew they would marry.
At summer's end Delaine returned to college at Lenoir-Rhyne in Hickory and Steve started law school at UNC-Chapel Hill.  They continued to see each other on weekends at Delaine's family home in Mocksville, just west of Winston-Salem. 
And it was there they got married, on June 14, 1969, at The First Baptist Church. Shortly thereafter, Steve decided to forego Law School and join the faculty teaching math at a Junior High School in Aiken, South Carolina.  Delaine began a career with a local newspaper in town.
A few years later, Steve accepted a position with Burlington Industries, and they spent the next five years in Burlington, North Carolina. 
Delaine gave birth to a son in 1976, and two years later Steve was promoted to a position at corporate headquarters in Greensboro, North Carolina.  They remained in Greensboro until 2012, building three houses during their time there – "proof of their bond" as Delaine said.  They also paid regular visits to Steve's parents in Highlands – the place that he called "home," where his family had moved when he was in the 10th grade. In 2010 they bought a house in Highlands and the next year moved back as full-time residents.  Steve continues to work part time as an accountant here.
It's clear that their marriage has been a happy one – strengthened by an acceptance of their individuality.  
Steve likes to say that, "We are the poster children for opposites attract. The only thing we have in common is we got married on the same day." 
While Steve enjoys spending free time volunteering, target shooting and enjoying classic cars, Delaine prefers reading, bridge, and pickleball. 
As Delaine says, "We have some significant differences that make for a more interesting marriage. Steve is very analytical, a reflection of his work, and I tend to think more with my heart. The fact is we don't always think alike but we listen to each other and are able to work through our spats."  At the same time their union has been forged by love of travel and service to community. From the early days of their marriage, they have dedicated time and energy to volunteer work.  
Today, they both work at Mountain Findings, and Steve is active with the Highlands Motoring Festival – as he has been from its beginnings.  
Delaine told me that "We strongly believe in giving back to the community we live in.  The bonus of volunteer work is we have made a lot of friends and it's become the thing we can do together."
by Marlene Osteen-
---
---