The Fine Art of Not Thinking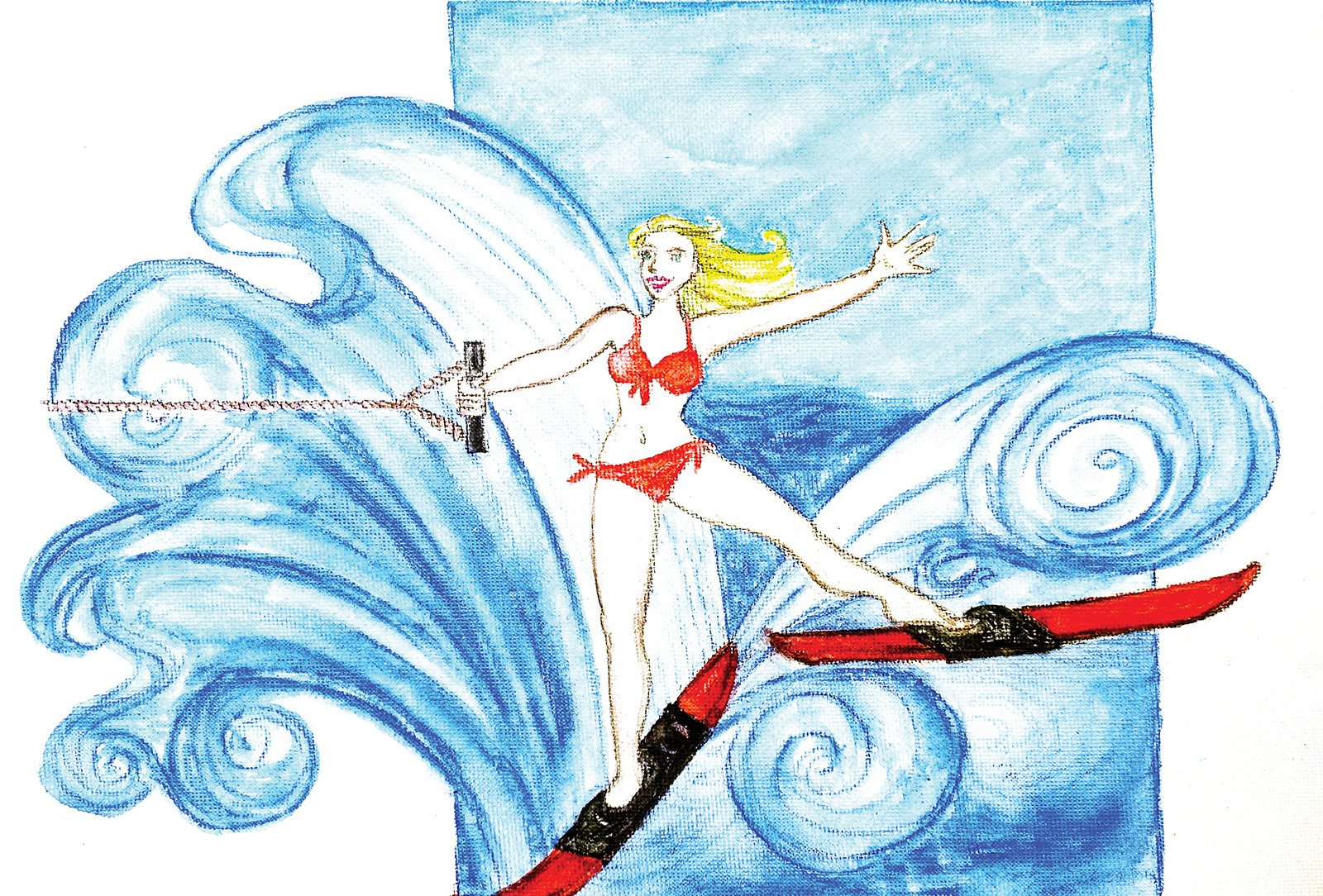 Written By: Donna Rhodes | Issue: 2019/06 - June
My buddy, Kathy, was frustrated with her oil painting. She said all she does is paint, scrape-off, paint, scrape-off…nothing was working. She asked me what she should do. I said, "Drop the damn ski!" She looked at me like my last marble had just rolled out of my ear and down my brassiere.
I explained. As a kid I liked to water ski, but mastering slalom was beyond me. Every time I tried to drop a ski, I fell, sploosh, douching every orifice imaginable.
I gave up skiing for a decade, and then Fate intervened. A flyer arrived offering water skiing classes at the nearby college. I jumped at it and enrolled. As I hung up the phone I was tsunamied by a wave of WTF?
How was I going to shoehorn my muffin top into spandex and parade before college student hard bodies? Worse yet, how was I going to drop that ski?
The instructor was a retired, take-no-prisoners football coach. He ordered the class to climb aboard his boat. We complied. He revved the engine and rocket-throttled into high gear, leaving our stomachs and all hope behind.
Classmates skied, Olympians every one. Earlier I'd made the mistake of telling Coach Curmudgeon that I wanted to learn to slalom. And now, it was my turn. I plopped into the water, grabbed the ski rope handle, and waited for CC to take up the slack and throttle me into an inevitable hydroplaning belly-bounce.
To my surprise I got up relatively easily. I jumped a wave or two as confidence built. But then, I started over-thinking… how to position my feet, my body, my arms, my eyeteeth. This was an especially dumb endeavor since it's muscles, not brains, that are doing the work. At that moment, CC bellowed across the wake, "DROP THE DAMN SKI, WOMAN!"
He scared me thoughtless. Muscles kicked in. I dropped the damn ski. Lo and behold, I remained upright. We took a victory lap around the lake before I ditched the ski rope and coasted into shore.
"The key to getting over a brain logjam is to simply stop thinking," I told Kathy, "So just paint, dammit!"
We've been not thinking ever since, and Life's gotten a whole lot easier.
---
---