Talking Trash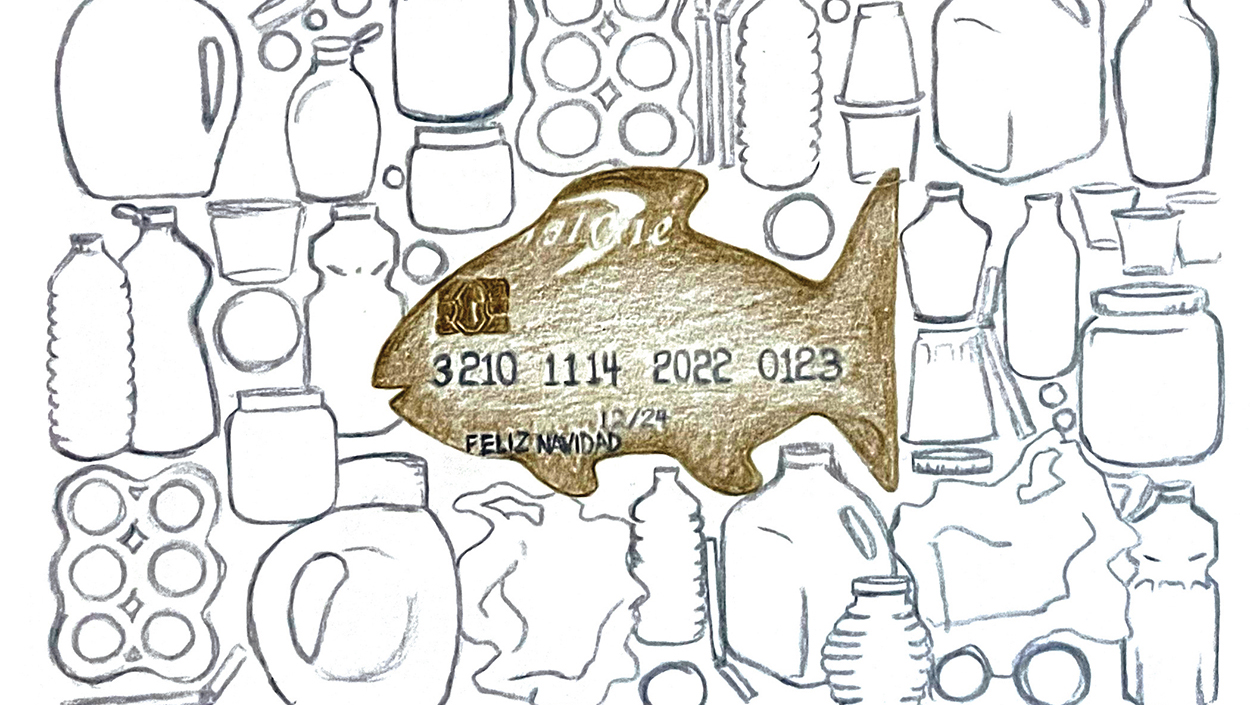 Written By: Donna Rhodes | Issue: December - 2022
You know all that plastic we dump into the ocean? It's coming back to us through the sea's food chain.
---
I ate my Am-Ex card this week. 
Mmm …chewy.
I devoured my Diners Club card last week. Meh, You'd think something named Diners Club would taste much better than that. Nuh-uh. The week before, I downed Wells Fargo, and I didn't even have to hold up the stagecoach. 
I've applied for a Savor One card. Whoever named it Savor One has a wicked sense of humor. Oh, well, as long as I am eating credit cards: "Waitress – a side of micro-plastic gravy, if you please!"
But, for real, credit cards are not a thing we'd choose for daily consumption, yet we are snarfing about give grams of plastic crumbs per week. That's the equivalent of a credit card's weight, and it's playing havoc in the medical world and our collective gut.
You know all that plastic we dump into the ocean? It's coming back to us through the sea's food chain. Fish, sea salt, and most anything packaged in plastic are the culprits. And it doesn't necessarily come in and go out like the other body-familiar edibles we consume. Remember this rule: if it isn't a natural food your liver and gut haven't a clue where to put it or how to process it. As a result, much of it hangs out in your organs or traffic-jams your internal pathways. Ewww and yikes.
It's the holidays. I apologize. We shouldn't be talking trash so literally. So, enjoy your holiday feasts, but when you make your New Year's Resolutions, while pledging to cut back sugar and fat, consider cutting back plastic too. Look for proprietors who use paper or glass packaging. Take recyclable bags to pack your purchases. Consider drinking water from a personal tumbler if you haven't already. Read online more about how you can change the world one credit card and one plastic container at a time.
Happy holidays to all who seek to make our world a better place in 2023. We'll consider all that later…right now, dessert awaits. I'll flambé my Discover card, and we'll savor those sticky little nanoplastics one last time.
Hear, hear! A toast:
To all odd things on which we dine,
And a cup of good ol' Auld Lang Syne – in a glass.
illustration by Norma Jean Zahner
---
---