Summit Charter School's Inaugural Senior Class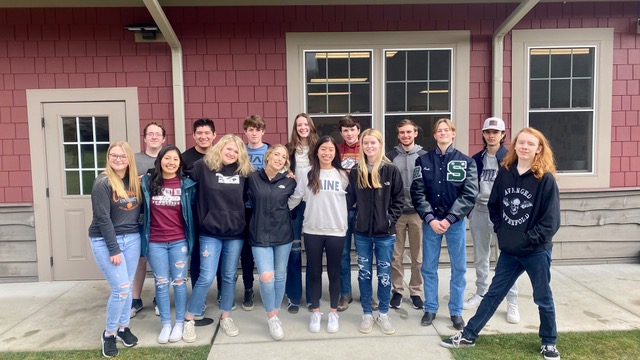 Written By: Luke Osteen | Issue: Whats News
Thanks to generous community support, Summit High School's graduating seniors will be presented with $214,000 in scholarships and opportunities.
---
Summit Charter School's inaugural senior class of 15 seniors from Jackson and Macon counties is preparing for the first-ever Summit High School Graduation Ceremony, set for 3:00 P.M. Saturday, May 21, in the Summit Center. 
The seniors, who to date have received 36 offers of admission from 21 colleges and universities across the US, were thrilled with the  Summit Charter School Foundation's announcement that it has received $214,000 in scholarship funds to support their further education.
The foundation has received a transformational commitment of $150,000 from Linda and Mark Quick to fund the Trailblazer Scholarship, which is a multi-year scholarship opportunity for Class of 2022 seniors. Recipients will exemplify Summit's three pillars of its "Portrait of a Graduate" – Academically Prepared, Engaged in Community, and Strong in Character. Successful candidates demonstrate excellence in each of these pillars as reflected in their four-year holistic experience at Summit High. To be eligible to apply, students must have a minimum weighted GPA of 3.2, an offer of admission to at least one four-year college or university, and attendance at Summit from ninth through twelfth grade. The number of recipients and amounts will be determined during the application process based on both merit and financial need.
"As we graduate our first high school senior class, we are incredibly grateful for the generous support of the Quick Family and our scholarship benefactors who have stepped forward to help ensure our graduates have access to a college education as they pursue their life goals and aspirations." states Kurt Pusch, head of school at Summit Charter School.  
The Quicks have been visiting and living on the Cashiers-Highlands Plateau for 20 years. They feel the importance of investing in the local youth, giving them the opportunity to make higher education more affordable, and expand the number of high-achieving scholars. 
"We have been so impressed by the achievements of these young people, both as scholars and as citizens," says Mark Quick. "They have earned every right to move along the path as trailblazers do. This won't be the last you've heard of them, and we feel lucky to be a small part of their journey.  Maybe 20 years from now, you'll hear about the Class of 2022 awarding scholarships to another class of Summit students." 
In addition to the Trailblazer Scholarship, the Summit Charter School Foundation is offering  two additional scholarships to seniors who are interested in pursuing a postsecondary degree in STEM (Science, Technology, Engineering, and Mathematics) education:
   ● The Summit STEM Scholarship – a yearly $5,000 scholarship awarded to a graduating senior. This scholarship is made possible by an anonymous donor who hopes this scholarship fund will continue to grow for years to come. 
  ●   The Strong Family Fund Scholarship – a four-year $10,000 per year scholarship awarded to a graduating senior. For the Strong Family Fund Scholarship, the awarded student must remain committed to a STEM related major and qualify for the scholarship each year. This scholarship is made possible by Kathy and Stan Strong, with their family.
Eligibility for each STEM scholarship will include: academic merit as demonstrated by GPA and rigor of high school coursework, financial need and how the scholarship will impact their opportunity to attend their ideal college, vision and goals in the STEM field as demonstrated through responses to required three 250 word essay questions.
Through the generous support and philanthropy of 10 community members, a $1,250 scholarship will be awarded to every graduating student in Summit's first high school graduating class. These generous scholarship funds were raised as part of the Summit Charter School Foundation's 2020-21 annual giving campaign under the theme of "One Summit Family." Each scholarship will be awarded in honor of a scholarship benefactor, which include the Altec-Styslinger Foundation, Sarah and Jud Chapin, Gerry and Allen Davidson, Carolyn and Don Glisson, Carol and Rob Hunter, Kathy and Joe Sanderson, Amanda and Don Sentell, Myfifident Foundation (Lisa and Derek Smith), Kathy and Stan Strong, and the Tickle Family Foundation (Barbara and Charlie Tickle).
To be eligible to receive the One Summit Family Scholarship, the student must successfully fulfill all Summit High graduation requirements necessary to be awarded a Summit diploma at the time of graduation on May 21, 2022 and must be enrolled in a college, university, or vocational school. Graduating seniors entering a non-degree or certificate program, such as the military, may submit a written request for alternative use of the scholarship award with explanation of how the funds will support the individual's career goals.
 College Counseling at Summit
As Summit grew from a K-8 to a K-12 school, school leadership recognized a clear and critical need for a comprehensive college access initiative to support its high school students. As such, Summit College Counselor Lauren Bennett partnered with nationally recognized College Access Strategies, which specializes in strategic college access planning support for schools aimed at creating sustainable change.
"Summit's approach to postsecondary advising centers on the individual student strength-passion intersection and aims to nurture student learning throughout the college planning process," explains Ms. Bennett. "This strategic approach and our partnership with College Access Strategies has yielded extraordinary results. We are very proud of our trailblazing seniors and grateful for the tremendous financial support we have received from the community to ensure our students have resources they need to succeed in college and beyond."
Even with these generous scholarships, the majority of graduating seniors will have significant gaps from what they will receive and what they need financially to attend college. Donors interested in helping Summit students with life-changing scholarship funds may contact Melissa Hudson at (828) 743-5755 or [email protected].
---
---