Soup's On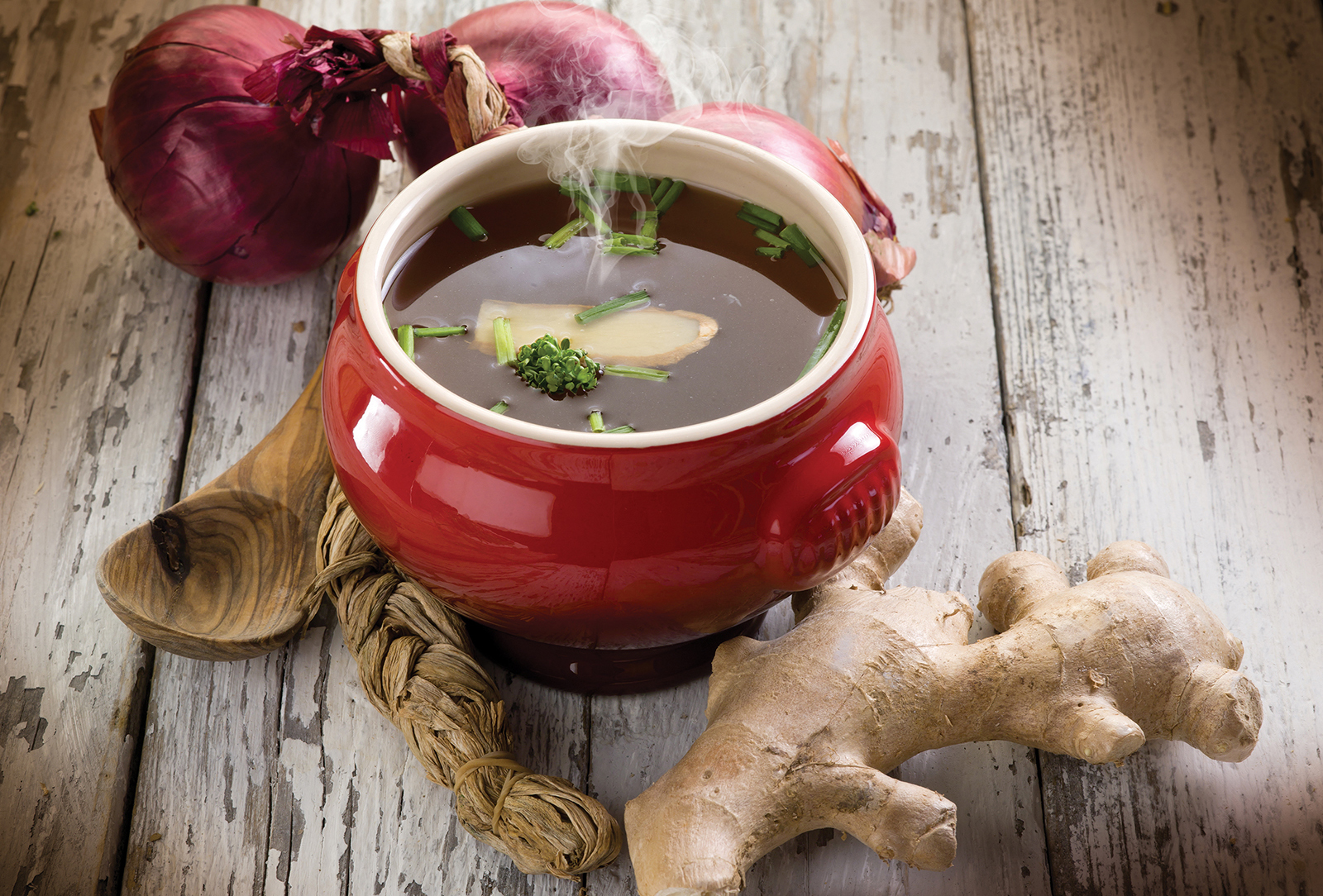 Written By: Dr. Anastasia Halldin - healthymamainfo.com | Issue: 2019/04 - April
The days are sunnier, the grass has sprung, the flowers are here, and the air feels warmer. Unfortunately, the cold and flu season is not ready to leave us yet.
During the cold and flu season, some supplements work better than others. Elderberry syrup, Vitamins C and D can help keep colds at bay. There is nothing like a warm bowl of freshly-made healing soup, however. This soup can act as both a preventative and as a remedy. Full of naturally healing foods like garlic, and warm spices like ginger, as well as probiotic-rich miso, this soup is also easy on the stomach for those times when viruses hit the digestive system. Kombu is a nutritious mineral-rich seaweed, available in health food stores. It can help your body recover faster.
Ingredients
1 medium Onion diced
4 tablespoons Coconut Oil or Avocado Oil
1/2 cup Brown Rice
1 sheet Kombu
3 tablespoons Dried Mushrooms
4 cloves Garlic diced
1 inch Fresh Ginger grated
1/2 bunch Fresh Parsley chopped
1 pinch Cayenne Pepper
8 tablespoons Miso Paste (Chickpea Miso is fine)
optional: Sea Salt to taste
Instructions
1. Saute the Onion in oil for about four minutes.
2. Put Brown Rice, Kombu, the sauteed Onion, and the Mushrooms into a large pot. Cover with eight glasses of water, bring to a boil and simmer for 25 minutes.
3. When the soup is simmering, dice the Garlic and let it sit for a few minutes.
4. Add Garlic, Ginger and Parsley and Cayenne to the soup and simmer for five-seven minutes, or until the rice is cooked.
5. Let the soup stand uncovered for five minutes to cool. Throw away the Kombu, getting it with a fork.
6. Obtain one cup of soup liquid, stir the Miso Paste into it. Mix to combine. Pour the Miiso into the soup. Taste and add more salt if needed.
7. Let the soup stand, covered, to develop flavor for seven to 10 minutes. Serve.
---
---