Never Give Up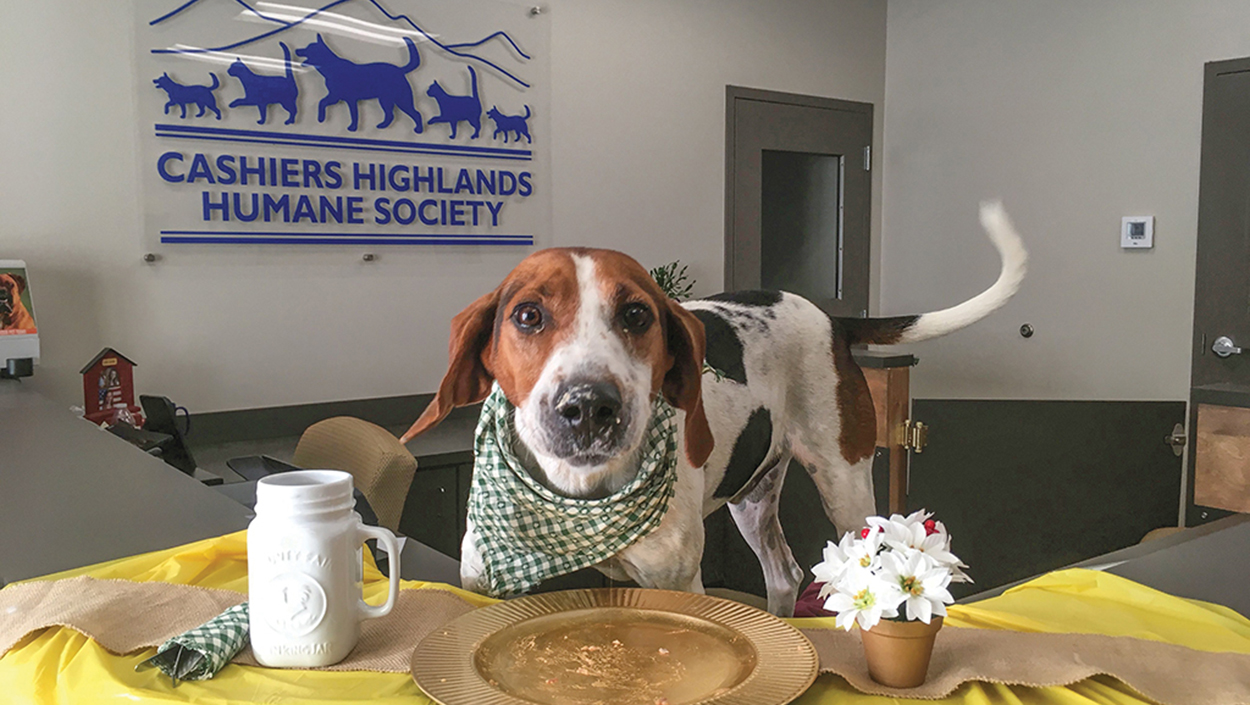 Written By: David Stroud - Cashiers-Highlands Humane Society | Issue: May 2023
The profound lesson of sweet Mitch's life has resonated far beyond the Plateau.
---
When I need some extra motivation to get moving in the gym, I make sure to wear my favorite workout shirt. It has this saying on the front: "It's not over when you lose. It's over when you quit."
And that's just the way we feel about the shelter pets entrusted to our care. These precious cats and dogs may have experienced "losing" prior to their arrival, due to abandonment, neglect or a heartbreaking separation from their human. But their story is far from over. In fact, that's when it just begins. Because we make sure every animal we save and care for receives daily nutritious meals, any and all necessary veterinary care, and plenty of non-stop love and affection from our staff and volunteers.
We never quit on the animals at our no-kill shelter, and we never give up. Just ask Mitch.
It was a cold day in January 2016 when Mitch arrived at CHHS. He was found wandering as a stray in Tuckasegee and it appeared he had gone without food for several days. We gladly took this sweet hound dog in and gave him safe refuge from the cold. Over time, Mitch was overlooked by potential adopters because first of all, we had (and always have) plenty of hound dogs to choose from, and second, Mitch could be quite stubborn and set in his ways.
Time went on. Weeks turned into months, and months led to years. And although we loved and doted on our beloved Mitch, we never gave up on finding him a forever home. As we do with all our shelter pets, we threw Mitch birthday parties, gave him his own personalized stocking at Christmas, and we even made Mitch the honorary dog at our annual Thanksgiving feast.
This spring, after seven amazing years in our compassionate care, Mitch found his perfect human match and the best home a dog could ever hope for. The story of Mitch's adoption "went viral," as the saying goes, was aired on television news stations across the country and was even featured on the website of People Magazine.
If the current news of the day of divisiveness, unrest and uncertainty makes you feel discouraged about our present state of affairs and what our future holds, just remember this message directly from Mitch – Never Give Up.
Cashiers-Highlands Humane Society is a 501(c)(3) non-profit animal welfare organization located at 200 Gable Drive in Sapphire, one-and-a-half miles east of the Cashiers Ingles in between Cedar Creek Club and Lonesome Valley on Highway 64. Visit us online at www.chhumanesociety.org or call us at (828)743-5752 for more information. Tax-deductible donations to support our lifesaving work can be mailed to: CHHS, P.O. Box 638, Cashiers, NC 28717.

---
---