In the Right Hands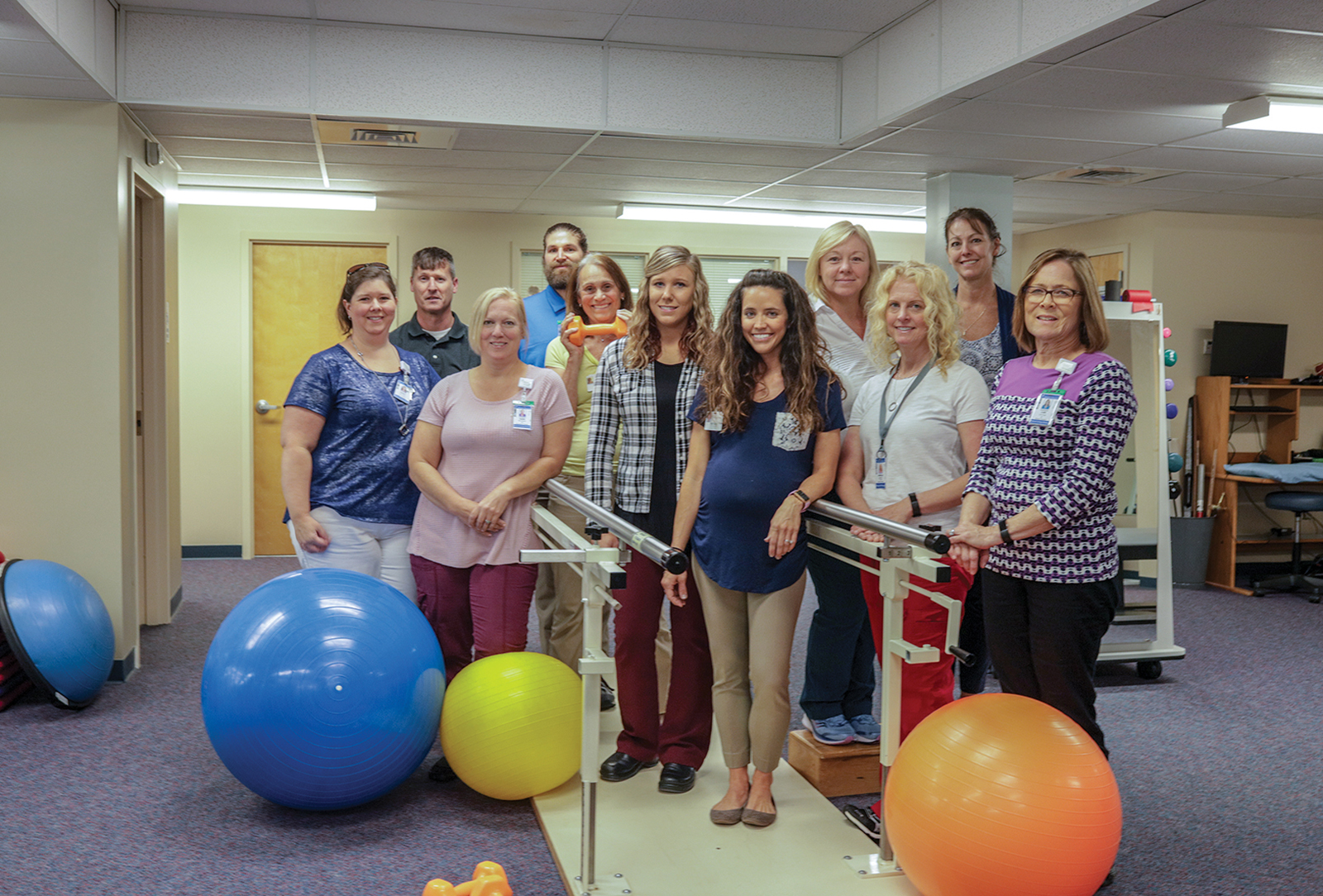 Written By: Donna Rhodes | Issue: 2018/09 - September
Marion Macy, Manager of Mission's Rehab Services and Physical Therapy heads the rehab department, Team Spirit, that turns the impossible into possible. Patients with joint replacements, stroke, severe back pain, cardiac issues, neck pain, shoulder surgery, ankle fractures, knee replacements, or just about any injury or impairment will come out good-as-new or better-than-ever after just a few weeks of rehab/therapy.
"Ninety-nine percent of our stories have happy endings," says Macy.
A lot of people with pain try to ride it out, thinking it will get better.
Macy says, "There are two types of pain: Traumatic pain caused by falls, a car accident, and/or an unexpected arm/shoulder yank by a strong dog. If traumatic pain persists more than a few days, please see a doctor. She will give you a referral for the rehab team's services.
"The second type, insidious pain (inflammation, arthritis, etc.) that happens over time, interferes with daily activities like getting in and out of a car, reaching in the closet for clothes or walking out in the community. See your physician for a referral, then schedule an appointment at Mission's Rehab Services. You'll receive a full evaluation, detailing the cause/effect of your injury."
The team will help you create goals. On average it takes just six to 10 visits to reach them. You'll be ready for that European vacation you booked, visit to the grandkids, and a round or two of Pickleball in-between.
The Rehab Team offers a wide range of therapies, including Occupational, Physical, and Speech Therapies, Cardiac Rehab, as well as a Lymphedema program, specializing in post-breast cancer and/or other lymphatic issues.
Nationally-certified physical therapists have three years of P.T. graduate medical training in addition to a four-year undergrad degree. They know their stuff. Sharing back-pain advice from a neighbor with a disc issue can actually hurt you if you have something else like spinal stenosis. A friend's medical advice, although well-intentioned, and a buck ninety-five will get you a cup of coffee and a backache. So be in the know. Go to the pros at Mission for a treatment and a cure designed specifically for your condition. You'll reach your goals in no time, in a comfortable, fun and confident setting. Call your doctor for a referral and get moving! Call the Rehab Office at (828) 526-1457.
---
---