Greeting Card Moment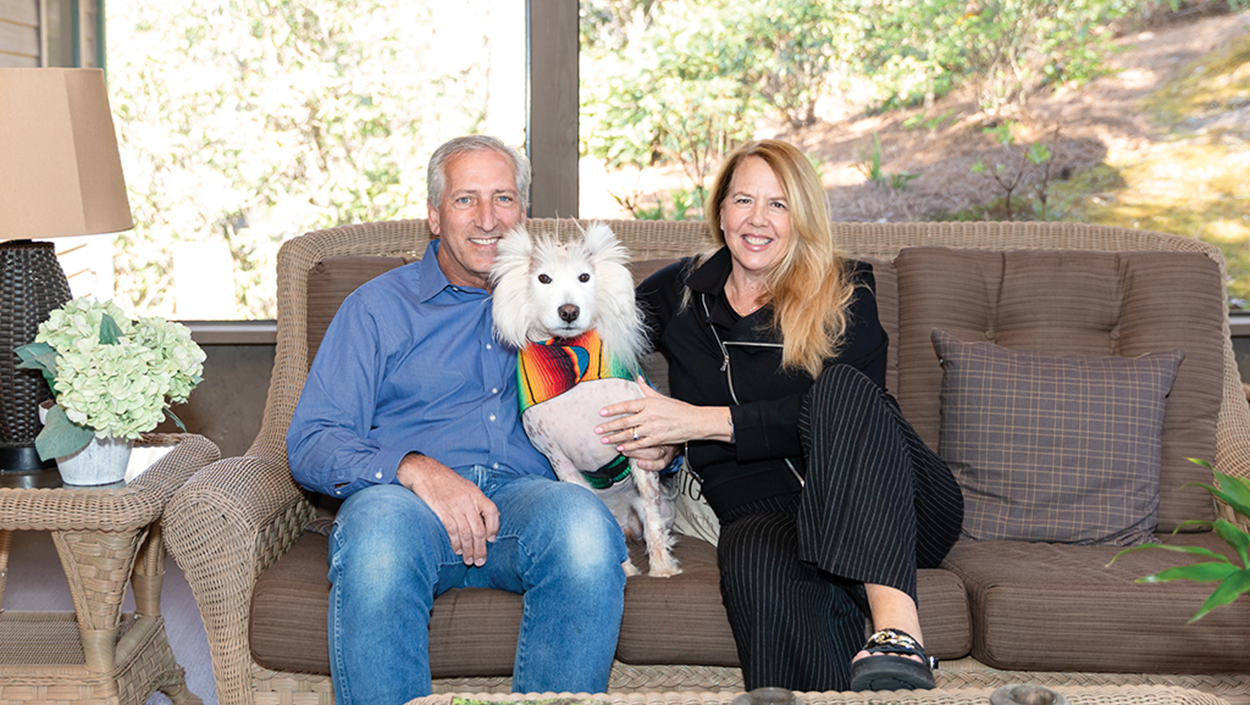 Written By: Marlene Osteen | Issue: May 2023
We're not making this up – for Robyn and Tom Hessling, it truly was Love At First Sight.
---
It's 1992 and Robyn Hessling has been taken by a friend to a pig roast at a farm in Goshen, New York.  
Two things are worth noting here.  
First, Robyn is advised in advance that Tom Hessling – a close friend of the farm's owner, is going to be there.  Secondly, Tom is in the process of selling his home in New York and moving to Colorado. It is inevitable that the two will meet – the path to their eventual love affair has already been set. 
What follows can only be described as a Greeting Card Moment.  
Tom Hessling looks up from the horseshoe he is pitching and his gaze lands not on the stake, but on Robyn. 
Immediately, he turns to his teammate and says, "Oh my God, I'm going to marry that girl." 
Robyn is no less giddy in her attraction to Tom. She remembers being "Blown away – he was tall, dark and handsome with a square jaw and blue eyes." 
They spent the rest of the evening around the fireplace, never leaving each other's side, slipping easily into conversation about themselves. 
A licensed structural and civil engineer, Tom had forged a career with a consulting engineering firm in New York City.  But he'd recently accepted a job working for a new airport in Denver. It was to be a big promotion.  
Robyn had been a buyer for New York retailer Abraham and Strauss and was currently teaching first grade. He told her about his motorcycle – a Harley Davidson, and they discovered a mutual love for skiing and country living.  
When Tom talked about God, Robyn thought, "He has substance."  
Tom recalled, "She was a knockout, and had all the things I was looking for – values, family, a love of children." Intuitively they knew from the beginning, that "this was something," that they had each found someone special. 
The next week they met for pizza. Their first real date followed – dining with another couple at a Spanish restaurant.  When Tom had to decide whether he was going to take the Colorado job, and Robyn said she didn't want to move, he resolved to remain in New York.  
They were a couple from then on; their lives unspooling together. 
The ensuing two years of their love story is no less storybook.  They started rock climbing and skied in Idaho's Sun Valley.  One day after a hunting trip, he asked, "Did you hear me thinking about you in the woods today?"  
After a day teaching, she found an Oreo in her car with a smiley face drawn on an attached card. 
Three months after they met, Robyn was the first to say, "I love you." And he said it back. Everything changed then. 
A few months later they were in the car after church when Tom asked, "Where do you see yourself in five years?' She replied, "living in the country with children." When he told her he wanted the same things, she realized, "There's nothing stopping us."
They were married on October 1, 1994, at a historic Baptist church in the center of town.  At the reception that followed at a local B&B, they ate homemade chocolate-raspberry cake and danced outside in the rain with 150 family and friends who joined them in celebration.
The first daughter, Victoria was born in 1996.  By the time their second daughter, Catherine, was born in 1998, Robyn had found the perfect piece of property in nearby Westtown, New York, on which to build their dream home. 
For 8 years, "It was heaven," said Robyn.   
Then one day Tom came home and asked, "What do you think about moving to Wisconsin? I have a chance at a significant advancement."  
In 2005 the family relocated to Mequon, Wisconsin, and Tom began work on a complicated interchange in nearby Milwaukee. Over the next 12 years, Tom traveled the country and abroad working on huge infrastructure projects. 
While the girls were in school, Robyn became a real estate agent and worked as a realtor for several years. In 2017, after the girls' graduation from high school, they purchased a home in Sapphire Valley and moved to the Plateau.  In years past the family had visited Robyn's father at his summer home there and had long ago decided it was where they would eventually settle.  
Robyn returned to teaching, and with 35 years experience practicing as an engineer globally, Tom opened Mountain Construction Engineering. Since opening, the company has won recognition for the integrated construction and facility management services they provide to absentee homeowners. Assisting Tom in his work is MCE's company mascot, Oscar, a Samoyed dog recognizable by his absence of hair.
They are an excellent team.  Perhaps it's their differences that make it so.  She is effervescent and gregarious, he's more introverted.  She says she's "the visionary who wakes up in the morning and sees the future and sets things in place." He says, "She's the dreamer, I'm the builder, the doer. She's my inspiration – she drives me."  
Tom's right – as I write this story, Robyn is retiring from teaching to join Tom at MCE.

---
---