Four-legged Hobby | Sam Schmitt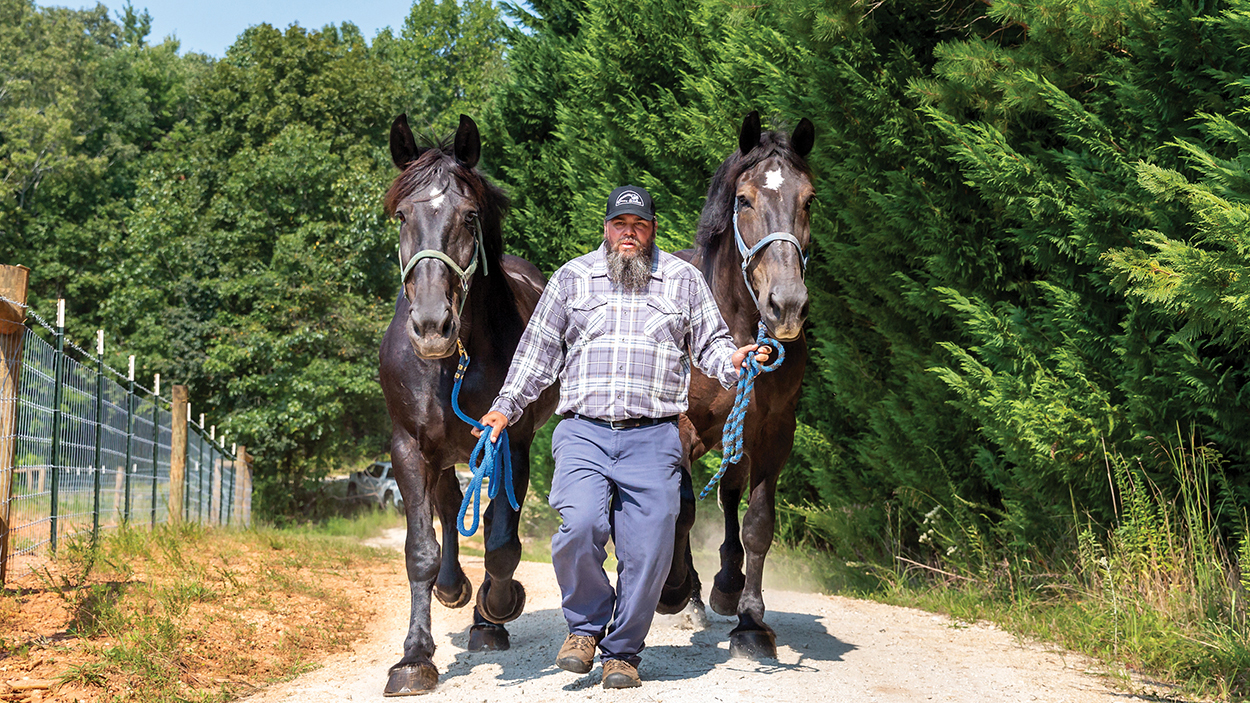 Written By: Deena Bouknight | Issue: 2021/10 – October | Photograph By: Susan Renfro
For Sam Schmitt, a passion for horses, really big horses, has filled his stable and his pastures with these magnificent animals.
---
Sam Schmitt rarely rides his horses, but about five years ago he became enamored with the idea of learning how to "drive," meaning using horses to pull a wagon. 
He began accumulating draft horses, breeds that are sturdy enough to not just carry a rider but pull wagons and farm equipment.   
Equestrian-minded readers will relate to his herd, which includes a Clydesdale, a Percheron/Quarter Horse cross, and two Halflinger/Brabant Belgium fillies, meaning young female horses. 
His wife, Jennifer, has a Palomino Paint horse that she rides. However, Schmitt prefers holding the reins and sitting in a wagon – behind his horses – instead of on them. 
Recently, he purchased a crème de la crème team: two black Percheron mares. One is 17.3 and the other 18 hands. 
Here's a quick horse measurement lesson: the average riding horse is around 15-16 hands; so these horses are tall. A "hand" is equivalent to 4 inches; horses are measured from their withers (high point where the neck meets the back) to the bottom of one of their front feet. 
"It's a hobby for me," said Schmitt, who has attended wagon train events. "I've got all kinds of harness equipment, different styles of wagons." 
His ultimate goal is to breed his Brabant Belgium stallion, with its distinct coloring, to the two new Percherons. He hopes the result is a team of blue roan-colored horses that are strong and sure-footed. He will be selling foals in the future. 
Schmitt, who grew up in Highlands and owns Sam's Grading and Southeastern Firewood, drives the horses down country and forest service roads. Sometimes his wife or one of his three children, ages 17-20, goes along. Or his father-in-law Johnny (Cat) Howard, who has wagon trained most of his life, will accompany him. 
But often Schmitt is alone and enjoying the experience – the challenge of his horses "hearing" his voice and responding to
his commands.  
"I just love learning all aspects of it," said Schmitt. "It's neat to learn what the animals are capable of, and to know you're doing something that people did many years ago."
---
---