Distinctly Fox
Written By: Luke Osteen | Issue: 2021/08 – August | Photograph By: Ryan Karcher
Architect Jim Fox's grandson is chronicling and restoring his intriguing buildings, which remain unmistakable landmarks across this corner of Western North Carolina.
---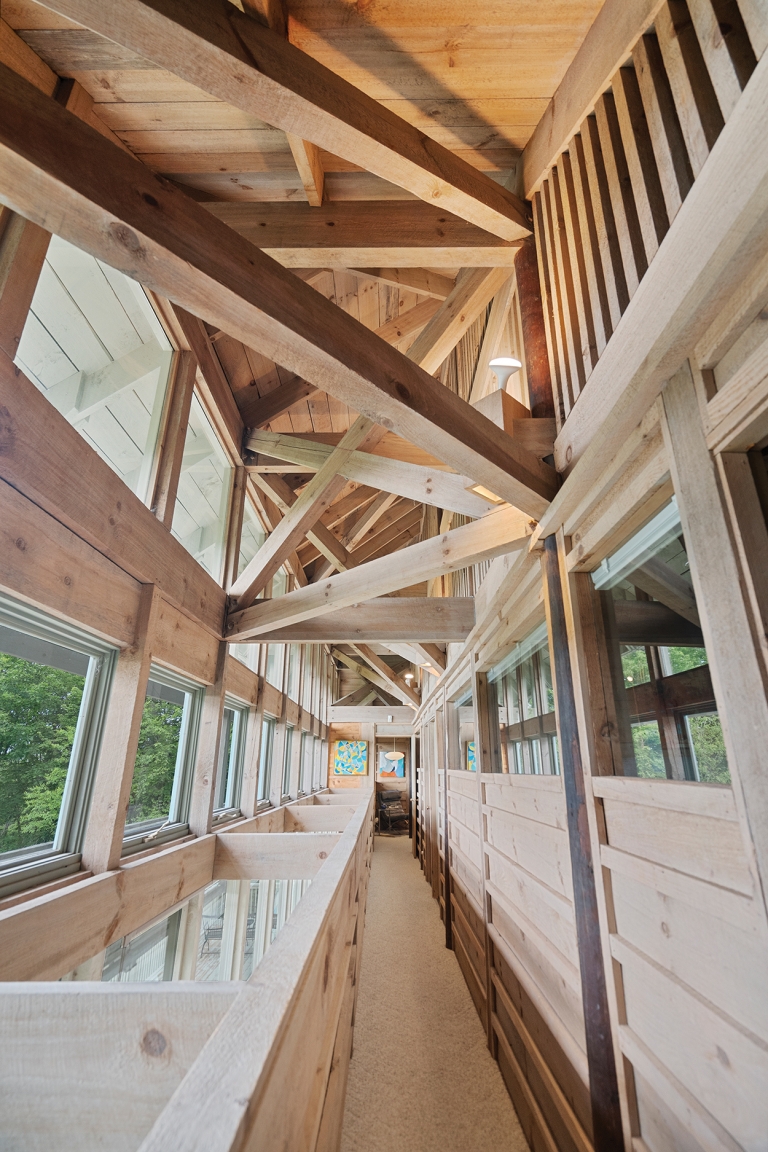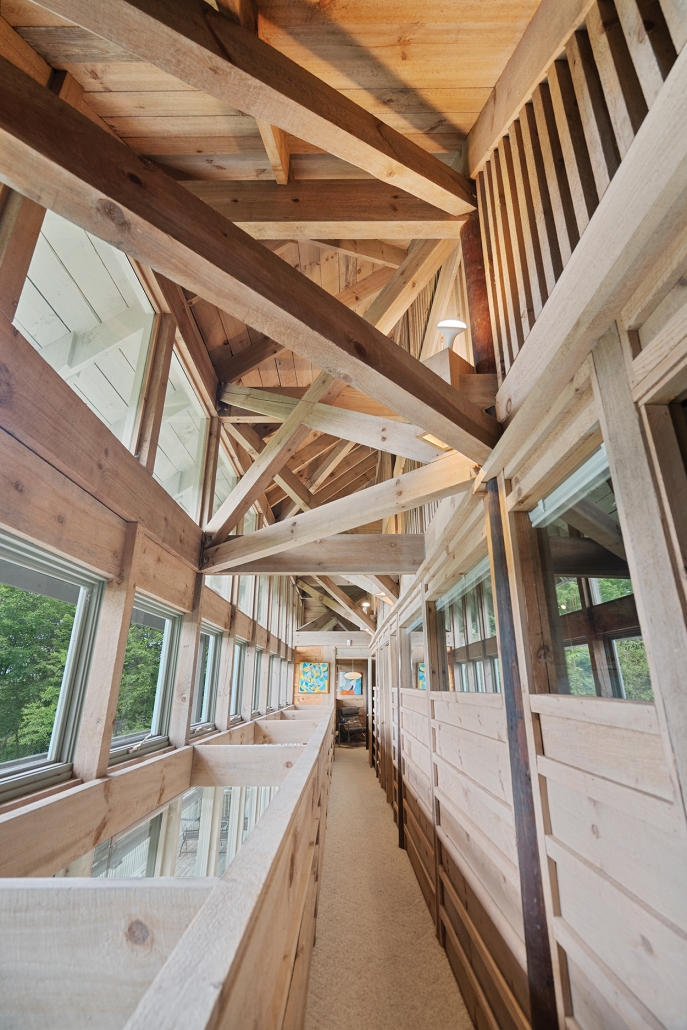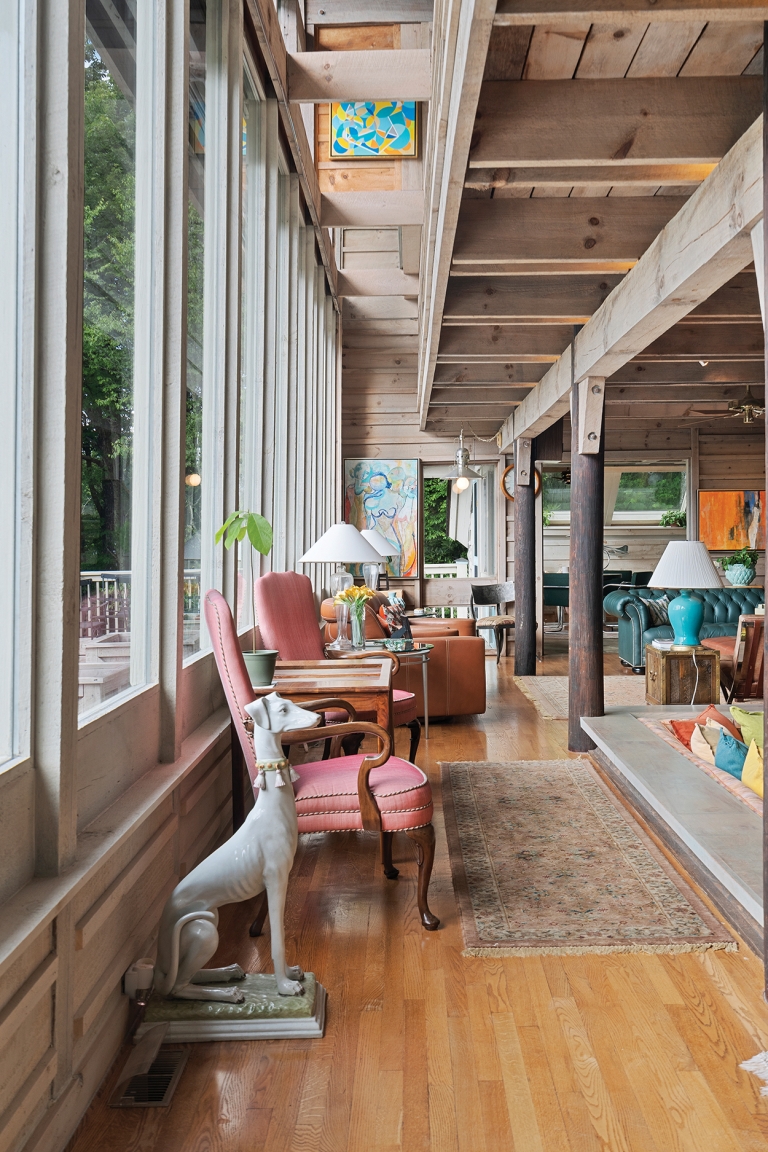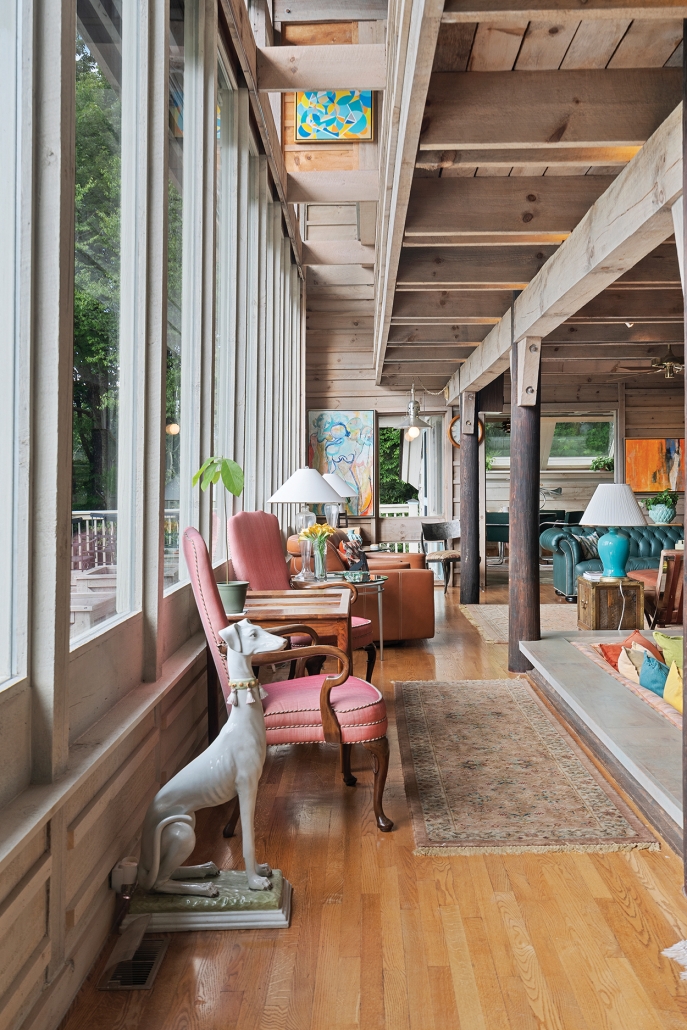 Many residents  and visitors to the plateau do not realize that they may be passing, staying in, or even owning a Jim Fox original. James (Jim) Fox, who died in 2017, was a native of Indiana but designed and built creative, modernistic homes throughout the United States before starting his own firm in 1969 as the Highlands area's first modernist design/build firm. Fox's homes exist throughout Highlands and Cashiers, and each is dramatic and distinct.
His grandson, 21-year-old Ryan Karcher, resides in the Highlands area and is both a general contractor and a drone photographer (Karcher Aerial Imaging). His goal is to honor his grandfather's legacy by completing Fox's biography. However, in a twist of irony, Karcher has in recent years had the privilege of working on some of his maternal grandfather's homes – to renovate and update them. 
"I remember going to a few of his homes as a kid, and he would show me around and I would see sketches in his office," said Karcher. "And now I'm helping in a small way to preserve them. 
"His houses definitely stand out – they're different. Some people love his work, and others don't like the designs at all. But one thing is certain – you know it when the house is a Jim Fox design."
One Jim Fox house, dubbed  "Long House," is located in Wildcat Cliffs and owned by Jim Sweat and Peter Almerico. 
"We fell in love with our Jim Fox home the first minute we stepped through the front door," said Sweat. "The huge two-story windows, revealing spectacular mountain views was a real plus; however, the unique design of the house, the wide open spaces and sunken fire pit with the huge open fireplace was what really made us fall in love with this special house."
Karcher, whose goal is to photograph all existing, local Jim Fox-designed homes, explained, "He liked his fireplaces to be the focal point, and to have lots of windows and angles." 
Sweat and Almerico discovered the circa 1973 house after it had been sitting vacant for over five years. "It was in dire need of many repairs and careful updating to ensure the Jim Fox design stayed intact," said Sweat. "The kitchen was the main element that was totally outdated. We waited a couple of years before we decided on the right design because it was important for us to stay true to the original architecture."
Gary Hitchcock and Wade Martin's Upper Divide Road 1980s house is "pure Jim Fox with an abundance of expansive glass openings, wood beams, and struts, and his ubiquitous obtuse angles," said Martin. "Day and night the strategically positioned clerestory windows draw natural light inside, whether by sun or moon." These owners as well were determined to maintain the structure's true Jim Fox essence while the house was renovated.
Another goal of Karcher's is to peruse all of his grandfather's existing architectural designs, rolled in tubes, and include some in a book – but then also choose one for the construction of his own home. "As a kid, I wanted him to design a house for me. I would sit by him while he was working sometimes."
One of Karcher's cousins, Joey Stiles, is following in Jim Fox's footsteps and is away at college studying architecture and design at the University of Oklahoma. 
Karcher's mother, Kristin Fox, who resides in Franklin, remembers her father overseeing each design's construction. "He knew his designs were difficult to build," she said. "He was on site and ready to assist the builders and keep the project flowing smoothly."
Kristin Fox was one of Jim Fox's three children.
She also shared: "Architecture was always a part of our lives growing up. Most of the time my dad had his office at our home, so we were always around his work; we hung out in his office, and he often took us to visit his houses while they were under construction. He taught us about great architects, especially organic architects. But of course to us my dad was the greatest architect. My dad even designed the coolest playground for Highlands School, built when my sisters and I went to school there."
Despite Jim Fox's distinction as an architect, Karcher said, "He didn't let business or money or notoriety change his personality. He showed up in jeans … casual, no nonsense. He wasn't showy, just confident and knowledgeable." 
Kristin echoed her son's sentiment. "No matter what my dad was doing, how busy he was, he always had time for us; he was always there for us – to hold our hand when we were scared, give us a hug when we needed one, share a laugh, or just talk. I could say many things about my dad, but he was a great man. He was my hero my entire life and my memories of him keep his spirit alive for me today. He encouraged me to dream big and work hard to fulfill those dreams."
Available on Amazon.com, New Old House: Designing with Reclaimed Materials, by Ed Knapp, is one book that includes photography of Fox-designed homes. 
---
---