The Wash-Away at Toxaway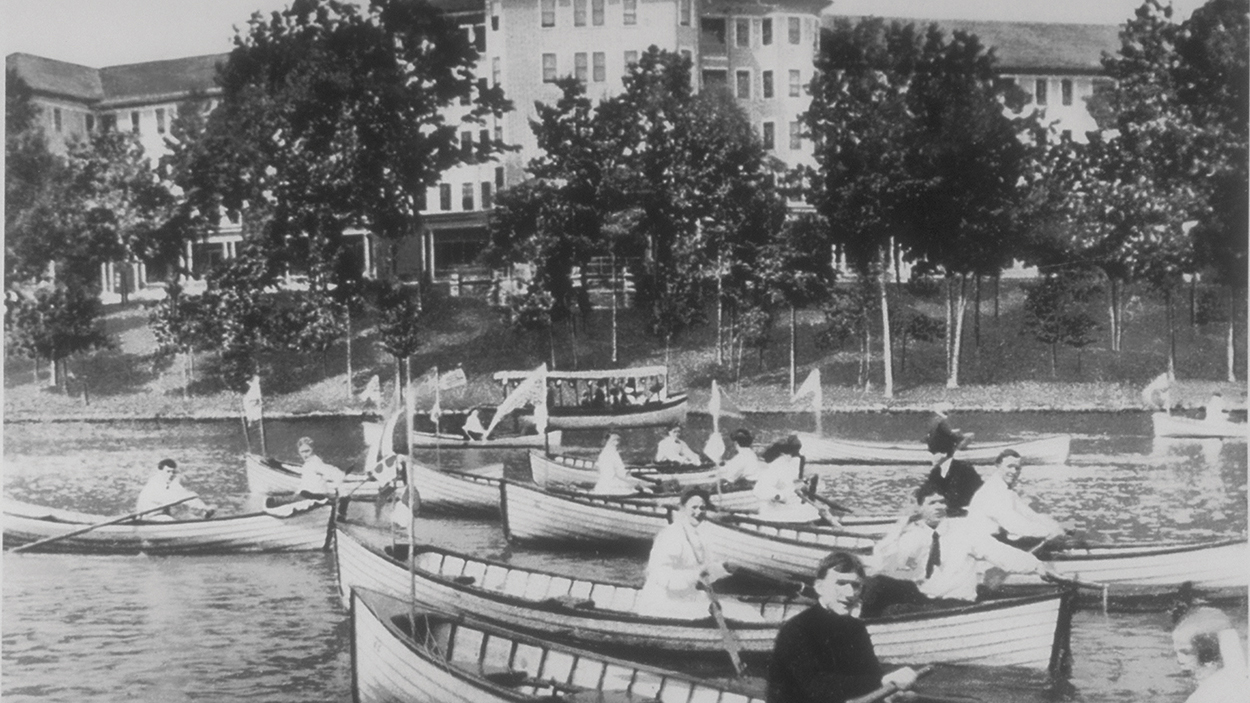 Written By: Carol M. Bryson | Issue: 2021/06 – June
Toxaway Inn set the standard for the Sybaritic Mountain Getaway over 100 years ago.
---
During the prosperous industrial era, when the Vanderbilt family built their summer home in Asheville and the Ford Model T was beginning to be mass-produced, the captivating views of our forested mountains began to draw the attention of wealthy citizens in New England, as a destination for rest and relaxation.       
For those who had as much leisure time as they had money, a trip in their private railroad car to the "Lake Toxaway" train station next to the Toxaway Inn, would start off a summer vacation paradise.  The Inn offered every kind of fun exercise you could imagine, such as rowing, sailing, motor boating, fishing, paddling, and swimming on the beautiful man-made mountain lake shimmering with the mirroring image of the towering five-story Toxaway Inn.  
You could play tennis or bowl, stroll on walks around the lake, take nature hikes on trails, ride horses, schedule a site-seeing tour in a road car, or just be lazy.   
Laughter, music, and gaiety reigned supreme within the ornate interiors of the Toxaway Inn at tea parties, card parties and recitals.
Elevators could take you to your floor of your choice of 100 rooms with private baths and other rooms with shared baths.  Telephone and telegraph services were offered, Elaborate dining halls and game rooms where large fireplaces glowed, and electric light chandeliers reflected on the mirrored wainscoted walls.  A full orchestra would be brought in for special summer events such as the annual Regatta Ball.
A Boat Carnival event would be held, always on a night of a full moon. Entire families would get in on the competition for the best decorated boat, preparing for days.  On an August evening in 1908, an orchestra started playing, announcing that a boating launch was about to happen.  Red and green lights glowed along the shore line and Japanese lanterns lit up the lawn of the Inn. Canopied illuminated and decorated row boats, numbering 25 to 30, started to parade across the water.  Then several decorated privately owned motor boats joined the procession. At that event, the first prize for the best decorated boat was awarded to Miss Mary Duke from New York City.  Some remarked in the newspaper that the spectacle, "excelled any they had seen in Venice." 
This playground for the "smart set" of the early 1900s lasted for 13 years before the dam holding back the waters of the head of the Toxaway River, split during a torrential rainstorm in 1916. The gigantic Toxaway Inn soon closed down as a result.
For more information see GlenvilleCashiersHistory.com.
---
---