The Historic Toxaway Falls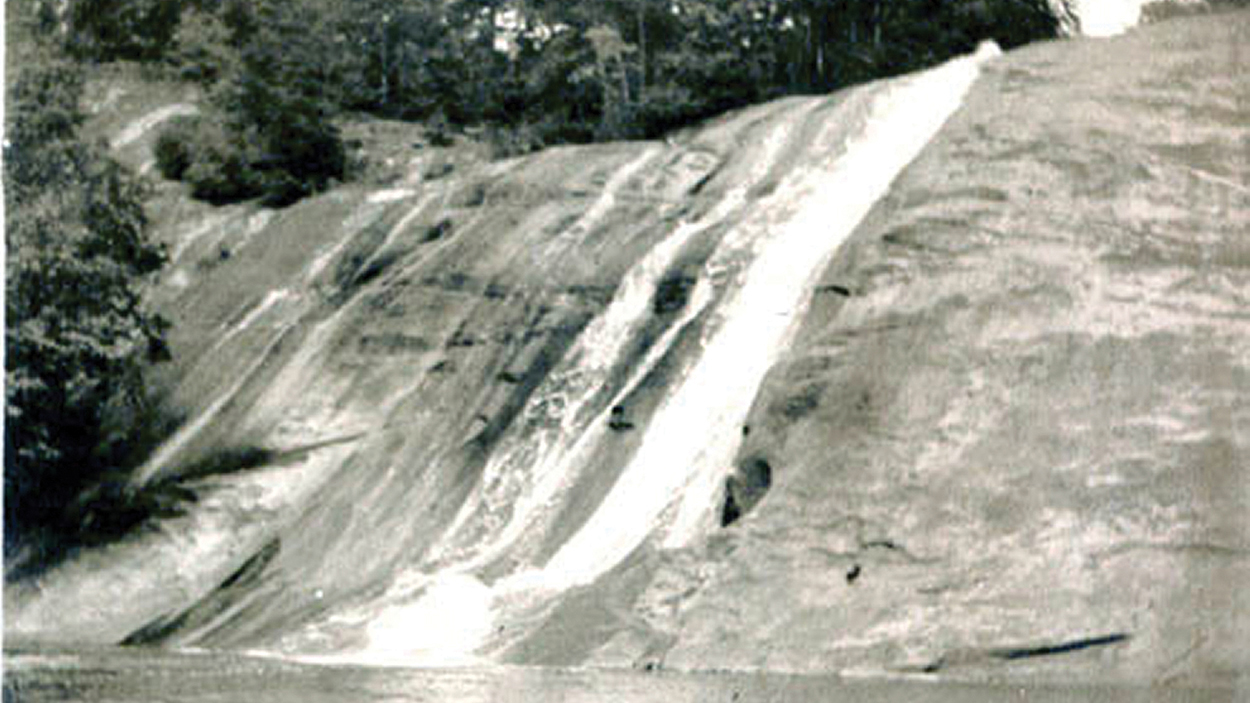 Written By: Luke Osteen | Issue: 2021/10 – October
The massive rockface of Toxaway Falls is testament to a spectacular catastrophe.
---
If you travel on scenic US 64 between Sapphire and Rosman, you can't miss the spectacular face of Toxaway Falls. 
There's a nice wide shoulder on the dam side to pull over, park, and take a look. Lake Toxaway is on the upper side of the road, spilling over some very colorful bedrock in a 240-foot change drop before the river disappears into Gorges State Park. 
That stretch was carved by the escaping torrent of Lake Toxaway's five billion gallons of water draining in the span of 18 minutes when Toxaway Dam collapsed in 1916.
If you were to follow the course of Toxaway River from that devastated landscape, you'd find an enormous 60-foot-long boulder carried down the flood. About a half mile further down Toxaway River there's a 60-foot long boulder weighing nearly 900 tons that was moved there by the flood.
Instead of a picture-postcard vision of beauty and tranquility, Lake Toxaway was transformed into 540 acres of drying mud, interspersed with shallow pools clogged with dying fish.
You can park at several spots before and after the waterfall, and there are pedestrian walkways that guarantee you can view the spectacle without worry of being clipped by passing cars.
Naturally, you never want to hike down to the rockface itself, or wade into the flow of water. In fact, that's a good rule when you're exploring any of the region's waterfalls.
---
---