Look To The Stars | Pisgah Astronomical Research Institute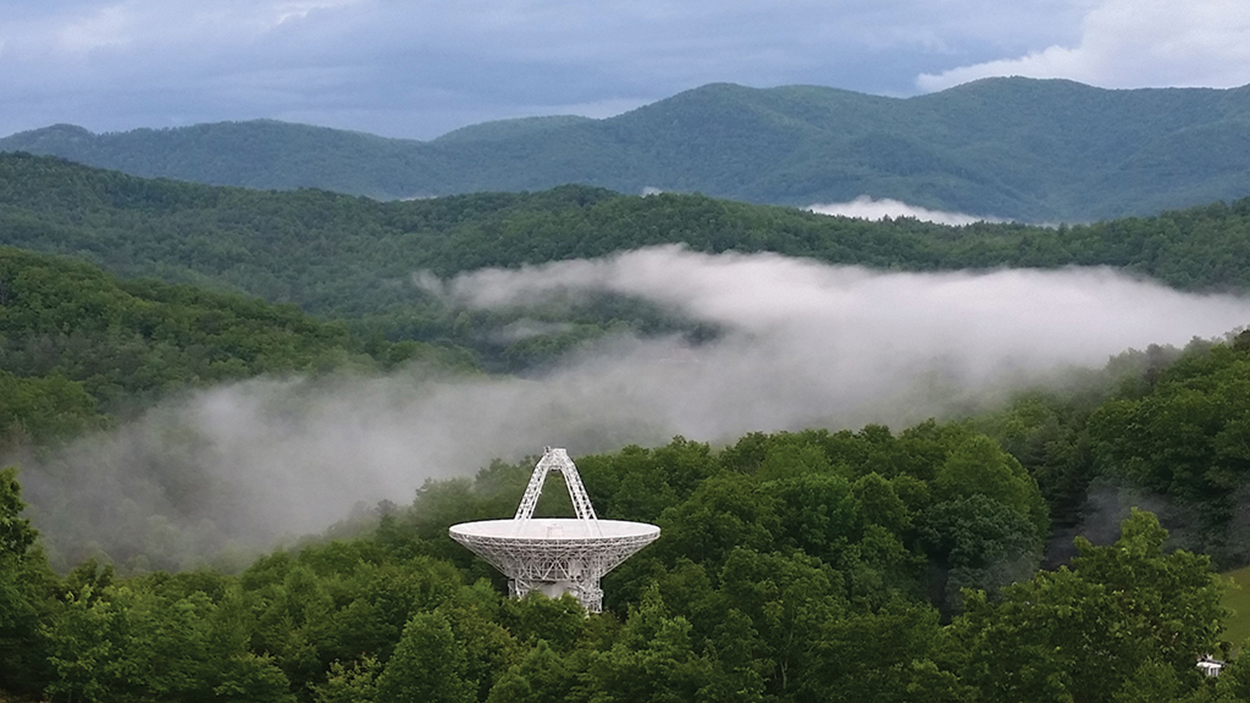 Written By: Luke Osteen | Issue: 2021/09 – September
Though it fostered a host of mysteries during its earlier incarnations, today the Pisgah Astronomical Research Institute is dedicated to helping the public explore the mysteries of deep space. To learn more, visit pari.edu.
---
Though it was built in 1962 as a link in NASA's network of communication relays for manned spaceflight, the Rosman Satellite Tracking Station always maintained an air of mystery. 
A $47 million facility in the wilderness just north of Lake Toxaway, it seemed to invite weird theories, which only gained strength when it was transferred to the National Security Agency in 1981 and renamed the Rosman Research Center. 
With an opaque name like that, it was far too easy to explore the farthest fringes of conspiracies, from remote spying on the Soviets to serving as a linchpin of the never-realized Strategic Defense Initiative to, naturally, UFO observation and communication with aliens. 
Whatever it was doing, the Soviet Union was intensely interested and directed satellites to regularly sweep over and photograph the facility. As a friendly greeting to those snooping satellites, someone painted a beaming smiley face on the 4.6-meter telescope.  
When the NSA shuttered the facility in 1995 and handed it over to the US Forest Service for demolition, it seemed certain to fade into the dim archives of Cold War/Space Age history.
Recognizing the tremendous value and potential for the site, Don and Jo Cline stepped in. In 1998, the Clines acquired the 200-acre facility and the Pisgah Astronomical Research Institute (PARI) was born – a not-for-profit public organization dedicated to educating future generations of scientists.
The principal radio research instruments at PARI are two 26-meter radio telescopes and a 4.6-meter radio telescope named Smiley (still bearing its happy skyward-tilted face). These have been adapted for precision tracking of celestial radio sources using multiple frequencies. Smiley is used for remote classroom teaching of astronomy by students in the US and worldwide. 
PARI continues to offer a summer space camp based on the Duke TIP programming (Above and Beyond), as well as other space and STEM summer camps.
If you'd like to learn more about PARI or schedule a visit to the facility (which also houses a gallery of space memorabilia) and be given a close-up look at those enormous radio telescopes and instruments, call (828) 862-5554, email [email protected], or go to pari.edu.
---
---