30 years at Headwaters Outfitters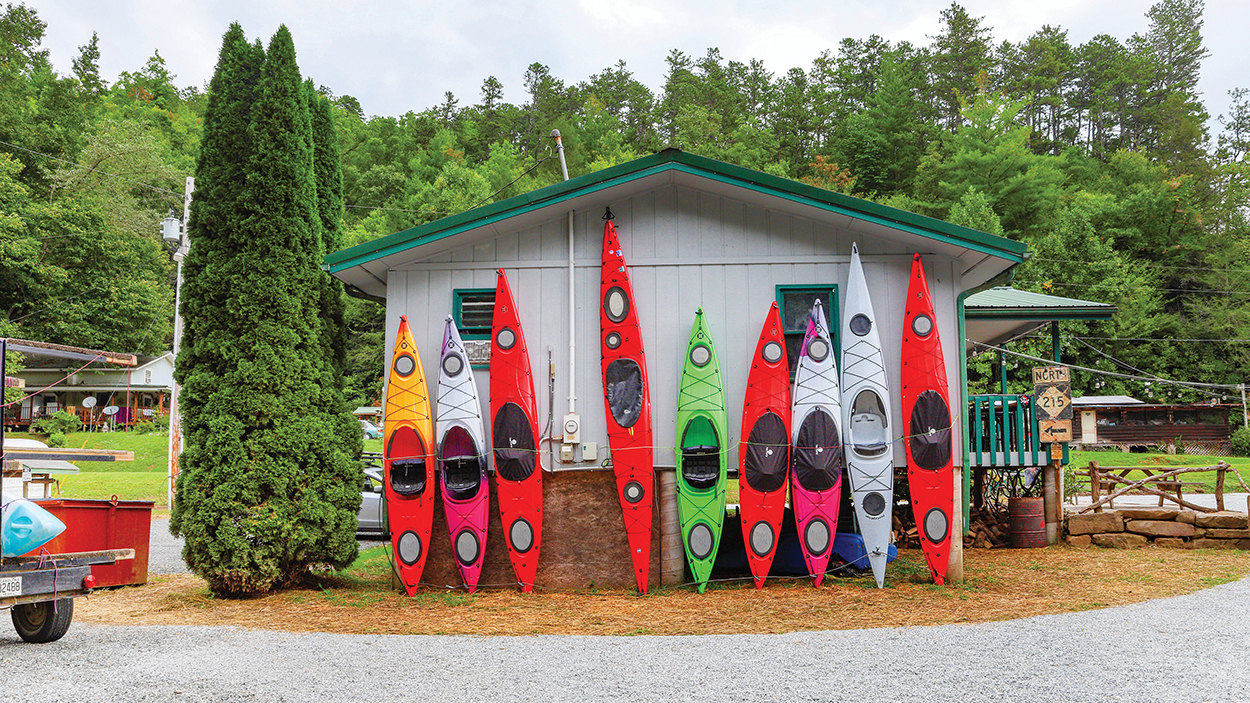 Written By: Marlene Osteen | Issue: April - 2022
Whether you're set on tubing down the French Broad River, or mounting a guided canoe or kayak expedition, or fly-fishing down the French Broad, make sure your first stop is Headwaters Outfitters, located at 25 Parkway Road (the intersection of Highways 64 and 215) in Rosman.
---
It's commonly said that the French Broad River is the third oldest in the world and at more than 300 million years, it's older than the mountains that surround it.  
Called the Long Man by the Cherokees, the river cuts a path through the Southern Appalachian Mountains, flowing from Rosman, North Carolina, into the state of Tennessee.  
At the confluence of the river's West and North Forks, at mile marker zero where the river takes its name, and just steps away from the water, is Headwaters Outfitters. 
Started in 1992 by Debi and David Whitmire as a modest canoe livery service, Headwaters has since become the "face" of water sports along this stretch of river. Their daughter Jessica came aboard in 2014 as Operations Manager, and Jessica's husband Chris was named head fly fishing guide the following year.   
Headwaters' excursions and programs promise an enriched experience of the French Broad River, an authentic way to explore the region, and to get closer to nature.   So myriad are the offerings that selecting "the" sport is often the most difficult decision. Or as David Whitmire says, Headwaters strives "to match the wonders of this river with the interests of new generations." 
Whether patrons are seeking to improve their form or just want to catch a fish, seven full-time Fly-Fishing guides offer instruction year-round – ranging from basic technique to a course for experts.  Popular from April through October are one to two-hour tubing escapades and canoeing and kayaking river trips on the first 20 miles of the French Broad River. In all, about 15,000 customers a year visit Headwaters to enjoy a day of adventure – from tubing down the river, to guided canoe and kayak expeditions, and fly-fishing trips.
The Headwaters Shop stocks a complete supply of everything water-related – including a full fly and paddling shop. Unique in the paddling and fly-fishing world, is a solid selection of gear and apparel for women.  Snacks, provisions, and local items are also available and local family food trucks are parked there daily.  
At the Forks of the River Taproom, visitors and regulars enjoy a rotating selection of local beers, brewed exclusively with water from the French Broad watershed.
Because of the popularity of many of these activities, Jessica advises that "it is important to make reservations several weeks in advance – especially during the height of the season."
Visit headwatersoutfitters.com for more information.  
---
---