Treatment as Inspiration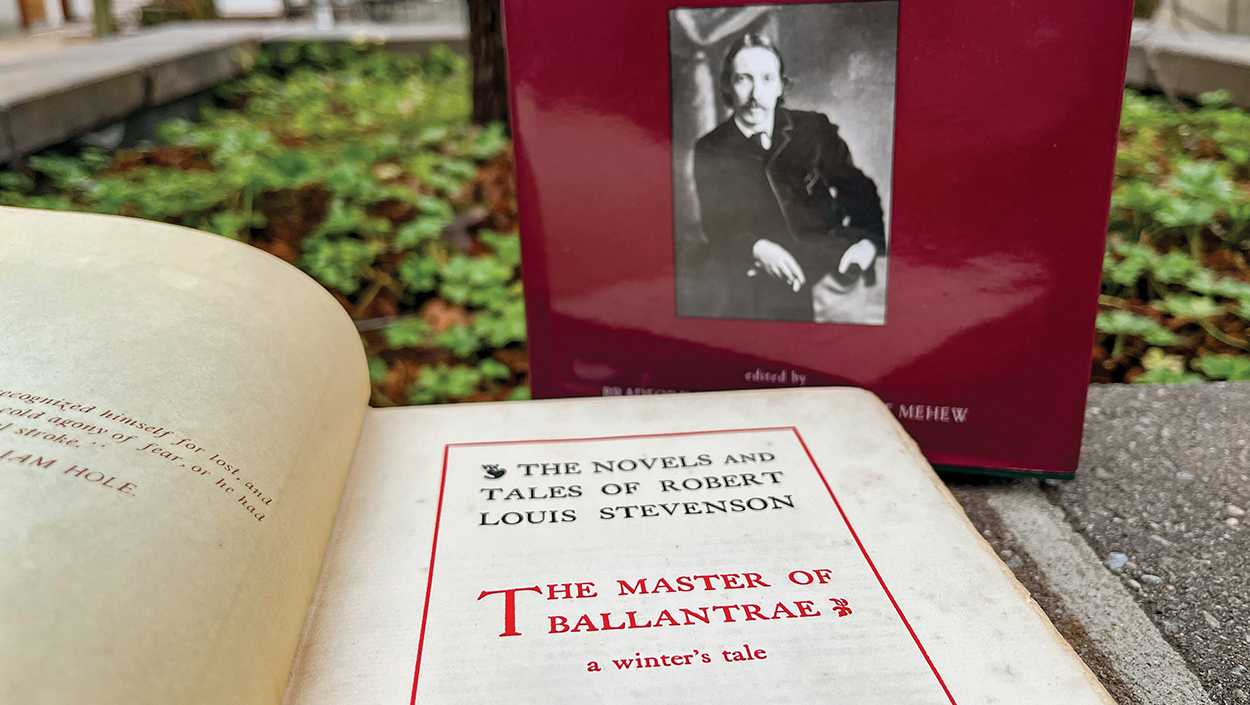 Written By: Stuart Ferguson - Shakespeare and Company | Issue: Winter - 2023
Robert Louis Stevenson's bout of bronchiectasis led to his greatest novel and also, inevitably, to Stuart's grandmother and the stunning woman who would become the eternal face of Irish beauty.
---
During the winter of 1887-88 Robert Louis Stevenson sent a hasty note to his physician:
"…I have finished your pellets; and I beg for more. The success up to now has been astounding…they give me a devil of a belly-ache but I prefer that—like Lord Derby and the gout. Yours sincerely…" (When a wine merchant recommended his sherry to the 19th-century English politician and claimed that Derby could drink a barrel without getting gout, the Earl replied, "Sir, I have tasted your sherry and I prefer the gout.")
Stevenson (1850-1894) was so satisfied with Dr. Edward Livingston Trudeau's treatment for tuberculosis that on March 1, 1888, he wrote to The New York Evening Post praising Dr. Trudeau's sanitarium. 
While the Scottish author had gone to Saranac for Trudeau's expertise in TB, in fact, experts now think that Stevenson had bronchiectasis, a different pulmonary disease that's no fun—but not fatal. But it was while being treated by Trudeau, and inspired by his new surroundings, that he started what many consider his best novel, The Master of Ballantrae: A Winter's Tale. 
Like Peter Pan, Ballantrae has pirates and Indians – both kinds – but goes it one better by adding North Carolina's own Blackbeard, and Bonnie Prince Charlie.
Ten years ago, I did a blog post about Stevenson in the Adirondacks for the Fontana Regional Library, and if you Google "Winter's Tale Shelf Life in the Mountains" it will come up, with some photos of Stevenson at his cottage there.
In my article I claimed that Dr. Trudeau's wife was the matron of honor at my great grandparents' wedding. But in fact, it was Mrs. Edward Livingston Trudeau, Jr., who was at their 1907 wedding, and my great grandmother had been maid of honor at hers to Dr. Trudeau's eldest son (also a physician, hence my confusion) in Chicago in 1903. Before her marriage, Hazel Martyn Trudeau was considered the most beautiful woman in the Midwest and was a talented artist. She and my great grandmother were best friends at boarding school. 
Alas, the younger Dr. Trudeau died five months after his wedding, during a pneumonia epidemic in NYC. A few years later, his widow married the London-based, Irish portrait-painter Sir John Lavery—who became so obsessed with his wife's beauty that half of his art featured her. The new Lady Lavery – "that talented, radiant creature" as society diarist Chips Channon described her – was friends with everyone, including Winston Churchill.
The Laverys were crucial in the negotiations for the 1921 Anglo-Irish peace treaty, much of which took place at their townhouse. Until recently, Ireland's paper currency featured Lavery's portrait of harp-playing Hazel as the personification of Eire. 
---
---