The Great Whitewater Falls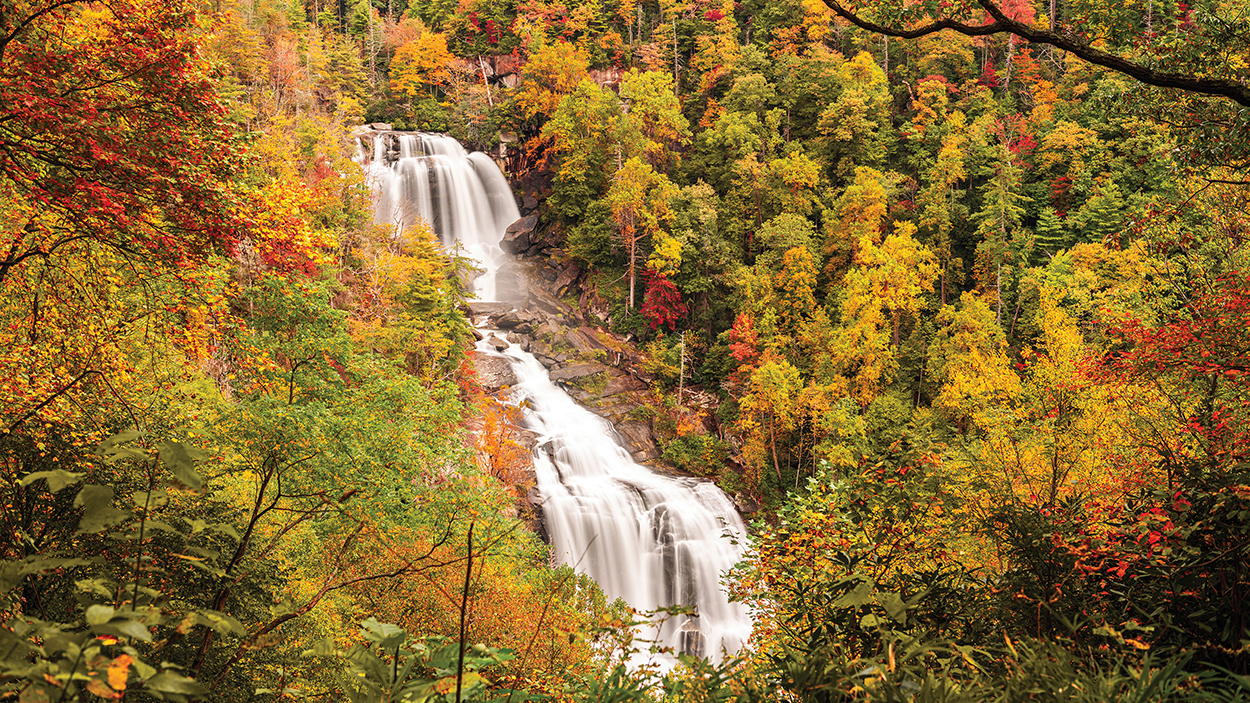 Written By: Carol M. Bryson | Issue: 2021/10 – October
A trip to Whitewater Falls in 1885 was an all-day test of agility and stamina.
---
From the viewpoint of a geologist, history is not a study of three hundred years back, but three million years back.  Such local natural landmarks as Whiteside Mountain were shaped by millions of years of erosion.  Left exposed were the tiny streams coming out of sheer rock which became the headwaters of several rivers.  In just a few miles, these tiny streams become raging currents spilling over multiple waterfalls.
I ran across a personal recollection by a vacationing New Yorker seeking to find and see the Great Whitewater Falls in the region of southeast Cashiers.  
One of Cashiers' must-see tourists' destinations, Whitewater Falls is located on the Jackson County/Transylvania County line in North Carolina, near the South Carolina state line. 
This New Yorker was visiting in the summer of 1885.  He was Professor Charles Linden from Buffalo, who was staying at the Highlands House hotel in Highlands.  Access to the falls was possible only by foot in 1885.  Professor Linden was a German immigrant and was 54 at the time.  
Dr. James Madison Zachary was well-known locally as a dentist.  His home was about five miles away, on a road now known as Norton Road between Cashiers and Highlands.  Dr. Zachary's dental equipment was portable, and he would often set up in the corner of the lobby of the Highlands House hotel, usually on Saturdays.    
Dr. Zachary told Professor Linden about the over-1,200 foot drop of the cascades of the falls known as the Upper Whitewater Falls. A city-slicker, Professor Linden pleaded with Dr. Zachary to take him there even though the excursion would be very difficult through the dense forest, with no roads, just overgrown paths to the Falls.  Professor Linden arrived by horse-drawn carriage to Dr. Zachary's home in Norton.  They rode on to Dr. Zachary's childhood home near Rocky Mountain in Cashiers in the early morning.  They set out on the trail and reached the Whitewater River by noon that day.  Later, Professor Linden writes in the Blue Ridge Enterprise that they "waded along its bank for about a mile."  Dr. Zachary had to patiently wait for the Professor to try his luck "at every possible trout lair on the way."
They heard the loud roar of the Falls long before they saw the waters take their "mad leaps down" from the top of a cliff.  Being surrounded by the canopy of large trees, they finally saw an opening to the blue sky straight ahead. Going another 150 feet or more, the Professor wrote that it was as if the "rocky banks had been rent by a convulsion of nature…"  He proclaimed that a "vast panorama of the sunlit plains of South Carolina suddenly burst upon the view," and that he could distinguish "fields of tobacco and cotton made white by its pods."
Today, Whitewater Falls is a part of the Nantahala National Forest and visitors can drive to the Falls by way of NC Highway 281.  You can walk up a wide trail to several viewing platforms at varying heights.  When you go, reflect on the thought that this waterfall has been rushing down that rough cliff for millions of years, long before the time of Professor Linden's and Dr. Zachary's adventure.  
Now that's history! 
For more information see GlenvilleCashiersHistory.com.
---
---