Sparkling Diamond Jubilee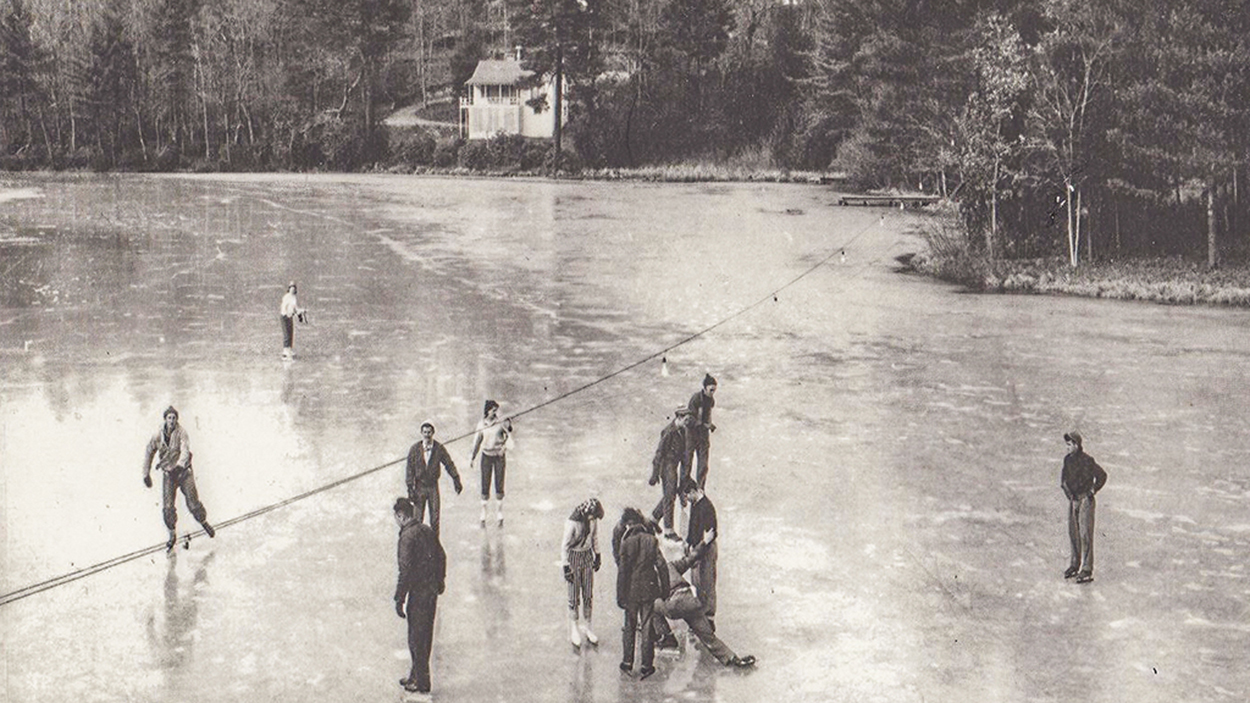 Written By: Donna Rhodes | Issue: November - 2022 | Photograph By: Highlands Historical Society
The arrival of cold weather on the Highlands-Cashiers Plateau brought its own suite of joyful sensations.
---
Cold weather is coming. Residents are winterizing their homes. Ice skaters are sharpening and polishing their skates. Trees are shaking off the last of their reluctant leaves. Forests are turning a monochromatic sepia, the color of sleep. Winter's icicles jut out from rock faces like popsicle whiskers. Jack Frost is on call, ready to coat trees and rooftops with white crystals, frost, and snow. When the sun hits just right, this wonderland will sparkle like a diamond jubilee.
In days gone by area lakes (Sequoyah, Harris, and the Hall House Lake) often froze deep enough to provide thick ice that was sawed into blocks and delivered to area ice houses. There they were covered in sawdust to preserve them into the summer months.
Before electric freezers, most folks used an ice box to keep perishables cold. If you've never seen one, imagine a wooden cabinet/chest with a door. The top shelf held an ice block. Underneath it, perishables were kept cold. The melting ice drained into a pipe leading to a tray under the ice box. And, yes, kitchen puddles were abundant.
Remember those popsicle whiskers? Isabel Chambers describes her dad's ingenious ice cream bash in the dead of winter. Many folks made snow cream (milk, sugar, vanilla, salt, and snow). It was quick and fun. But Isabel's dad upped the ante when he grabbed an ice axe, a gunny sack (burlap bag), and a bunch of helpers (kids). Off they went on an icicle hunt. When their sack filled, they raced home, dragged out the ice cream churn, and prepared the cream.
"The cream came from our cow," says Isabel. "My grandmother scraped it off the top of each day's milking until we had enough to make ice cream. We added flavorings, filled the canister with the creamy concoction, placed it in a wooden tub, and latched the crank mechanism on top. Then we filled the tub surrounding the canister with icicles and salted it. The kids took their turns cranking the handle which turned the paddles. You had to sit atop the churn to keep it stable, and that froze your bum as well as the cream. As the cream froze (an hour or two), the cranking got harder and harder until finally, Dad took his turn to finish it off."
There was a race to call dibs on licking the dasher. Isabel's brother always called it – the one who did little work, but claimed the prize.
Ice cream sundaes were a Sunday event. In fact, when very young, Isabel thought Sundays were named after sundaes.
Consider making your own Sundae diamond jubilee memory this winter. But guard it closely, friends, because, in the spirit of Isabel's brother, I'm calling the dasher.
---
---