Meet James Grant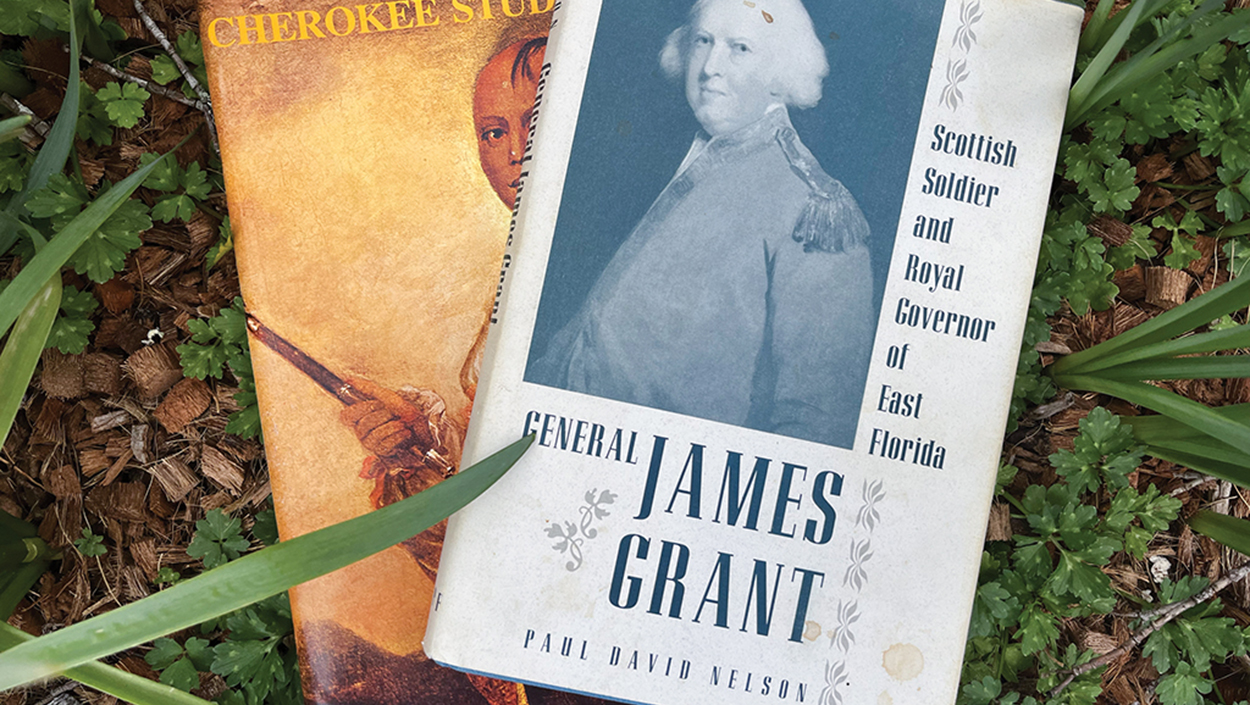 Written By: Stuart Ferguson - Shakespeare and Company | Issue: May 2023
The curiously incompetent James Grant's victorious Battle of Echoe was never about glory, but it ended with despair and dishonor.
---
If you've read the wordy Battle of Echoe marker near the county courthouse in Franklin, you've met James Grant, the Scot who led the 2,500-man expedition sent by the British from Ft. Prince George (the site is now under Lake Keowee) and through Rabun Gap to chastise the Cherokee in June 1761.
It was ambushed at Echoe (Otto) but the invaders broke through, scattering the smaller Cherokee force. Grant spent a month ravaging the Cherokees along the Little Tennessee and Tuckasegee rivers. "Fifteen towns and all the plantations (crops) in the country have been burnt…and about 5,000 men women and children drove into the woods and mountains to starve" he reported to his military superiors.
Paul David Nelson's 1993 book General James Grant: Scottish Soldier and Royal Governor of East Florida, and the Summer 1977 issue of the Journal of Cherokee Studies (with Sir Joshua Reynolds's 1762 portrait of chief warrior Ostenaco on the cover), tell the sad story. The Cherokee never recovered and referred to Grant as "Cornpuller." Grant (1720-1806) himself hadn't wanted to do it and said that if one considered both sides – Cherokee and colonists – "the Indians have been the worst used."
Grant became governor of newly acquired East Florida in 1764, living in St. Augustine. There he bought the enslaved Creole cook Baptiste and soon found that he couldn't do without his culinary talents. In late 1765 Grant and Baptiste served a six-foot-long rattlesnake for dinner. It had just been killed by Grant's guest William Bartram, exploring Florida with his father John, royal botanist for America.
During the American Revolution, Maj. James Wymess, another Scottish officer who served with Grant at the Battle of Brooklyn, wrote that his countryman was, "Without abilities, or the least knowledge of his profession; he possessed a kind of cunning, invariably directed to the promotion of his own interest.   He was a Gamester, a glutton and an Epicure.  In short it may be truly said that he lived only for himself."
Which the increasingly fat and gouty Grant half admitted: In 1770 he declared that, "My Intention… is to have a good house in London, a good Cook, good Dinner, good Claret and good everything as far as I can to make my Friends Welcome & merry." Not long after, he unexpectedly inherited the Highland castle of Ballindalloch; was elected to Parliament; and travelled back and forth from the family lair in Scotland to his stylish townhome in London, where he entertained the Prince of Wales and other distinguished cronies, all eager for (the newly freed) Baptiste's mouthwatering fare.
---
---