Inspiration Hits Home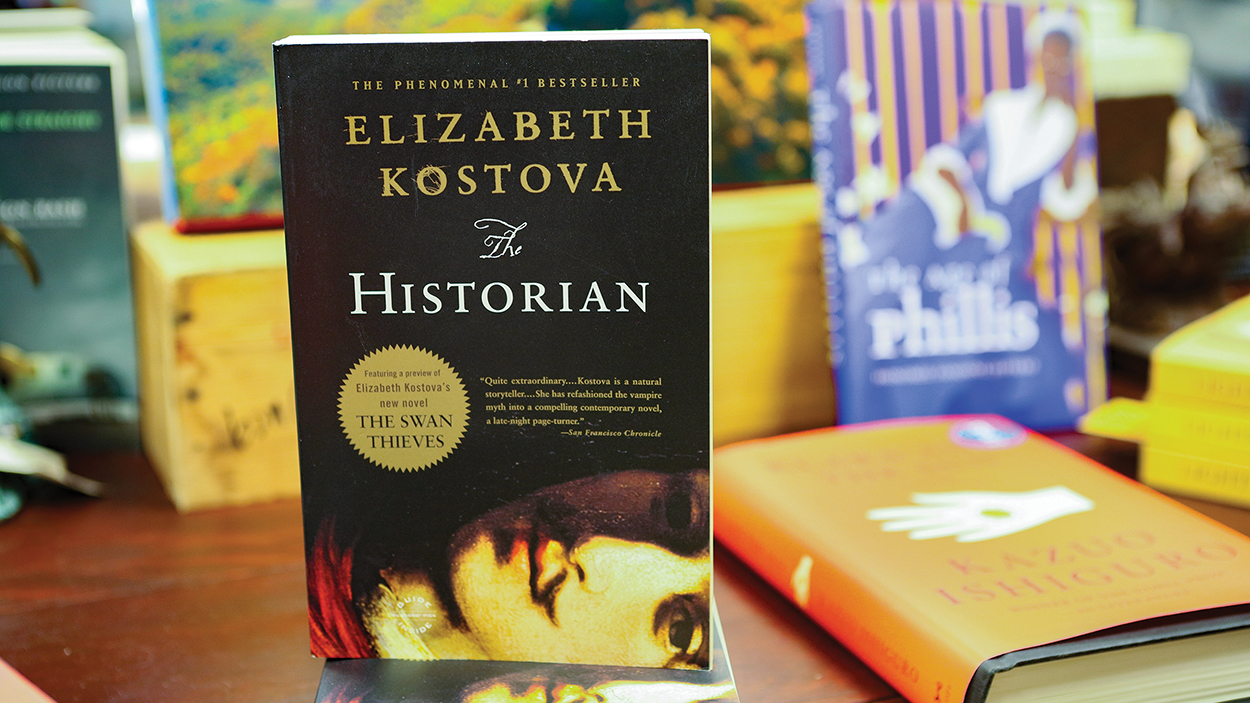 Written By: Stuart Ferguson - Shakespeare and Company | Issue: 2021/10 – October
If these hushed forests and shiver-inducing October nights don't have you thinking about Things That Go Bump in the Night, consider Elizabeth Kostova's Yellow Mountain revelation.
---
Warning: You don't have to go to Transylvania (not even our nearby county!) to find vampires lurking. 
It was a hike up to the Yellow Mountain fire lookout – perched along the Jackson/Macon border at 5,127 feet – that inspired the 2005 bestseller The Historian. 
The novel is based on the historical 15th-century Dracula, aka Vlad the Impaler, prince of Wallachia (in present-day Romania) and deadly enemy of the Turks. This truly page-turning, literate, horror tale is by Elizabeth Kostova, who has spent many years in Asheville. 
During an email exchange last month with the author – who was under deadline pressure as she finished work on a new book (perhaps a sequel?) – she told me about her trek up the Norton-community summit:
"The Historian is set mainly in Europe, but I got the idea for it in the mountains near Cashiers, one day in the spring of 1993.  By then, I'd spent a lot of time in the Balkans and was wanting to write a novel about that region.  Coming out on top of Yellow Mountain on a hike with my husband and our dog, I saw the wonderful view from up there and suddenly had a feeling of being back in Eastern Europe.  As we sat enjoying the scenery, I also began to remember childhood travels with my family in Slovenia, especially the stories about Dracula that my father had told me while we were there – fun and creepy tales he always based on the famous Bela Lugosi movies from his own childhood.  For the first time, I wondered if something about that scene of Dracula storytelling in beautiful places might make a good structure for a novel.  
"But I knew that it generally takes a big question to inform a novel, and I found I did have one:  What if, while a father tells a daughter these tales, we learn that Dracula himself is listening?  I ran to my backpack and got out my notebook, then sat there scribbling seven pages of notes I still have in my files.  They're pretty dogeared now."
I'd do just about anything to get my plump, sweaty hands on those notes. The Historian reminds me of the classic ghost stories by Cambridge University professor M.R. James (1862-1936), whose over-inquisitive antiquarian characters find out things they shouldn't and come to regret it. You won't regret reading any of Ms. Kostova's three fine novels (the others are The Swan Thieves and The Shadow Land) but you'll want a dependable light source and garlic cloves on hand if you're settling down with this best of all Dracula epics.
---
---