Highlands Christmas Remembered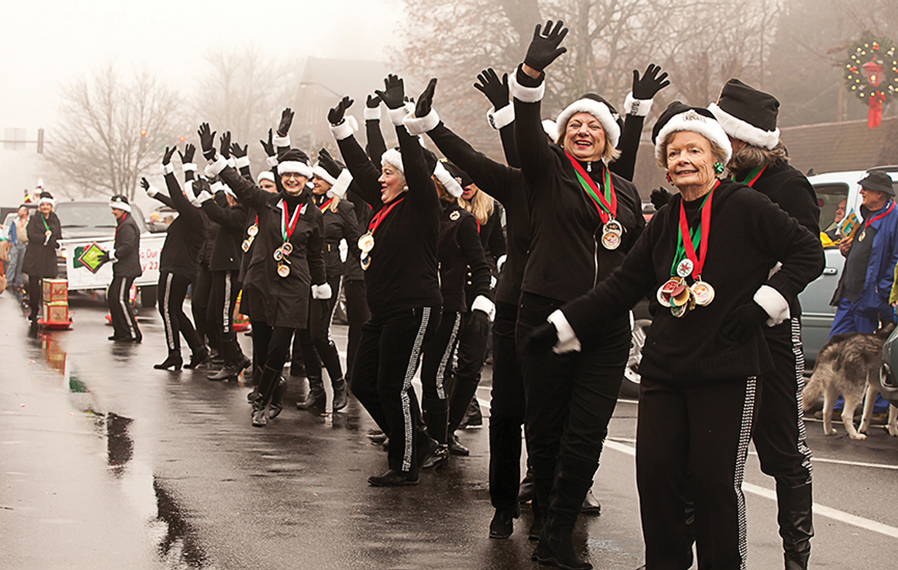 Written By: Wiley Sloan | Issue: 2015/12 - December
Thinking about Christmas in Highlands evokes memories of "True Americana" – maybe even makes you think of the Currier and Ives Christmas cards that your parents shared with their friends in the 50s and 60s.
Long-time Highlands resident Dixie Barton fondly recalls her previous 25 Christmas seasons here on the Plateau.
Dixie and her family enjoyed their home on Lake Rabun for 40 years when a short day-trip up the mountain to Highlands was a common occurrence. When the time came to escape the rigors of Atlanta, Dixie decided that she would like to move her specialty linens business (vintage and imported items for table, bedroom and bath) to Highlands. A quaint little house nestled in the rhododendron at the end of Main Street caught her eye. Since 1990 Dixie has watched Highlands evolve from the sleepy little hamlet that it was to the vibrant, tourist mecca that it is today.
All seasons in Highlands are "a dream," but the Christmas season with its Community Christian Chorale performance, holiday readings and especially the Olde Mountain Christmas Parade are
especially memorable.
Dixie told me, "I love to see all the families-especially the youngsters – as they soak in the sights and sounds of Christmas. Years ago the school band rang out tunes of Christmas while floats from various churches and businesses joined the Tooth Fairies, the Beagle parade, and a myriad list of local entities to parade down Main Street."
For the past 18 years Dixie has danced with her friends in the Mountain Garden Club's widely acclaimed performances. Yes, their choreographed, costumed routines are parade and YouTube favorites.
The children watch in awe as the camels and Wise Men ring in the season while they clamor for Santa and Mrs. Claus to appear. Vintage Thunderbirds sparkle in the sunlight, sandwiched between the entries from churches, businesses, and numerous non-profits.
The first Saturday of December can bring crisp temps, sometimes even a few flutters of snow. The weather is irrelevant. What's important is the family is together and you are in Highlands. The Christmas season has begun. Build Christmas memories with your family here in Highlands.
---
---