Grandfather's Clock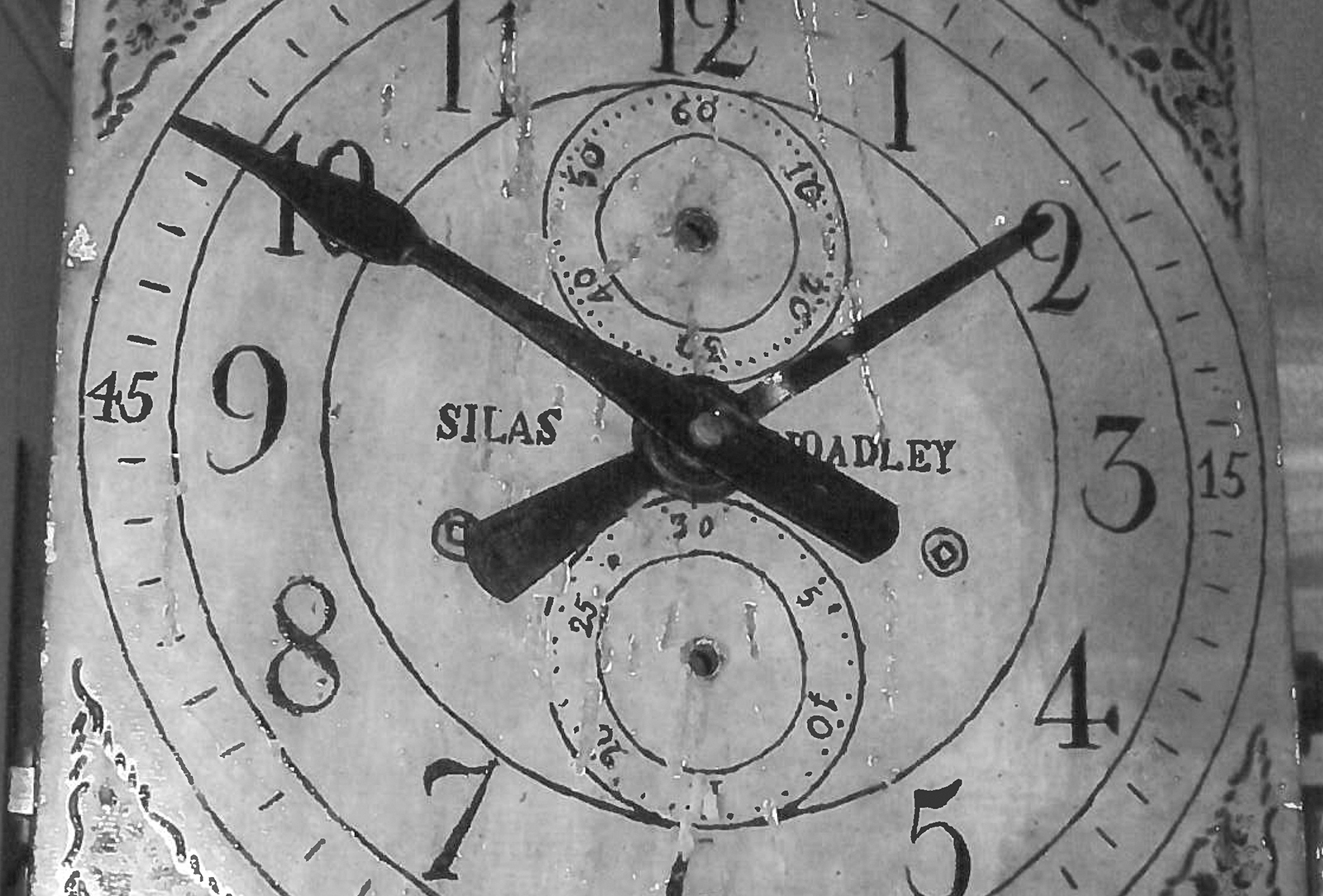 Written By: Jane Gibson Nardy - Cashiers Historical Society | Issue: 2019/07 - July
The very first article I wrote for The Laurel was printed in March of 2005 and it was about the grandfather clock that Col. John A. Zachary brought with him from Surry County, North Carolina, around 1833 when he moved to what was to become Cashiers Valley.
Following is a reprint of that story with a few updates:
This is the story of a rare, 19th century grandfather clock, made by Silas Hoadley of Connecticut, which was brought from Surry County, North Carolina to Cashiers Valley by the pioneer Zachary family in the early 1830s. Colonel John Alexander Zachary, his wife Sarah Roberts Zachary and twelve of their fourteen children traveled to their new home on a perilous 250 mile long journey as evidenced by one of the daughters, Elizabeth Zachary Allison.
One night, during the last part of the trip, a big storm came up, with a strike of lightning splitting and toppling a tree directly onto the wagon where the family's prize clock had been carefully placed. The tree narrowly missed the clock.
Late in her long life, Elizabeth remembered the long, tiresome move – their belongings packed in a six-horse wagon with Mrs. Zachary and the youngest children following in a carriage. From Surry County they made their way southwest, dipping briefly into South Carolina and then turning north and following the crude Indian trail that meandered parallel to the Chattooga River – up, up until they reached their destination at the headwaters of the Chattooga. They probably paused in Whiteside Cove to speak with their new neighbors, the Norton family.
Until 1819, this land was part of the Cherokee Nation. After the "Love Survey" of1820, the State of North Carolina opened the area to settlers. Grants of 640-acres were available for a pittance, but few pioneers chose to claim land in the rugged area just north of South Carolina and Georgia and only the hardiest ventured into that wilderness. Colonel Zachary and several of his sons applied for land in what would become Cashiers Valley – land that until 1851 lay in Macon County. Land was cleared; sturdy houses were built and in the living room of the colonel's home stood the grandfather clock, tall and stately, keeping time over the years with its unusual wooden clock movements.
With most current day Zachary family descendents, the story ended with the safe journey of the clock, but in the last few years, the rest of the clock story has been revealed. When Col. Zachary died in 1872, he left the clock and his personal papers to his eldest son, Alfred Zachary. From that point on, the clock has been handed down from the eldest son to the eldest son. Today the still intact 200-plus-year-old clock is owned by Gene Zachary of Transylvania County. Wouldn't Col. Zachary be pleased?
---
---