De Vere, and da Rest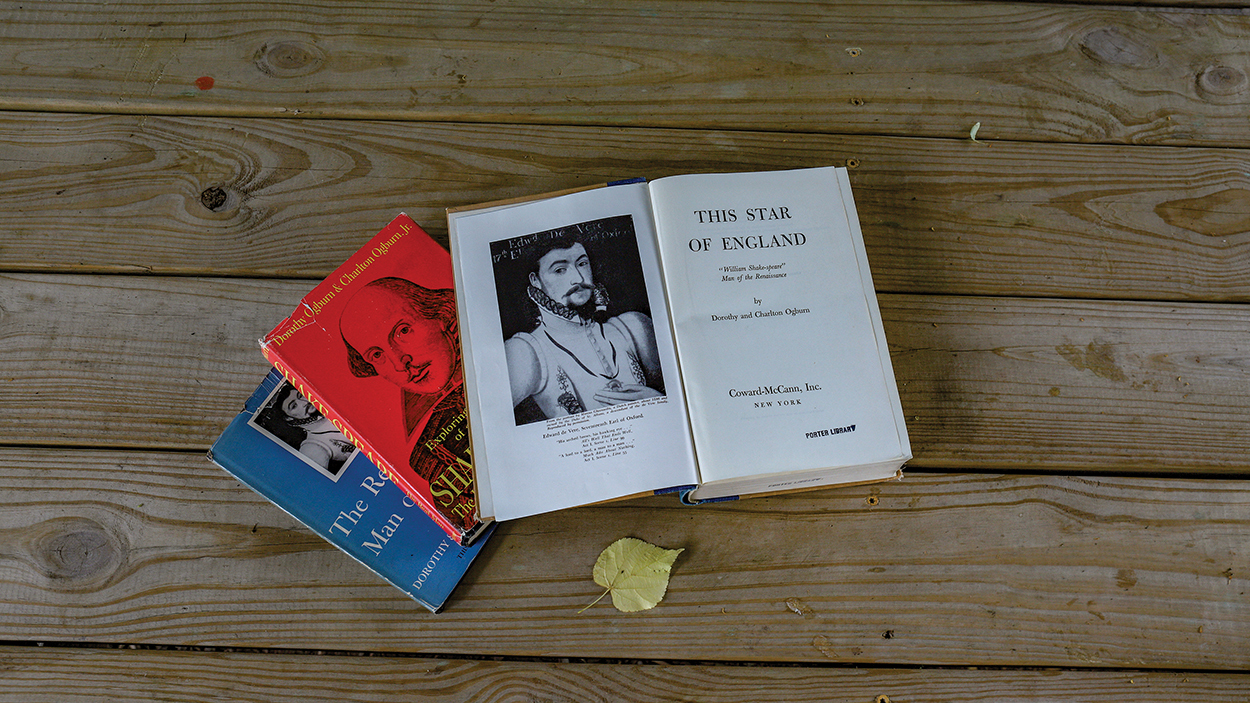 Written By: Luke Osteen | Issue: 2021/08 – August
Stuart fearlessly dives into the Highlands chapter of the ongoing debate over the authorship of Mr. Shakespeare's magnificent plays.
---
Who wrote the plays attributed to "William Shakespeare" of Stratford-upon-Avon? 
Highlands summer resident and mystery novelist Dorothy Ogburn (1890-1981; discussed here last month) along with her husband and son—both named Charlton—were sure the man behind the Sonnets and Hamlet was actually Edward de Vere, the 17th earl of Oxford.  "Oxfordians" don't believe the son of a glove maker had the education and worldliness to write the sophisticated works attributed to the Bard. 
De Vere (1550-1604), on the other hand, was descended from one of the oldest families of England, had spent years abroad, especially in Italy—scene of so many Shakespeare dramas—and was known to write poetry and plays, none of which survived (or did they?).
English schoolteacher Thomas Looney's 1920 book Shakespeare Identified started the agitation. 
In America, the Oxford cause was taken up by Charles Wisner Barrell, whose 1937 article in the Saturday Review of Literature infected Mrs. Ogburn. 
Charlton Sr., a prominent lawyer,  represented Barrel in a libel case against the Folger Shakespeare Library in Washington, which termed Barrell's research fraudulent. The Ogburns wrote numerous books supporting de Vere and claimed in their 1300-page, 1952 doorstop This Star of England, that the famous earl of Southampton (the "fair youth" of Shakespeare's sonnets), was in fact the illegitimate son of de Vere and the "Virgin" Queen Elizabeth I, which made the whole subject even juicier. 
In his own writings on the controversy, Charlton Jr. dropped the royal love-child claim of his parents but debated William F. Buckley on behalf of Oxford on Firing Line on TV.
But why was de Vere's purported authorship a secret? According to the Oxfordians, it's because his wife's father, the powerful William Cecil, the queen's chief adviser (and ancestor of the Cecils who own Biltmore) despised both the theater and his son-in-law.
Shakespeare scholar Samuel Schoenbaum called the Ogburns' de Vere tomes, "the most monumental contribution ever made to the literature of heresy."
I hope he's right, or we'll have to change our bookstore's name from "Shakespeare & Company" to "De Vere and da rest."
---
---