Cemetery Mystery: Cashiers NC History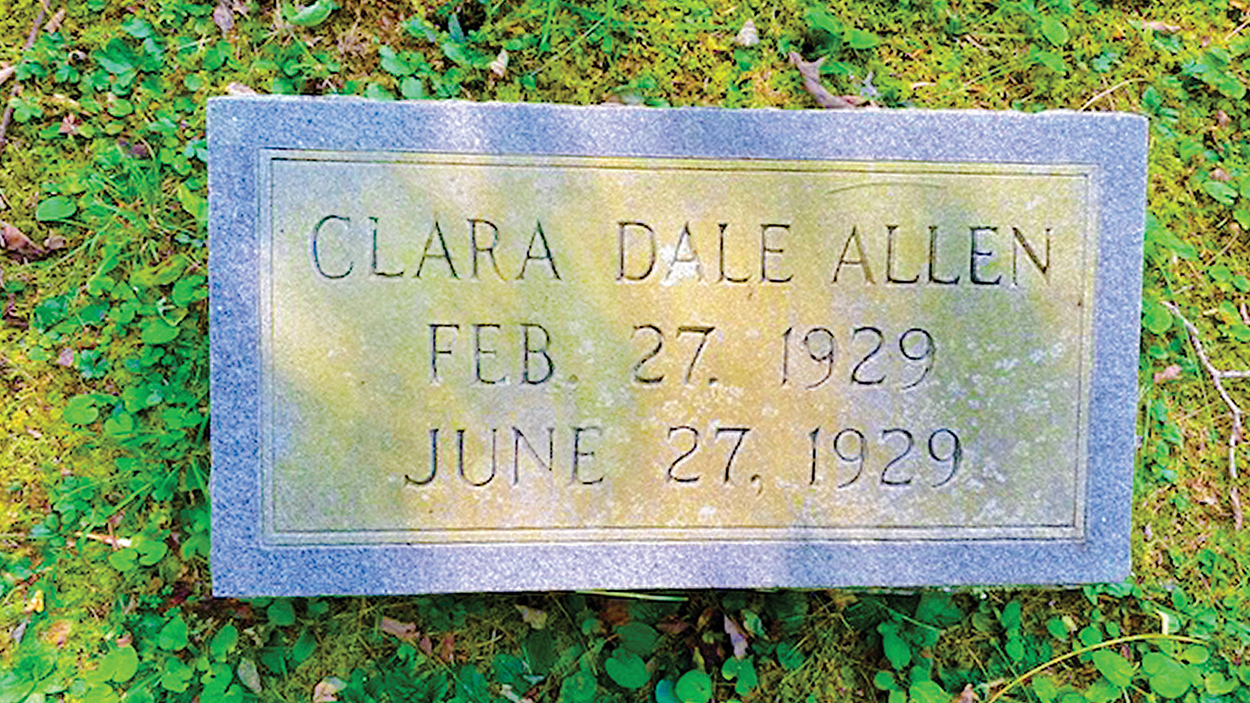 Written By: Jane Gibson Nardy - Cashiers Historical Society | Issue: 2020/12 - December
Though his influence upon the community is still felt today, many of the details of Frank Allen's life and death remain cloaked in mystery.
---
This summer, my friend Ann McKee Austin told me that there was a recently sunken-in, old grave at the Lower Zachary Cemetery, which appeared to be one of the graves in the Frank Allen plot. 
Ann took a lot of pictures and sent them to me. I checked several sources including Carol M. Bryson's book Glenville and Cashiers, From the Records, Volume Two, in which I found a detailed paragraph about Frank Allen and his family.   
One of my favorite research books entitled The Cemeteries of Jackson County, North Carolina, gave me the tombstone inscriptions of the Allens who are resting next to each other through eternity in the Lower Zachary Cemetery.
Frank Allen [1897-1965] was originally from Oconee County, South Carolina. He married Margery D. Bumgarner [1901-1980] a daughter of Elbert A. and Octavia Brown Bumgarner. 
In 1928, while working for a lumber mill company as a laborer he bought, for $150, a lot near the middle of Cashiers. Although Frank and Margery became the parents of around six or eight children, the majority of the children only lived a very short time. Two unnamed babies, a male and a female, died in 1925 and 1934; Clara Dale Allen born February 27, 1929, died June 27, 1929;  Frankie D. Allen, born November 20, 1930 and died March 11 1931; Doris Jean Allen born July 28, 1932, died August 23, 1932; Frankie Allen born August 23, 1937, died January 30 1939. (My sources don't all agree on the children's names, or birth & death dates.)
In later life, Frank Allen became a deputy sheriff and after his death a street in Cashiers was named for him.  
Frank Allen Road is a by-way that runs from the stop light on Highway 107 South curving around to Highway 64 west of the Cashiers Crossroads. Most residents of Cashiers drive along Frank Allen Road because of the often used buildings that line the road – a bank, the post office, a police station, two eating establishments, the library,  recreation centers, real estate offices, the swimming pool, the fire department, the food bank, the tiny homes franchise and more.
The mystery of the sunken-in grave noted in the first sentence of this article has not been solved but the next time you look up at the street sign that reads, "Frank Allen Road," you'll know who Frank Allen was. 
---
---