Celebrating Our Founders | Cashiers Historical Society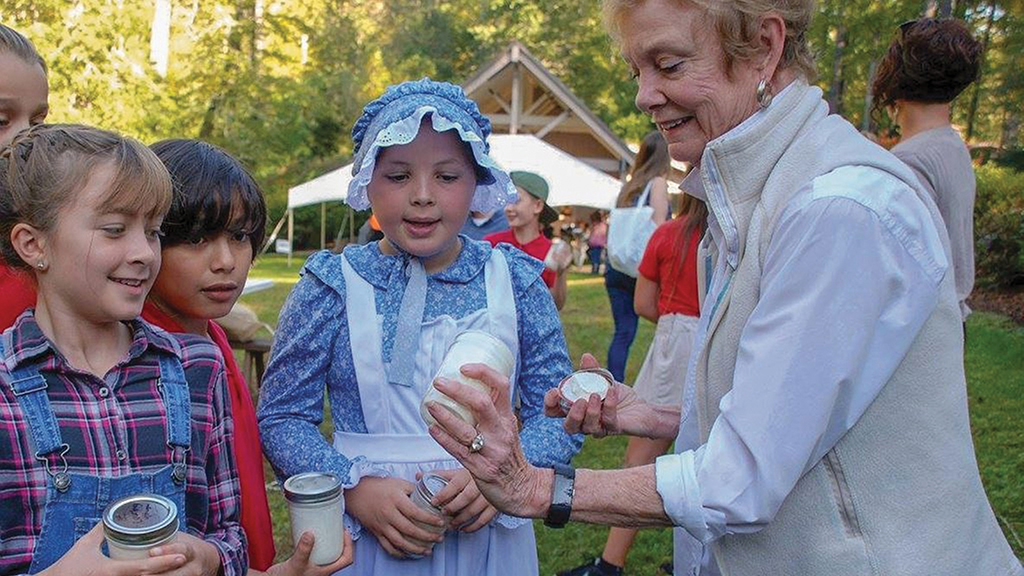 Written By: Mary Jane McCall | Issue: 2021/09 – September
It's a pull-out-the-stops homecoming for local students when the Cashiers Historical Society stages its Founder's Day Celebration on Thursday, September 23. For more information, visit cashiershistoricalsociety.org.
---
Cashiers Historical Society hosts its 17th annual Founder's Day Celebration on Thursday,  September 23.  The Historical Society hosts all third and fourth graders from Blue Ridge and Summit Charter Schools for a celebration of the area's roots, reflecting on life in the 19th century, and celebrating our rich cultural heritage and diverse natural beauty.
Self sufficiency was necessary for our ancestors and the Cashiers Historical Society has found an engaging way to share this bit of early history with these students.  They take a walk back in time to the days when you grew or made what you needed. 
Volunteers join the Historical Society in showing how our early settlers made brooms, weaved cloth, and made corn husk dolls.  A blacksmith will be on hand to demonstrate those skills.  Students will also be treated to an apple cider making demonstration.  
These hands-on demonstrations make for a fun-filled day for students who also bring their lunch and enjoy a picnic on the grounds of the Historical Society. 
Dr. Gary Wein of the Highlands-Cashiers Land Trust will also lead students on an exploration of the grounds and trails, sharing information on native flora and fauna, and their importance to early settlers.
This fun-filled day is a treat for students and volunteers and illustrates the Historical Society's continuing commitment to preserving the cultural heritage of our area.
---
---