1800s Cabin Still Home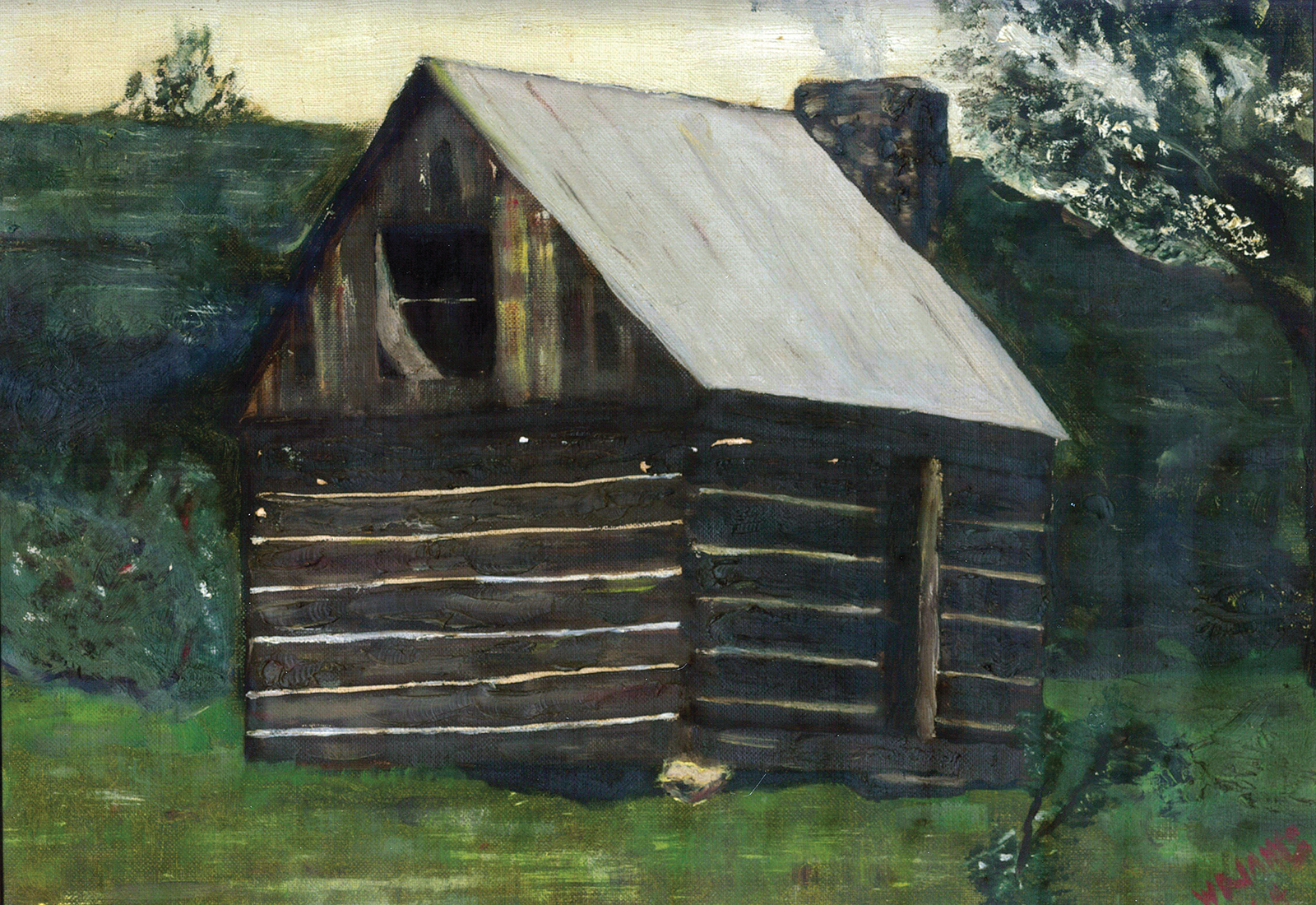 Written By: Jane Gibson Nardy - Cashiers Historical Society | Issue: 2016/08 - August
In the Winter 2010 issue of Laurel Magazine was an article on page 43 entitled, "1923 Photograph of a Bull Pen Area Bryson Family" and about 23 people were pictured. They were attending a Zachary reunion in Cashiers.
Briefly mentioned in the article was the Thomas Hillman Bryson/Sarah Frances Fowler Bryson family's old log cabin, which had been encompassed in the corner of a larger modern home built in the 1970s. The article you are now reading is illustrated by an oil painting of that log cabin.
I had never seen the log cabin nor had I been inside it until last fall when I accompanied Sybil Argintar to Bull Pen. She was working for the Cashiers Historical Society as a preservation planning consultant on Phase Three of the society's Historic Sites Survey and she needed to meet with Donna Bryson Tucker at Donna's home, which is known as the Bryson Homestead. In 1888 there were two similar log cabins joined by a "dog-trot," but today there's just one log cabin surrounded on two sides by a much newer house as explained above in the first paragraph.
As we all sat in the log cabin, now furnished like a sitting room or family room, I looked around and imagined how it felt to live here over 100 years ago and there was a good, cozy feeling in that cabin. On the wall was an oil painting of the cabin done by a guest, Bill James, when he first saw the cabin in the 1960s. At that time, it stood alone and the contemporary house was built around it a few years later.
The Historic Sites Survey Phase Three is now available at several local outlets including the Cashiers Historical Society office. The write-up on the Bryson Homestead on page 77, which shows the inside of the cabin, includes the following description: "The original acreage with the cabin totaled almost 100 acres on which they grew tobacco, corn, and cabbage. They also raised livestock, including chickens, cattle, and hogs and had their own tanning barn. While producing food for the family, the Brysons also sold their crops in Walhalla, South Carolina markets."
---
---