Where Do Broken Hearts Go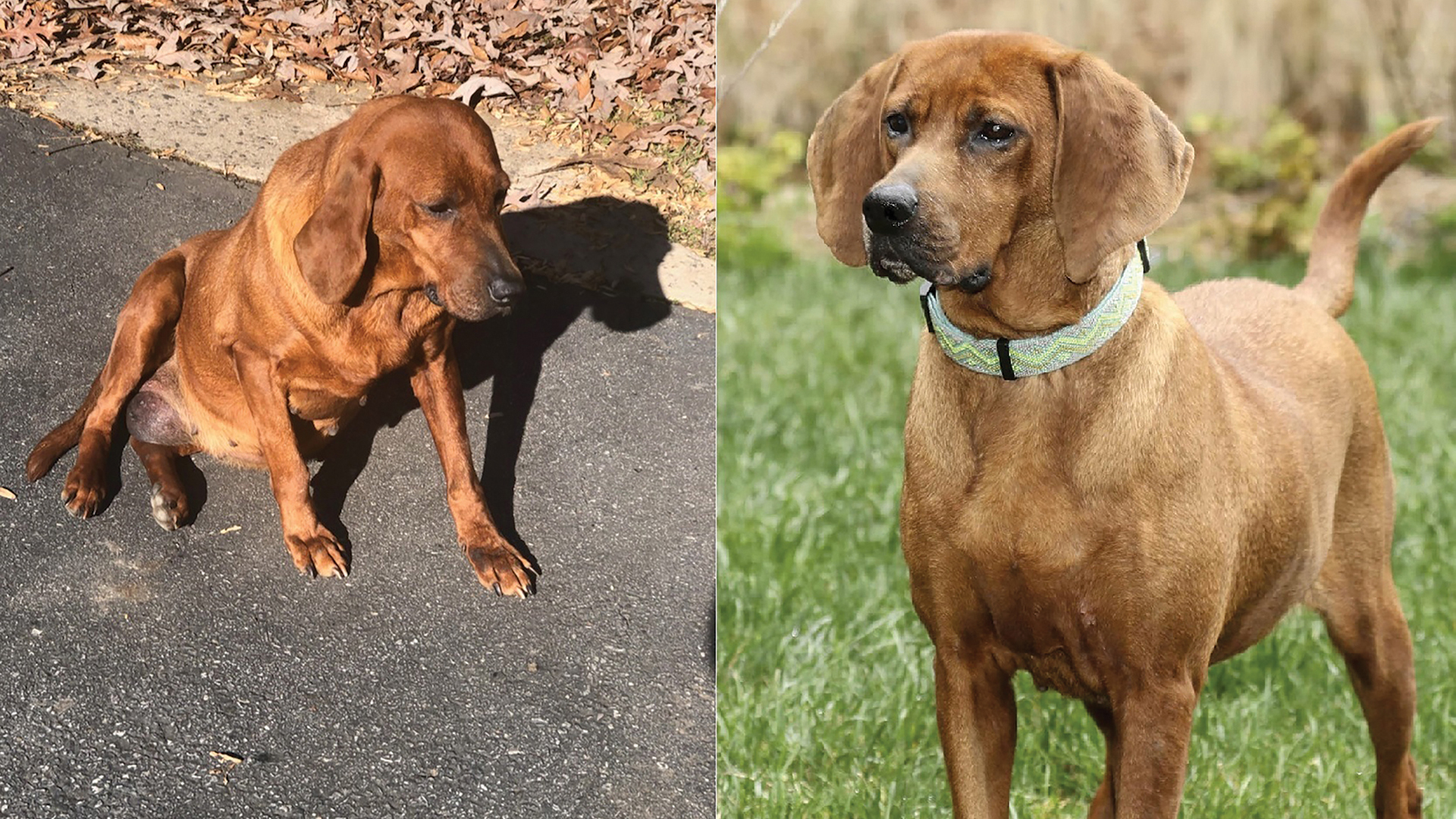 Written By: David Stroud - Cashiers-Highlands Humane Society | Issue: 2020/09 – September | Photograph By: Marty Boone
The single released on February 25, 1988 from Whitney Houston's second album was titled "Where Do Broken Hearts Go?" 
You may recall the first lines of the chorus from the song:
"Where do broken hearts go? Can they find their way home?   
Back to the open arms of a love that's waiting there."
Ginger was rescued after she was found abandoned on the side of a road in Sylva. It was just a couple of weeks before Christmas last year, and it was cold. 
"Cold" would be a good description of the person's heart who dumped her there. Ginger was in no shape to move, and she clearly was not just a stray. Ginger was suffering from an enormous hernia that, due to its size and location, was life-threatening. We don't believe she would have lived another day, or perhaps two, on her own.
When Ginger was brought to the Cashiers-Highlands Humane Society, we gently transported her to the awesome folks at Animal Wellness Hospital in Highlands to get the surgery she needed to save her life. Her broken body was soon on the mend. But Ginger was still suffering. From a broken spirit, and a broken heart. That's where we come in.
The compassionate staff and volunteers at our no-kill shelter gave a heaping daily dose of tender loving care to this beautiful four-year-old female Redbone Coonhound mix. And in the process, we fixed her broken heart. We showed Ginger that most humans are good, and trusting, and worthy of her unconditional love. We not only gave Ginger a second chance to live, we gave us humans a second chance to get it right and love this girl the way she deserves to be loved. 
Where do broken hearts go? Back to the open arms of a love that's waiting there. For the abandoned, the neglected, and the abused animals in our community, those open arms and that waiting love will always be at the Cashiers-Highlands Humane Society.
Established in 1987, Cashiers-Highlands Humane Society is a 501(c)(3) non-profit animal welfare organization located at 200 Gable Drive in Sapphire, one-and-a-half miles east of the Cashiers Ingles in between Cedar Creek Club and Lonesome Valley on Highway 64 East. 
Our no-kill shelter is open Tuesday through Saturday, 10:00 to 4:00 P.M. by appointment only. For more information, visit us online at chhumanesociety.org or call (828) 743-5752.
---
---