Wheel Within a Wheel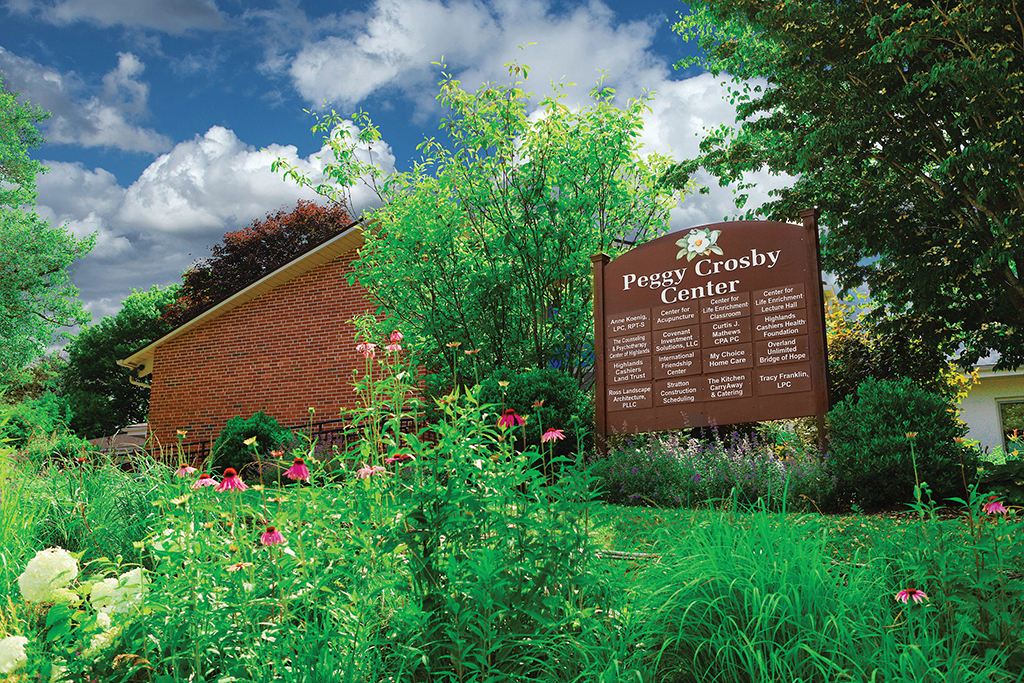 Written By: Donna Rhodes | Issue: 2020/09 – September
All you need is a big heart and a pair of helping hands to be a pal of Peggy. "Peggy" is the affectionate nickname of the Peggy Crosby Center in Highlands. Her building was originally a hospital established around 1950. The healing and helping it instituted continues today, fostered by many community businesses and charities that have rented space over the past couple of decades. 
The Crosby Center launched in 1996 when Peggy Crosby-Thompson asked her husband for an exceptional birthday present: buy the hospital building and turn it into affordable office space for local non-profit organizations. He did, and she was thrilled with the outcome.
It's no wonder the center blossomed. Highlands residents are drawn to charity and service to their community. An exceptional environment attracts exceptional people. 
Peggy recently had a renovation: upgraded infrastructure, restored office space, a contemporary look, warm colors, welcoming atmosphere, fabulous landscape, parking, and a pollinator garden, all thanks to local grants and donations. That's how it is in Highlands. Peggy gives to the community and the community shows its appreciation many times over.
Martha Carmichael, a Peggy devotee, says, "A non-profit is all the things a community itself would strive to be known as: accountability, integrity, responsibility, ethics.
Peggy gives a helping hand, propping up non-profits that, in turn, give a helping hand to all the people that are in need of it. It's wheel within a wheel, gears engaged with each other and community. It keeps on turning, providing sustenance, safety, learning, emotional support, land preservation, health, and  so much more.
So give a hand to Peggy, both applause and support. Peggy's the wheel deal.
---
---