Surviving the Snow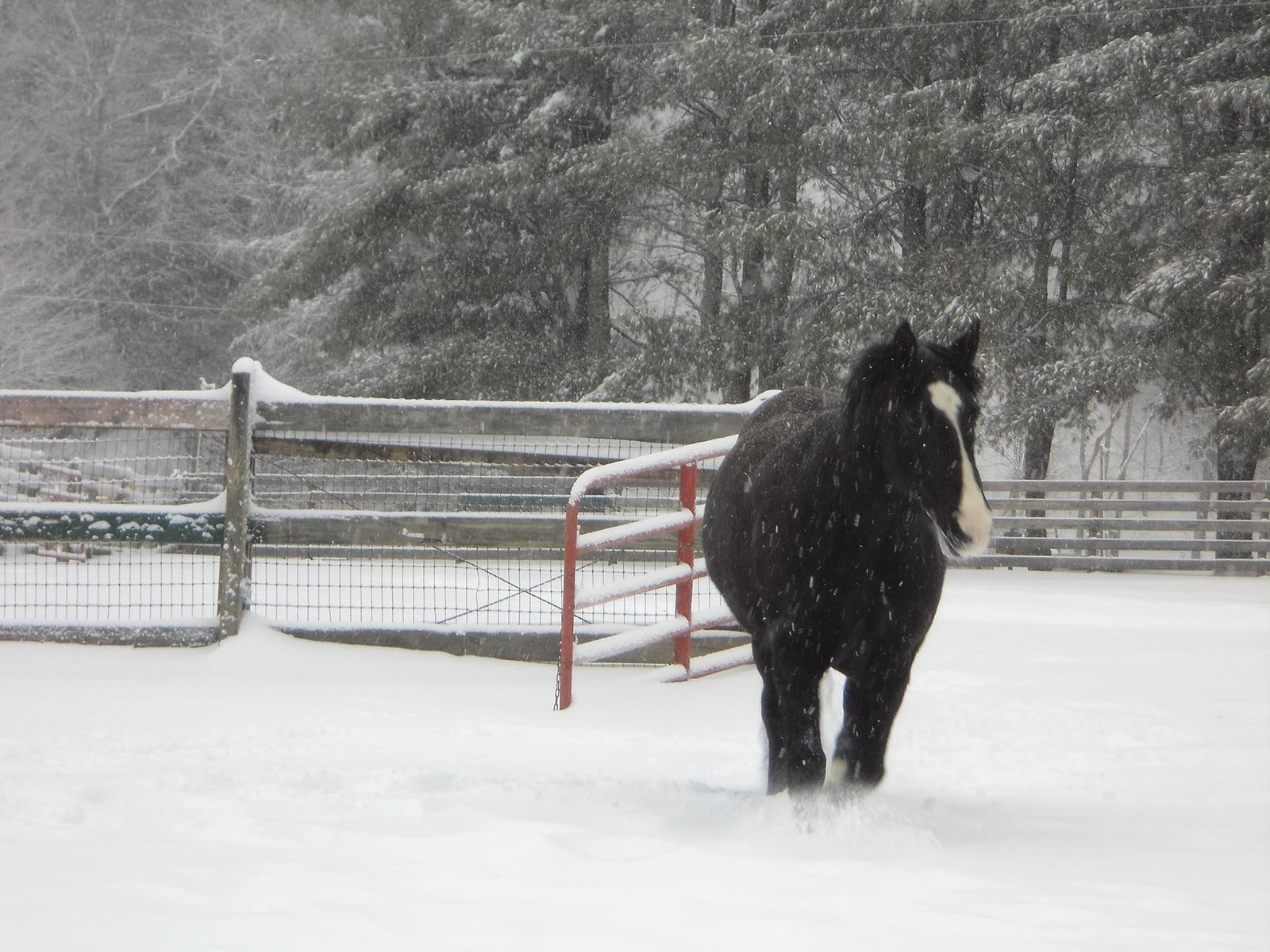 Written By: Sue Blair - Carpe Diem Farms | Issue: 2016/03 - March
Our 10-day snow event is coming to a close. In a few more days the horses will be safe to once again traverse the hills and fields. In the meantime, they are confined to the paddocks, stables and arena. Injury is always a concern and more so when they can't see where their feet are landing.
If you have followed us all these years, you know how much I marvel at our Highlands' forefathers and mothers. How they managed their farms, families, and animals without electricity, running water, or heavy equipment. When these massive snowstorms, in this case, leave 18 inches of snow at Carpe Diem followed by days of relentless freezing temperatures that virtually stifles melting, my appreciation for their fortitude and perseverance is beyond admirable.
We were most fortunate – power stayed on, water flowed, and the horses are safe. Trudging through the snow and doing chores took nearly three times the normal workday. Now the snow will melt and turn to mud, another event which we will monitor the horses' activities to keep them safe.
Great news! Two new volunteers have shown up to help with the horses! Terri Rayburn took it upon herself to just show up and say, "I want to help — put me to work." The horses love her and I'm thrilled. Her infectious smile and incredible work ethic make her a valuable addition to our team. She recently moved to Highlands, works at Old Edwards Inn, and is a star at CDF!
Carole DiCiurcio, a resident of Franklin and a mediator by profession, has volunteered for several months, providing equine massage and aromatherapy treatments to our staff of equines. The horses all vie for her weekly treatments.
Volunteers are the backbone of Carpe Diem Farms. There isn't a paid staff. We welcome office, garden, grounds, construction, and maintenance help. Bring your talent and know you will be welcomed.
Carpe Diem Farms is located at 544 Western Rhodes Drive, Highlands, and can be reached at (828) 526-2854 or by visiting www.carpediemfarms.org.
---
---