Protecting Against Rabies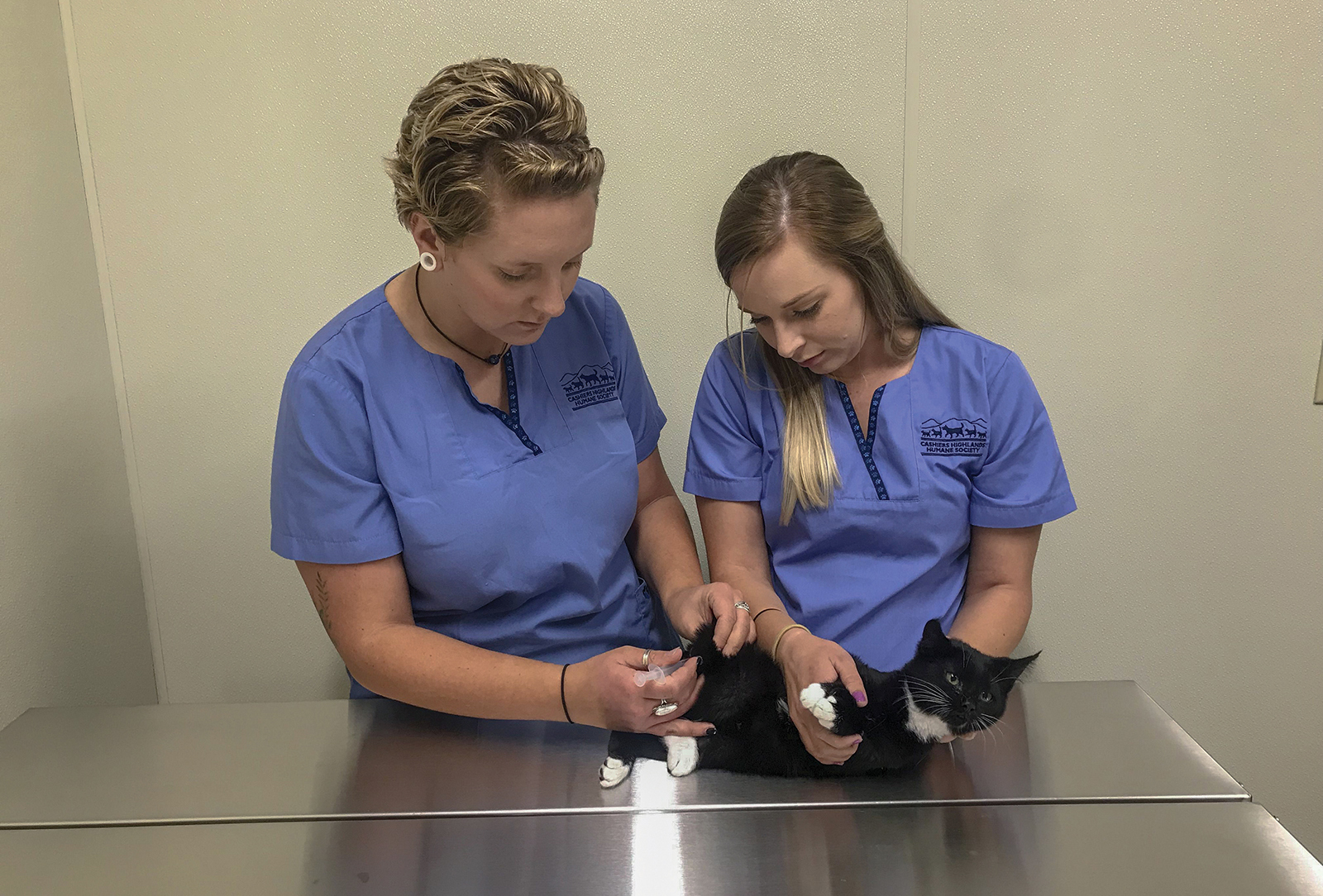 Written By: David Stroud - Cashiers-Highlands Humane Society | Issue: 2019/06 - June
To protect human health and prevent and control rabies, North Carolina law requires rabies vaccination of owned domestic dogs, cats and ferrets by four months of age. The rabies vaccine must be administered only by a veterinarian, registered veterinary technician under the direct supervision of a veterinarian, or a certified rabies vaccinator. There are approximately 350 approved certified rabies vaccinators in the State of North Carolina.
To ensure the safety of animals, staff, volunteers and guests, the Cashiers-Highlands Humane Society requires that all cats and dogs brought to the shelter have an up-to-date rabies shot. But this can be a hardship for folks like Good Samaritans who bring in strays on a daily basis, because in the 32-year history of CHHS, the shelter has never had one staff person approved by the county and the state to be a CRV. Shelter staff ends up taking the stray (or owner-surrendered pet) to a veterinarian and CHHS pays for the vaccination.
"We still don't have one CRV on staff," says CHHS Executive Director David Stroud. "We have two."
After a lengthy examination, training and approval process, Shelter Manager Kaitlyn Moss and Assistant Manager Jodi Henkel have become the first CHHS team members to earn the CRV certification. Not only does this mean that CHHS can administer the rabies vaccine to all shelter pets, CHHS will now offer several low-cost rabies vaccination clinics throughout the year to the general public to help folks keep their personal pets safe and in compliance with NC law. Rabies vaccinations will also be offered for just $10 for personal pets on an appointment-only basis at the shelter. Each vaccination will also include a rabies tag and a completed certificate for each vaccinated animal. For more information or to schedule an appointment, please call CHHS at (828) 743-5752.
Established in 1987, Cashiers-Highlands Humane Society is a 501(c)(3) non-profit no-kill animal shelter located at 200 Gable Drive in Sapphire, one-and-a-half miles east of the Cashiers Ingles in between Cedar Creek Club and Lonesome Valley on Highway 64. For more information, visit us online at CHhumanesociety.org. Tax-deductible donations to support our lifesaving work can be mailed to: CHHS, P.O. Box 638, Cashiers, NC 28717.
---
---