Preserving the Bear Shadow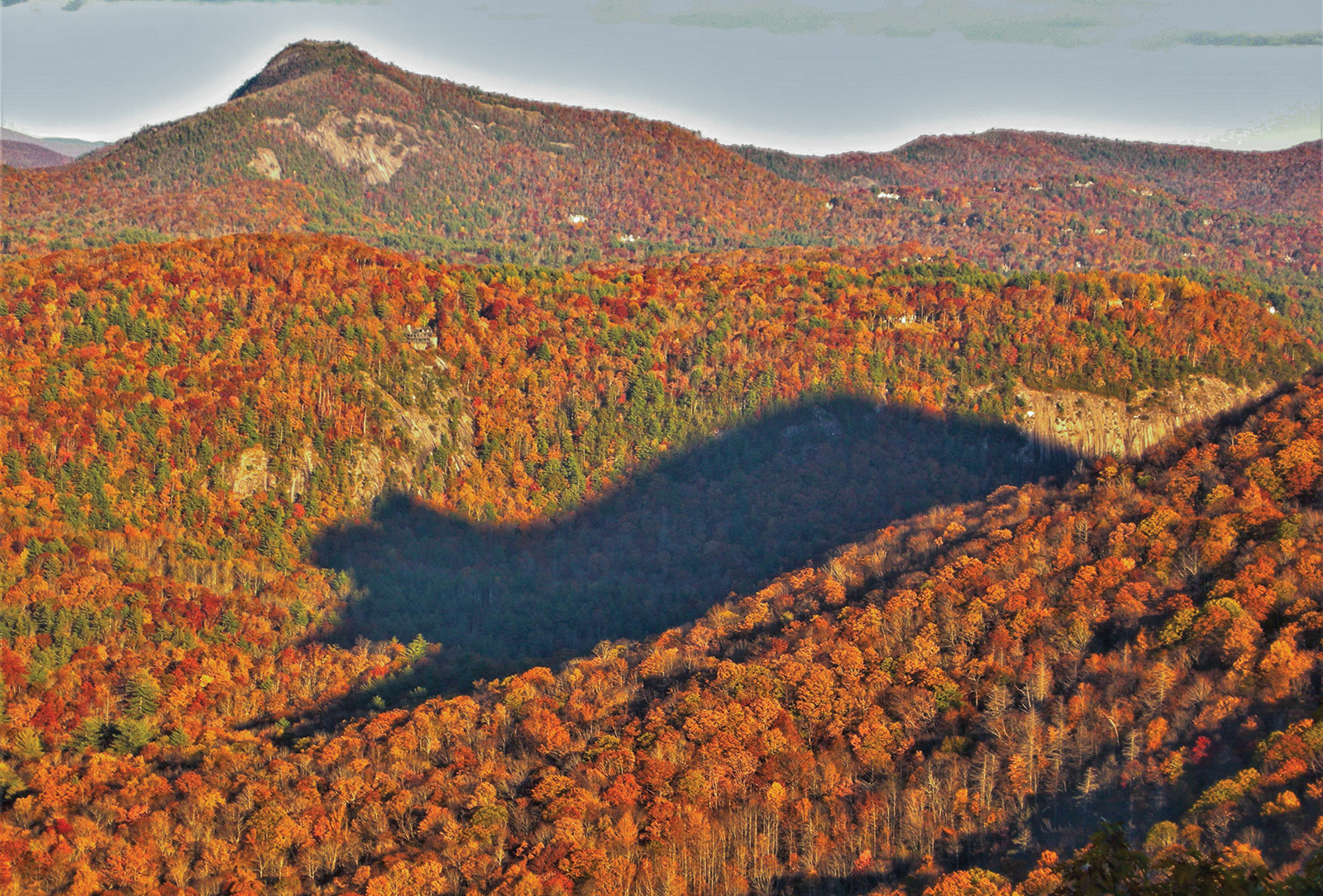 Written By: Julie Schott - Highlands-Cashiers Land Trust | Issue: 2017/10 - October
There's a bear who visits our small mountain community every year. If you're patient enough to wait for her on Highway 64 at the Macon/Jackson County line – at a place called Rhodes Big View – you can be one of the lucky ones who catches a glimpse as she slowly takes shape and makes a fleeting appearance.
Of course, I'm talking about the Shadow of the Bear that appears in the early evening for only a few weeks in autumn that has captured the interest of
countless visitors.
She may be among the most written about, photographed, and visited natural phenomenon in our region, even being featured in a national ad campaign last Autumn for Land Rover. But how much do we know about the place she calls home?
On the curve in the road connecting Cashiers and Highlands on Highway 64 is the breathtaking view at the county line. This 10-acre property, Rhodes Big View, is protected forever by the Highlands-Cashiers Land Trust, a non-profit land conservation organization that has conserved over 3,000 acres locally. From this spot, you can see nine named peaks. Five of them are owned by the USFS and three are conserved with the Land Trust, meaning their owners, people like the Rhodes, Warren, and McKee families, have conserved their family lands so that they will remain in their undisturbed, natural state forever.
Other public places that are conserved by HCLT include Ravenel Park, home of Sunset and Sunrise Rocks; Satulah Mountain Preserves; Kelsey Trail, Brushy Face Trail, and Dixon Woods.
Thanks to our land donors and supporters, HCLT has been preserving our most treasured places since 1909. We will continue to protect the quality of the air we breathe, the water we drink and healthy habitat for all who live here so that when our grandchildren come to visit the shadow of the bear that has enchanted us for generations, they will enjoy the same lush, healthy, and undisturbed places that we fell in love with. To learn more about HCLT, visit hicashlt.org; to find your local land trust, visit the Land Trust Alliance at
lta.org. Together we are saving our most treasured places.
---
---