Peggy's Pollinator Buzz | Peggy Crosby Center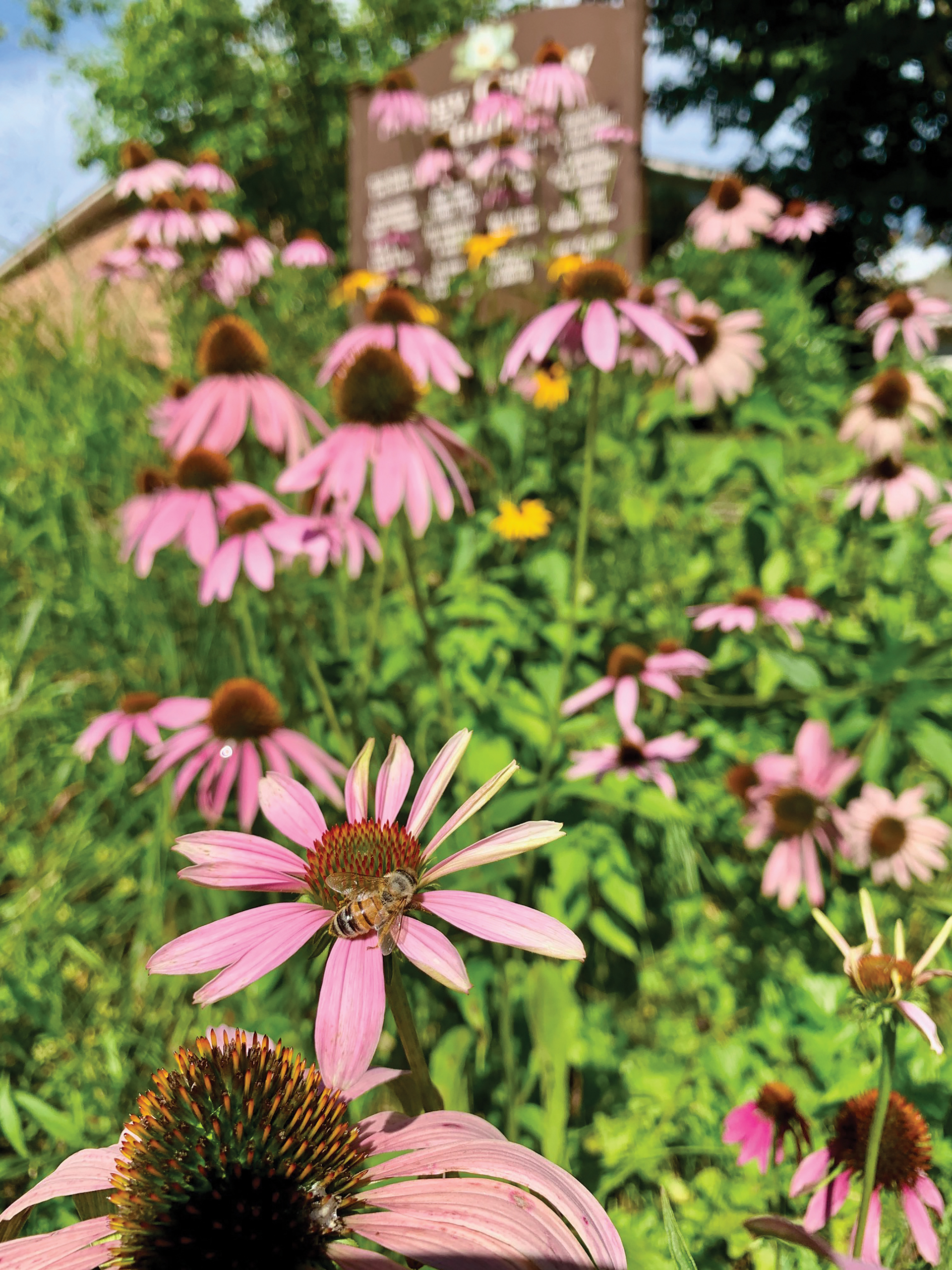 Written By: Donna Rhodes | Issue: 2020/10 - October
Peggy Crosby's expanding pollinator pathway is fast-becoming western Carolina's favorite dive-through. 
After three seasons of dedicated planning and planting, The Peggy Crosby Community Services Center, the Laurel and Mountain Garden Clubs, and other pollinator habitat supporters are nurturing a thriving environment of botanicals, butterflies, bees and birds. It's dubbed Peggy's Pollinator Garden.
 In this self-sustaining perennial garden, pollinator plants continue to multiply, thus exponentially building a booming, blooming paradise, one that will provide roadside beautification, natural resource conservation, sustenance for pollinators and soil microbes (yes, they're important, too), as well as on-the-spot education ops.
The concept of the garden is more naturalistic than traditional formal gardening. Creating a garden that does not require herbicides, pesticides, excessive maintenance, and expense is, in turn, a naturally holistic system loaded with benefits for the ecosystem, plants, humans, ecotourism as well as Peggy's operating budget. The garden is an educational opportunity to remind others that your own pollinator garden would be good for the environment, your pocketbook ….and your back!
And that's part of the Peggy's vision for extending this movement throughout our community… as a stop along the Highlands Plateau Greenway, this garden is connected to an ever-expanding list of other pollinator gardens around town. If these plantings can then spread to homes, storefronts, street corners, and sidewalk strips the gardens will create crucial wildlife corridors throughout our town. 
Pollinator gardens have been made necessary by the impact of climate change on pollinators and the frequent use of pesticides and other poisons that kill animals that pollinate our food crops.  
We need to create habitats and safe zones for those vital, vulnerable workers. 
Literally, our lives depend on it. And, once again: pollinator gardens require little money and maintenance. No matter how big or small, pollinator gardens fit in everywhere.
The Peggy is pumping up the educational aspect of the garden by posting interpretive signs, partnering with other organizations in the movement, and promoting eco-tourism though the Highlands Chamber of Commerce. Watch for more of these important gardens as they sprout throughout town and learn what you can do to help.
If you want to know more, do more, email Canty Worley at [email protected].
And, in closing, a tip of the gardening cap to our beloved Wiley Sloan, who supported Peggy so many years. 
---
---