Peggy's Eye Candy Has a Purpose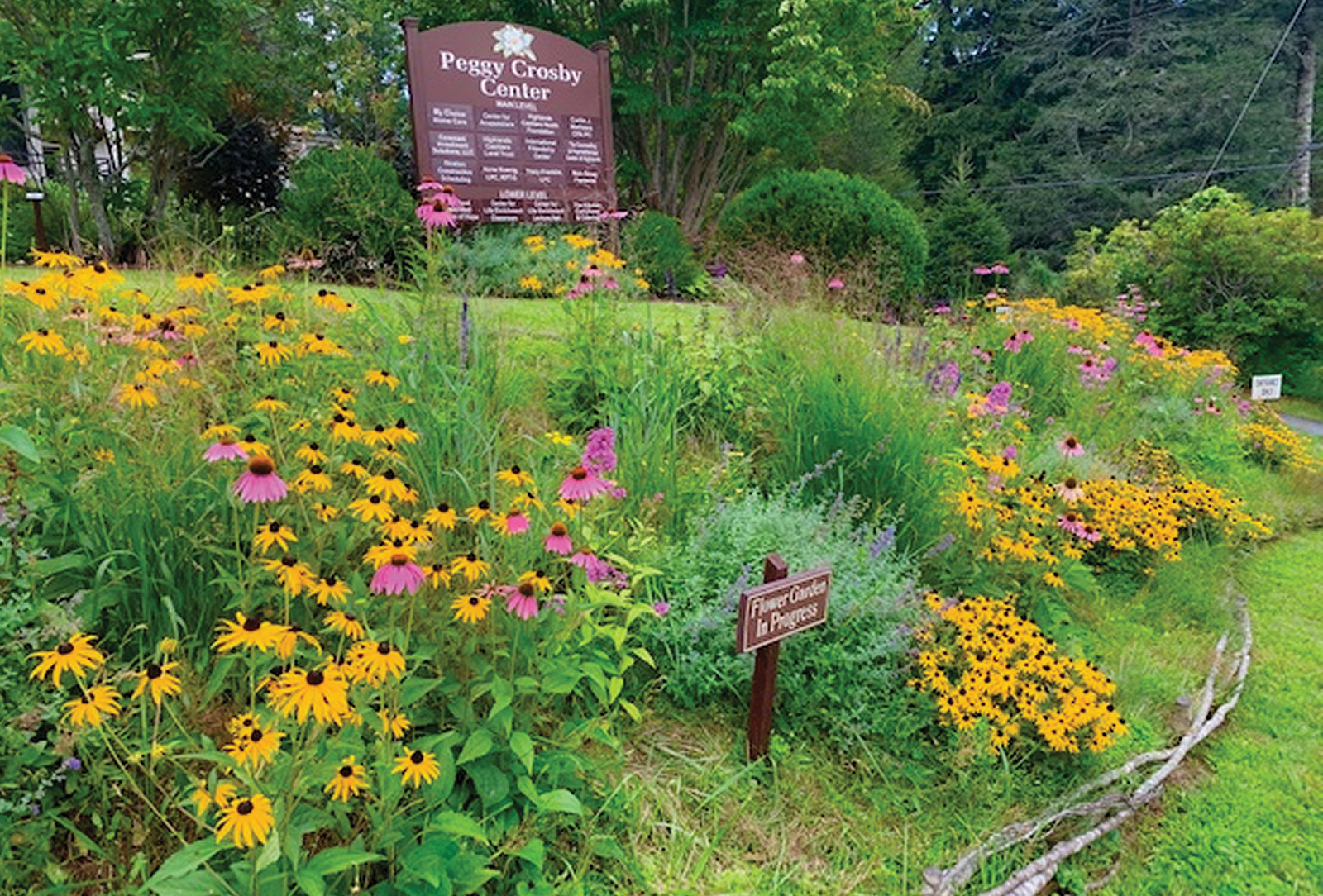 Written By: Donna Rhodes | Issue: 2019/10 - October
In the June edition of The Laurel, we featured the beginning stages of the pollinator garden at the Peggy Crosby Center.
Three key contributors to the project made this beautiful, functional garden possible:
1) The dedicated work of noted landscape designer Canty Worley;
2) Grants from The Laurel Garden Club and Highlands Falls Country Club;
3) A significant donation of plants by the Mountain Garden Club. Our dream of an ecologically-friendly and environmentally-beneficial landscape at our busy corner has become a reality.
In Canty's words, "Peggy's Pollinator Garden is intended as an alternative to the traditional lawn or landscaped beds. This new style of naturalistic design involves dense bedding of flowering plant communities that provide not only seasonal interest and beauty, but much needed habitat and food sources for a diverse range of pollinator species. Many different bees, flies, wasps, moths, and butterflies have been observed in the garden this season."
If you haven't seen the garden yet, it contains a sizeable combination of flowers in wide-ranging colors, shapes, and types.
Canty says, "The plants bloom at different times of the season, overlapping in a natural succession that not only creates a beautiful landscape, but a highly-functional bio-system as well. The flowers in this garden are not just eye-candy for us humans, but also a vital necessity in the web of life that is necessary for healthy ecosystems. In a world of ever-increasing urban development, small parcels of rich habitat can go a long way to support biodiversity.
"While the garden was intended to attract and support pollinators, many other forms of life are benefiting from the planting as well. Birds, reptiles, amphibians, and a host of soil microbes are now frequenting the site." There was even a rabbit den in the middle of the garden and, miraculously, they didn't disturb the new plantings."
Champions of Peggy Crosby are thrilled with what Canty and contributing organizations have done, not only for the center but for the town (those bees buzz everywhere) and the environment. It's just another way Peggy Crosby Center contributes to the community.
And this final tidbit from Canty: "Ecological plantings like these at The Peggy are low maintenance and environmentally beneficial. The operational costs of mowing and blowing have been alleviated in this scenario, and in turn those expenses have been replaced with a self-sustaining, resilient blend of hardy vegetation that will provide attractive seasonal interest."
The Center encourages other businesses and organizations to join the pollinator parade by planting your own pollinator garden in 2020's Spring.
---
---