Outstanding Community Service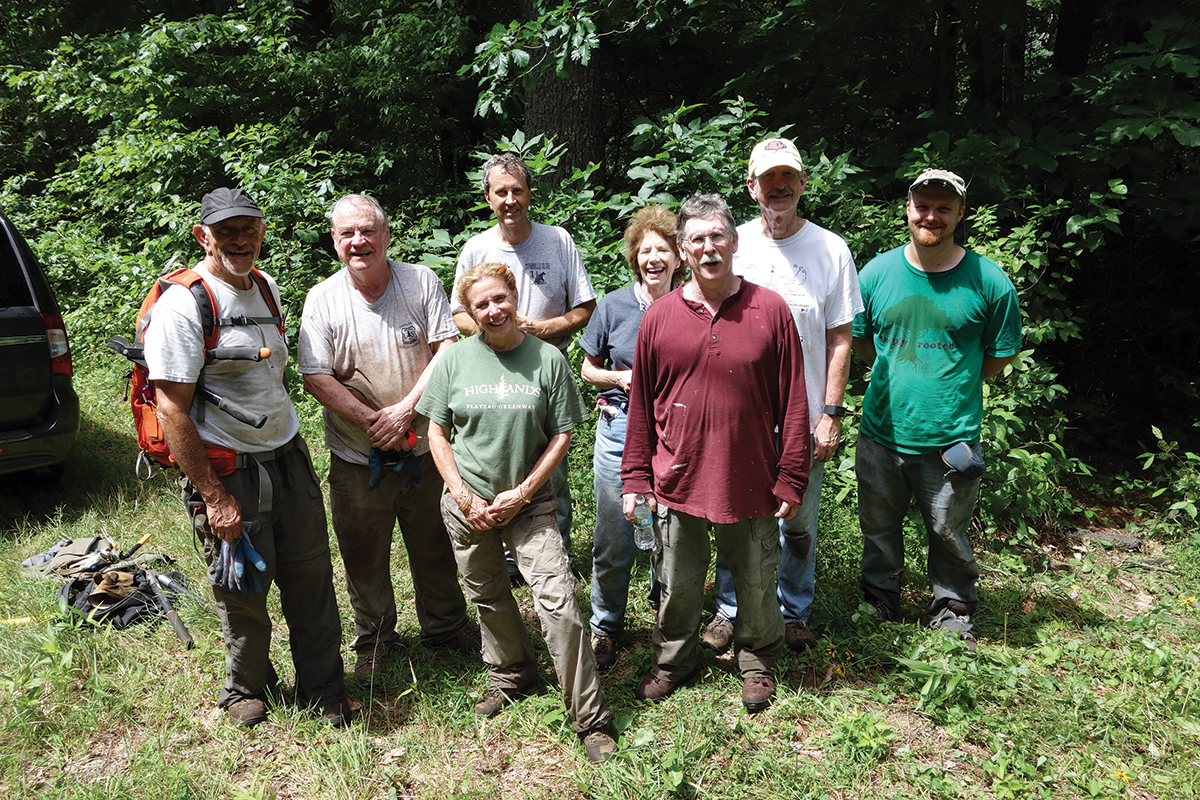 Written By: Dr. Gary Wein - Highlands-Cashiers Land Trust | Issue: 2016/12 - December
The Town of Highlands Chamber of Commerce honored the Highlands-Cashiers Land Trust at its Annual Event on October 27 by awarding it the Robert B. Dupree Award for Outstanding Community Service. This award has been given 34 times since 1990. The award is given in honor of Robert B. Dupree to a deserving person or group for their religious, educational, and civic contributions to the town of Highlands.
As one of the oldest land trusts in the nation, HCLT continues to provide an important service to the Highlands community. HCLT currently protects over 3,000 acres in more than 90 places, continues to play a supporting role in developing Kelsey-Hutchinson Founders Park, promotes environmental education, and continues to wisely steward its lands.
The folks that did all the hard work to earn this award remain hidden behind the scenes and include 17 current board members and our many past board members, four staff, one Americorps member, 17 stewardship volunteers, and over 500 members. In a random act of transparency the responsible parties are named below.
Current HCLT Board Members: Walter Wingfield (President), Jeffrey Zahner (Vice President), Carlton King (Secretary), William Mauldin (Treasurer), Sandy Barrow, Bob Bryan, Gina Cogswell, Sharon Cole, Lawrence Dimmitt, Clare Ellis, John Manor, Alan Marsh, Kathie Marsh, Richard Melvin, Amy Patterson, Karen Patterson, Hillrie Quin, and Tom Tracy.
HCLT Staff: Gary Wein (Executive Director), Julie Schott (Development Director), Kyle Pursel (Stewardship Coordinator), and Sarah Pursel (Education Coordinator and Development Assistant).
Conservation Trust for North Carolina Americorps Member: Paige Engelbrechtsson and her merry gang of stewardship volunteers: John Akridge, Tammy Allman, Jim Chance, Lawrence Dimmitt, Tom Herbort, Michael Kettles, Susan Kettles, Brittney Lagasse, Michael Levine, Leila Marion, Nancy McCrory, Amy McKenzie, Lynn Miller, Phil Miller, Kay Moore and family, Joe Pritchard, Marsha Shmalo, and Glenda Zahner.
HCLT Members: too many to name here but you know who you are and if you aren't a member please join us in doing great things for the Town of Highlands and Cashiers.
To learn more about the Highlands-Cashiers Land Trust check out our website at hicashlt.org.
---
---