New CHHS Adoption Center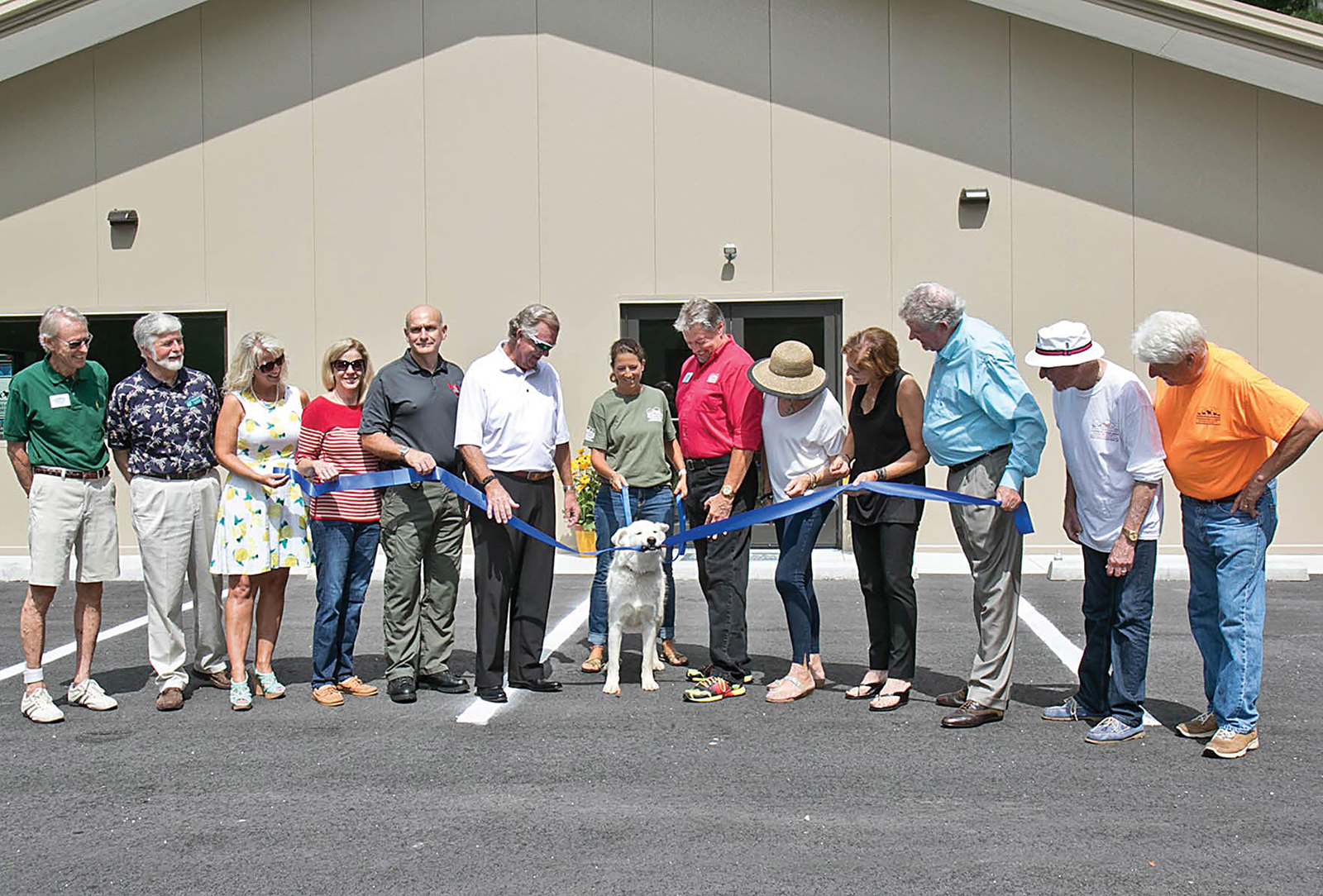 Written By: David Stroud - Cashiers-Highlands Humane Society | Issue: 2016/10 - October | Photograph By: Marty Boone
Two years in the planning, design, fundraising, site work and construction, the new CHHS Adoption Center celebrated its grand opening this summer with a canine-led "ribbon chewing" and open house. The new CHHS Adoption Center is western North Carolina's most modern animal welfare facility and the largest expansion in the 29-year history of the Cashiers-Highlands Humane Society.
The number of animals rescued and forever homes found by CHHS has more than tripled in the past four years. It became vital to expand the capacity and upgrade the facilities in order to continue to provide the highest level of compassionate care for the more than 500 animals who will find safe refuge at the CHHS no-kill shelter this year.
The new CHHS Adoption Center features 40 individual state-of-the-art dog kennels, a puppy room/nursery, a soundproofed meet-and-greet room for potential adopters to spend time with their new best friend, and a multi-purpose room that will be used as an indoor dog training studio as well as a classroom for humane education school field trips. The 4,750-sq. ft. building was designed by one of the industry's leading shelter architects Rick Bacon of Clearwater, Florida, and was constructed by Western Builders of Sylva, North Carolina. The $1.1 million CHHS Adoption Center was funded entirely by individual donations and local community grants and the building opened completely debt-free.
Cashiers-Highlands Humane Society is a 501(c)(3) non-profit no-kill animal shelter that receives no state or county tax dollars, and no funding from any national animal organization. Established in 1987, CHHS has rescued, provided compassionate care, and found forever homes for thousands of abandoned and neglected animals. CHHS also offers low-cost spay/neuter and low-cost vaccination clinics for more than 600 pets each year. The shelter is located on Highway 64 in Sapphire, two miles east of the Cashiers Crossroads and is open 10:00 A.M.-5:00 P.M. Monday through Saturday and noon-5:00 P.M. on Sunday. For more information, please contact CHHS at (828) 743-5752 or visit us online at CHhumanesociety.org.
---
---