Max and Me
Written By: David Stroud - Cashiers-Highlands Humane Society | Issue: 2020/07 – July | Photograph By: Marty Boone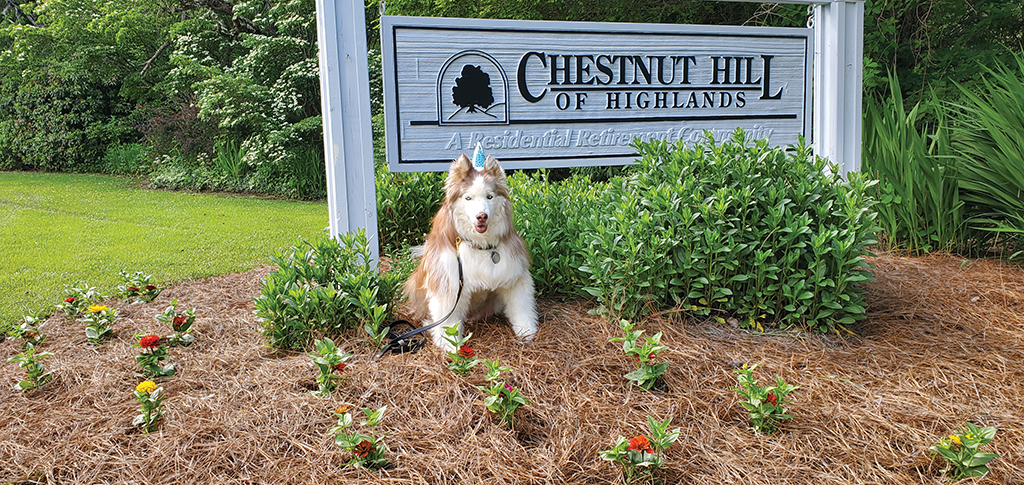 Last month marked a very special birthday and anniversary for Max and me. 
It was Max's 13th birthday and our 10th anniversary of doing pet therapy visits together at senior living communities. The residents of Chestnut Hill in Highlands helped Max celebrate by hosting a party featuring a safe outdoor gathering on a beautiful Friday afternoon. Max's first visit to Chestnut Hill was in 2012 and we have years of wonderful memories brightening the days and lifting the spirits of the amazing folks who live there. God knows they have certainly brightened and lifted ours!
I rescued Max in a puppy mill raid south of Orlando in 2010. He was a three-year-old breeding male and was kept in horrific conditions. From being confined in a small crate for weeks on end, he suffered burns on the underside of his body so severe that once he was rescued, he had to wear a cone around his neck for an entire month. Throughout his recovery Max displayed the kind and gentle nature that soon made it possible for him to become certified as a therapy dog. Max and I started the pet therapy program at the Gulf Coast Humane Society in Fort Myers, and we started the program here at CHHS in 2012 when we moved to the Western North Carolina mountains.
Max and I thank Chestnut Hill for sharing this special day with us, and we also share our heartfelt thanks to our awesome friends at Woof Gang Bakery in Cashiers for generously donating all of Max's party supplies and treats. In these uncertain and unsettling times, we continue to be grateful and thankful for the love, kindness and compassion of the people of the Highlands-Cashiers Plateau.
Established in 1987, Cashiers-Highlands Humane Society is a 501(c)(3) non-profit animal welfare organization located at 200 Gable Drive in Sapphire, one-and-a-half miles east of the Cashiers Ingles in between Cedar Creek Club and Lonesome Valley on Highway 64 East. For more information, please call (828) 743-5752 or visit chhumanesociety.org.
---
---