Lucky Dog: Cashiers Highlands Humane Society
Written By: David Stroud - Cashiers-Highlands Humane Society | Issue: 2021/01 – Winter
The sweet story of Bill Wolff and his faithful Lucky is played out in endless variations among the residents of Cashiers-Highlands Humane Society and their adopters. To write your own tale, visit chhumanesociety.org or call (828) 743-5752.
---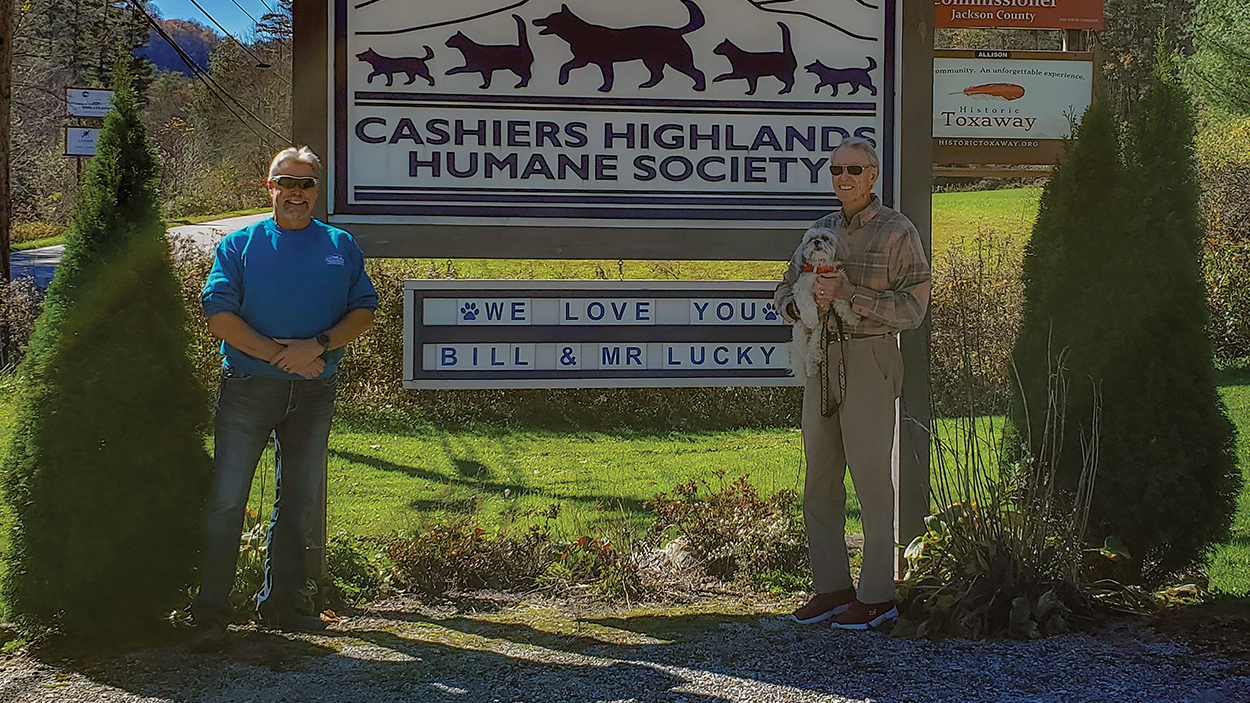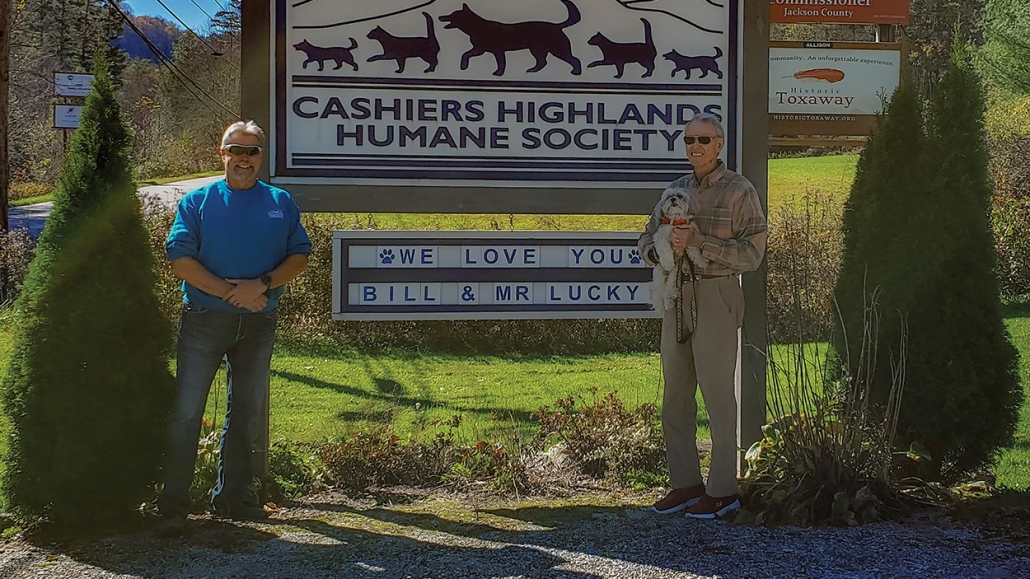 They say that a stray, sick or injured dog somehow instinctively knows which neighborhood, or which home, to go to in order to find safe refuge. They say that canines have this inner sense to detect where compassionate animal lovers may reside. 
Well, whoever "they" are, I happen to believe they're right. And so does Bill Wolff.
Bill is a beloved charter inductee of the Cashiers-Highlands Humane Society Hall of Fame and a past Vice President of our Board of Directors. He and his wife Patsy have been part-time residents of Highlands for decades. But although I could write a magazine full of stories about Bill's kindness, compassion and philanthropy, Bill had only one request of me about writing this story — "Please make it about Lucky."
A three-years-old (or so) Shih Tzu showed up on the walk outside the Wolff's front door on Lake Lanier in April 2016. The dog was in rough shape. Burns all along the underside of the pup's body indicated a life of confinement in a crate or other small enclosure with no outlet for even a daily potty break. It's a classic sign of cruelty and neglect that we often see in puppy mill survivors saved by the CHHS Animal Rescue Team.
The dog had no collar, no ID tag, and was not microchipped. Bill went to great lengths to find whoever might be missing the dog, even visiting the local county animal shelter. But this pup needed medical attention and needed it promptly. Bill knew the canine was suffering and he rushed him to his local veterinarian. The cost to treat the dog for his injuries was in the thousands of dollars. Bill paid the entire invoice. No one ever came forward to claim the dog.
When the folks at the vet's office asked Bill what was the name of the dog, Bill replied: "I don't know his name, but I would say he's Lucky."
Fast forward to today, and Mr. Lucky is Bill's constant companion. And more than one person, including Bill and yours truly, feel there was divine intervention involved with Lucky's first appearance on that walk outside the Wolff's front door. You see, Bill has been caring for his wife Patsy for a few years now as she has been suffering from Alzheimer's disease. 
In Bill's words: "I tell people frequently that God sent Lucky knowing what was going to happen in our lives with Patsy having Alzheimer's. Since Patsy is now living in a memory care center, Lucky is my constant companion and I cannot tell you how important he is in my life."
Bill and Mr. Lucky recently paid a visit to our shelter campus. The entire staff hosted a lunch for these two beloved VIP's, and it will be an afternoon we will never forget. Bill emailed me the next day and said, "David, I woke up with a smile on my face thinking about what a wonderful time Lucky and I had visiting the Cashiers Highlands Humane Society yesterday."
I woke up that morning with the same smile, too.
Some days are hard in animal rescue. We experience unimaginable loss and heartache. We see the worst that mankind can do to our four-legged companions who ask us for so little yet give us so much. 
Thank you, Bill, and thank you Lucky, for reminding us… this is why we do what we do.
Established in 1987, Cashiers-Highlands Humane Society is a 501(c)(3) non-profit animal welfare organization located at 200 Gable Drive in Sapphire, one-and-a-half miles east of the Cashiers Ingles in between Cedar Creek Club and Lonesome Valley on Highway 64 East. Our no-kill shelter is open Tuesday-Saturday 10:00 A.M. to 4:00 P.M. by appointment. For more information, visit us online at chhumanesociety.org or call (828) 743-5752.
---
---