Learning from Artisans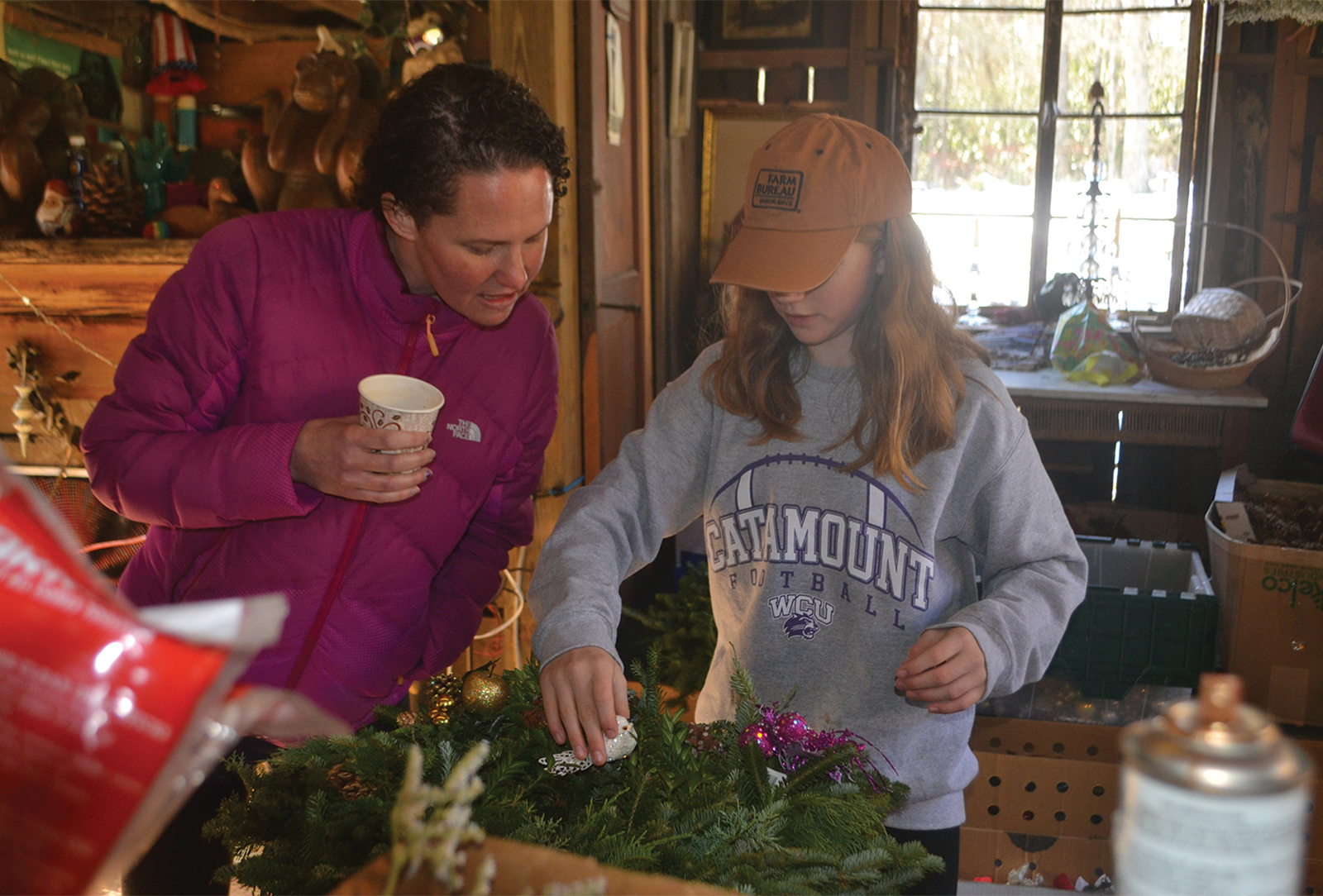 Written By: Elizabeth Spaulding - Big Brothers Big Sisters | Issue: 2018/03 - March
One of the perks of being a part of Big Brothers Big Sisters is learning from unique individuals that are skilled in various areas.
This winter, a group of Littles and their Bigs had the opportunity to participate in natural wreath making at Larry Haskett's home and workshop, Awe Naturals Wreaths, where he creates fresh wreaths out of natural greenery harvested from western North Carolina. Larry sources the various plants that are used in the wreath making from the wild. Each Little worked with their Big to create bundles of Fraser Fir which made up the base of the wreath, and then added embellishments of Juniper Berries, Boxwood, Cedar, and Sumac. Each bundle gathered was then put onto the metal wreath base and crimped in place. This process was repeated until the wreath was full and lush.
Then they took their handmade wreath into the decorating workshop to add their own design, using dried flowers that Larry collects throughout the year, three different types of pine cones and other natural and man-made decorations to adorn their unique wreath. This proved to be not only an educational activity, but also a wonderfully enjoyable and creative one.
The funds that we raise for BBBS go directly to our program and enable us to host group enrichment activities, like this, and to provide our Littles with individual experiences, like attending an overnight camp during the summer.
We are always looking for additional mentors of all ages who would like to commit to being a part of a child's life. Both Cashiers and Highlands branches offer both site-based and community-based programs that allow our volunteers flexibility and fun. The school-based program allows mentors the opportunity to assist children with academics and social skills weekly at school. The community-based program enables mentors the freedom to participate in activities that occur after-school or on the weekends twice a month.
If you want to learn more about mentoring through BBBS, please contact Elizabeth Spaulding at [email protected].
---
---