It's a Wonderful Life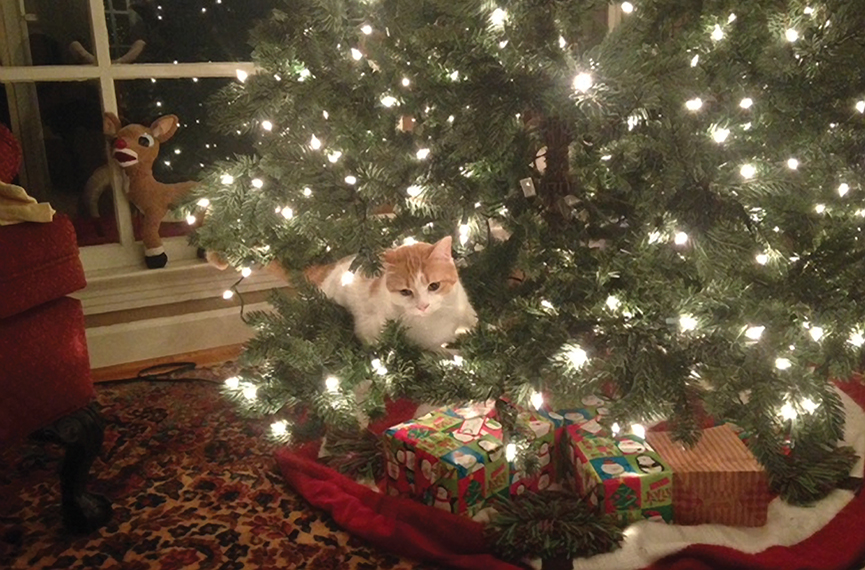 Issue: 2015/12 - December
All the special animals at the Forever Farm will be warm and happy this holiday season, and hopefully know that they are safe and loved. Some of our lucky residents over the years have been adopted into homes where they will be celebrating the holidays with loving families.
Juno is one of those adoptees. Juno was named after the month that she was found stuck in the tar in the Lake Toxaway area when they were paving the highway. A very compassionate employee of Haywood Electric rescued the little kitten and brought her to the Forever Farm. Juno was very lucky to not only have survived her dilemma unscathed, but was soon adopted.
Juno is five now, and she is absolutely sure that the tree brought into the house every December is for her pleasure. Every year she camps out in the Christmas tree, and claims it as her own, occasionally rearranging the decorations to suit her moods. And, she has been known to open presents meant for other family members. Shame on her :) If only all homeless animals could end up with such a wonderful life.
If you would like to help support our mission of helping senior and special needs animals during this holiday season, please send your tax deductible donation to Friends for Life, P.O. Box 340, Sapphire, NC 28747. Donations can also be made online at friendsforlifeforeverfarm.org. Call us at (828) 508-2460.
---
---