Earth Angels, Heidi & Eileen, Cashiers Highlands Humane Society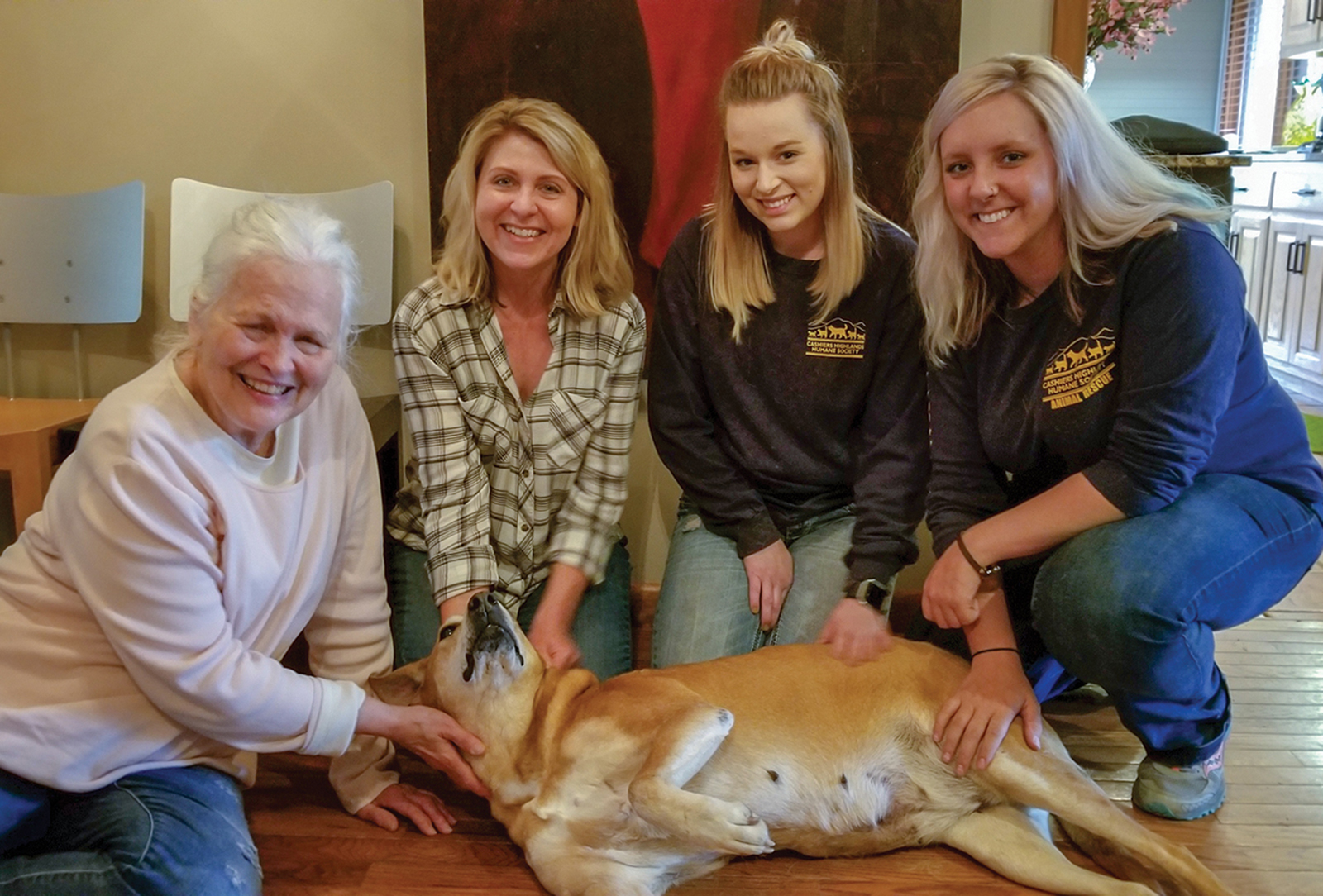 Written By: David Stroud - Cashiers-Highlands Humane Society | Issue: 2018/05 - May
If you don't believe there are angels on earth, then you haven't met Heidi and Eileen. We were blessed to take care of a brave canine survivor named Caramel for a short time in between the compassionate care Caramel received from these two amazing ladies.
Caramel was one of 31 canines rescued from an illegal dog meat farm in South Korea who arrived in North Carolina in October 2016. But Caramel was special. Not just because of her age—the other 30 dogs were two years or younger, and Caramel was 10 − but also because she had special medical needs. At her first vet check-up at the Animal Wellness Hospital of Highlands, Caramel was diagnosed with breast cancer.
Through email exchanges in the fall of 2016, CHHS Executive Director David Stroud became friends with a U.S. citizen in South Korea named Heidi Leland. Heidi was on the "front lines" and rescued Caramel from the meat farm and helped get her into the temporary sanctuary in Jeonju, South Korea, before Caramel and the other 30 dogs could be placed on the long flight to San Francisco, to Washington, D.C., and then to Raleigh, North Carolina.
"When I first saw Caramel, she was injured, had open wounds, and old scars all over," said Heidi Leland. "The floor of her cage was covered in feces and urine, and she was fed once or twice a week. She had no bed, no heat, and lived on a dirt floor."
Just before Christmas 2016, Caramel was adopted by a very special local resident who has a soft spot for animals with special needs, Eileen Anderson of Highlands. Among the staff and folks in the local animal welfare community who know Eileen, the consensus was that Caramel had hit the "doggie jackpot."
"She was my Christmas present," said Anderson, "and it was her story that made me want to adopt her. Melle (her new adopted name) is fabulous, and she fit in perfectly. Please go to our local Humane Society to adopt your next dog or kitty cat. Every one of them has a story."
After a year and a half, Caramel had a reunion last month with the rescuer in South Korea who saved her life. The reunion was hosted by Caramel's new forever mom. At times, there was not a dry eye in the house.
"When I heard she was taken in by the Cashiers-Highlands Humane Society but then learned she had been diagnosed with breast cancer," Leland said, "I knew she would have died a horrible death in South Korea had she not been rescued. I never thought I would see her again."
Leland, who has been involved in animal advocacy across the country and overseas, shared some very high praise for the 10-acre CHHS campus: "I wish and pray that more shelters could be like yours, not just in the United States, but in the world."
Stroud had some final thoughts on the reunion, and not just about the coming together of Caramel and her human rescuers.
"Over the past 31 years, CHHS has brought thousands of people and pets together. Korea and the United States have been in the news a lot lately, and I don't pretend to know the answer to all the world's problems. But I do know that despite the worst that mankind inflicts upon animals, dogs still accept us and love us, and they don't care about our artificially created borders. We could learn a lot from dogs about forgiveness, compassion, and unconditional love."
Cashiers-Highlands Humane Society is a 501(c)(3) non-profit no-kill animal shelter that receives no state or county tax dollars, and no funding from any national animal organization. CHHS is located on Highway 64 East in Sapphire and is open 10:00 A.M. to 4:00 P.M. Monday through Saturday. Visit us online at CHhumanesociety.org or call CHHS at (828) 743-5752. Tax-deductible donations to support our lifesaving work can be mailed to: CHHS, P.O. Box 638, Cashiers, NC 28717.
---
---