Drive-Thru Pet Food | CHHS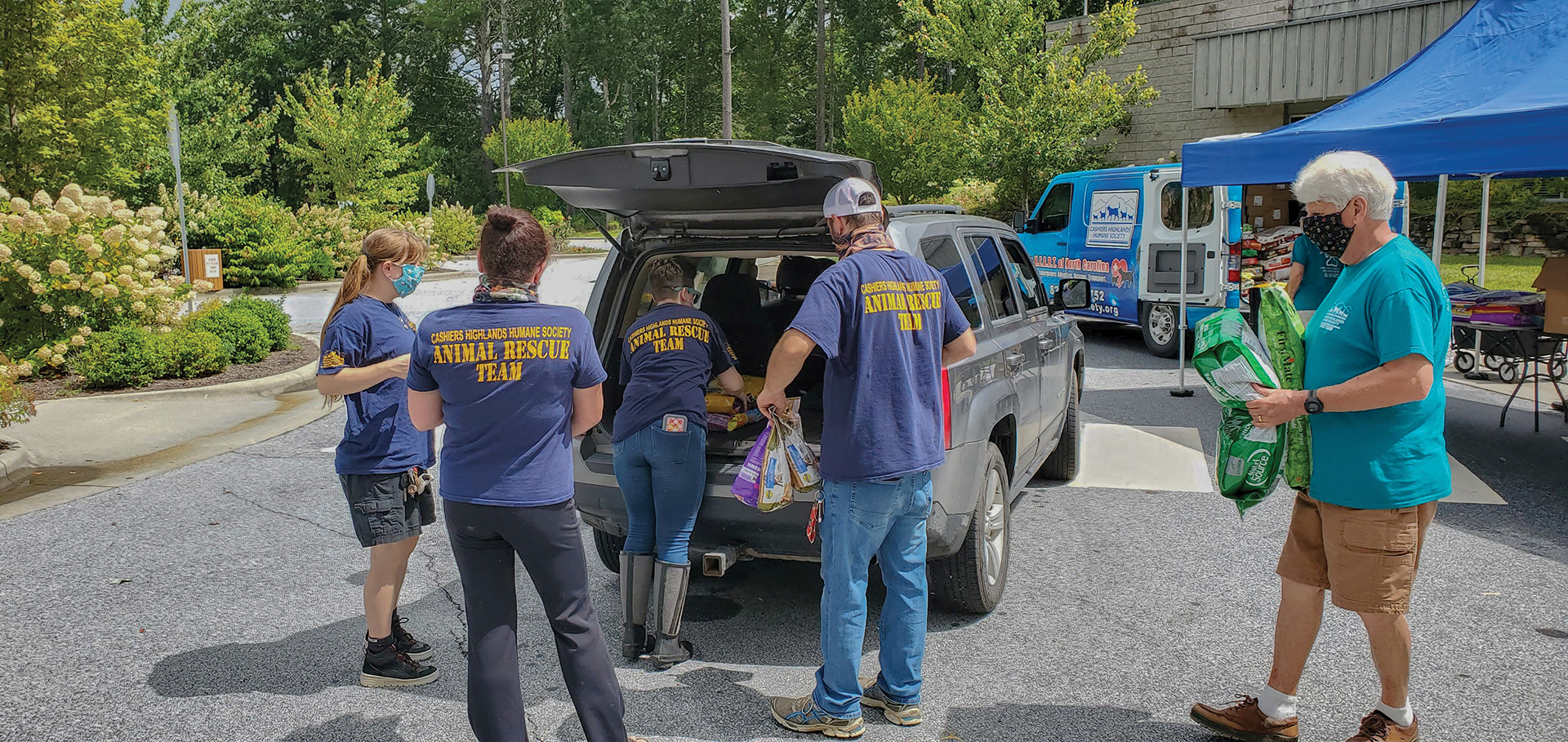 Written By: David Stroud - Cashiers-Highlands Humane Society | Issue: 2020/10 - October
The Cashiers-Highlands Humane Society recently presented a free pet food drive-thru event in the parking lot of the Cashiers/Glenville Recreation Center. 
Local pet owners experiencing financial difficulties in feeding their pets were encouraged to attend. Drivers did not need to exit their vehicles as CHHS staff and volunteers placed the donated food directly into cars and trucks shortly after arrival.
Based upon information provided by donation recipients, 112 animals in our community were fed because of the event. More than 1,700 pounds of dog food, cat food, and treats were distributed to animal-loving families in need who traveled from Cashiers, Cullowhee, Glenville, Highlands, Sapphire, Sylva, Tuckasegee and Webster for much-needed pet food assistance.
Also at the event, pet owners for 39 animals signed up for the CHHS low-cost and free spay/neuter program. In the past eight years, CHHS has provided subsidized and free spay/neuter for nearly 4,000 animals, significantly reducing the overpopulation of homeless pets in our community.
The CHHS "Meals from Monty" Pet Pantry program has supplied approximately 15,000 pounds of free pet food each year since 2015. The program is named after Monty, a cat adopted from CHHS and whose "Forever Mom" has generously provided donations to keep the Pet Pantry stocked over the years. A tremendous amount of donated food recently received from members of the Cullasaja Club also helped make the drive-thru event possible. 
"Not only does CHHS bring pets and people together through adoptions, we help keep pets and people together through programs like our pet pantry," explains CHHS Executive Director David Stroud. "No one should be forced to surrender their beloved canine or feline companion solely due to financial hardship, especially during these uncertain and unsettling times. Through our low-cost and free spay/neuter program, our low-cost rabies vaccinations, and our Meals from Monty free food pet pantry, we strive to keep pets in loving homes with their families."
Established in 1987, Cashiers-Highlands Humane Society is a 501(c)(3) non-profit animal welfare organization located at 200 Gable Drive in Sapphire, one-and-a-half miles east of the Cashiers Ingles in between Cedar Creek Club and Lonesome Valley on Highway 64 East. 
This no-kill shelter is open Tuesday-Saturday, 10:00 A.M. to 4:00 P.M. by appointment only. For more information, visit chhumanesociety.org or
call (828) 743-5752.
---
---