A Sure Sign at Peggy Crosby Center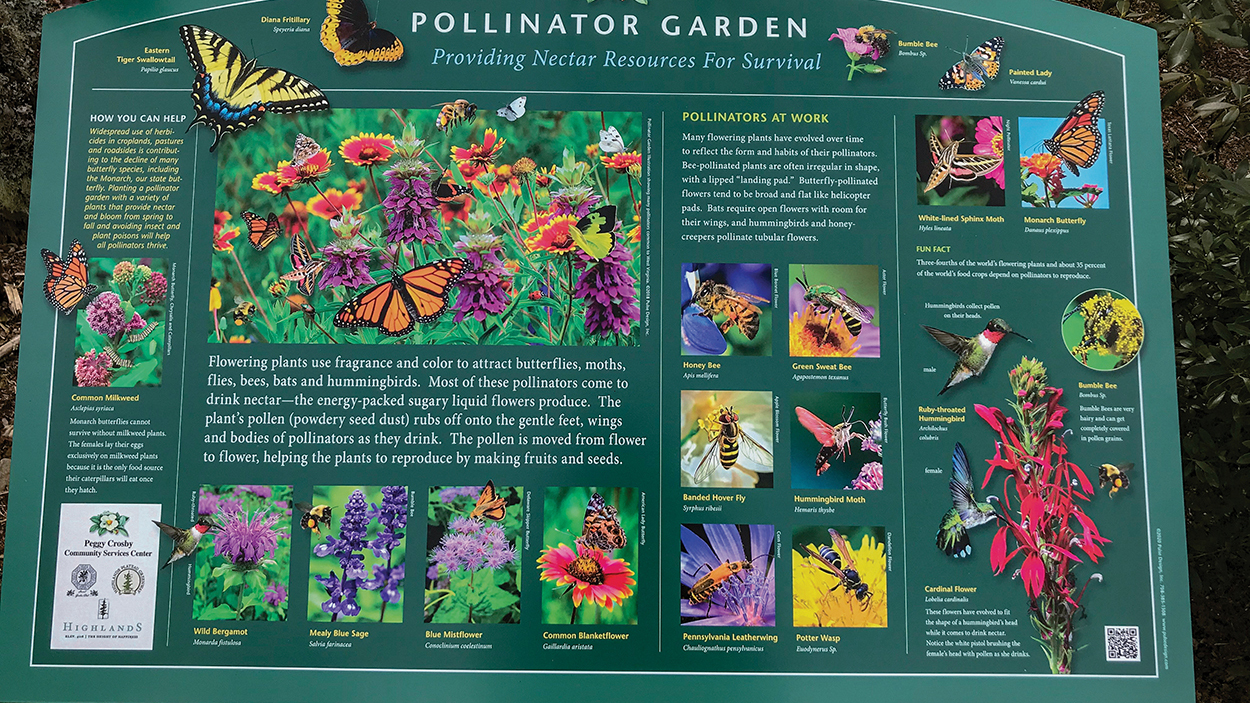 Written By: Canty Worley | Issue: 2021/05 – May
A new set of signs highlights the natural wonders at the Peggy Crosby Center.
---
There's no mistaking the mood in the Peggy Crosby Center gardens these days. With continued support from The Laurel Garden Club and a generous grant from the Highlands Chamber of Commerce, the grounds are now adorned with beautiful new signage to accompany the lovely Peggy Pollinator Gardens. 
Plans were already in motion to create educational signage in the garden before the pandemic, but with assistance of the Chamber's "Waking the Mountains" grant last year, the Center was able to take the message of environmental stewardship to another level.  
The two new garden signs are made of high quality aluminum panels with stunning ecological graphic designs to convey the importance of pollinator habitats.
Taking walks became a favorite pastime for many people during the pandemic. With Peggy's prominent position on The Highlands Plateau Greenway, there was an opportunity to enhance the possibilities for passersby (both locals and visitors) to enjoy and learn about the gardens on a more intimate level. 
The colorful new signs not only identify the intention of the gardens, but also offer educational opportunities through the interpretive components of their design. There's even a QR code that leads visitors to the Peggy Crosby website to learn more about the gardens and the organization. 
Stroll by Peggy's Garden and soak up the sights, fragrances, and buzzing pollinators doing their fertilizing fly-bys.  Perhaps you'll follow suit and start a small pollinator garden in your own yard. And don't forget to support all the businesses and charities Peggy houses (in addition to bees, butterflies, and hummingbirds). 
For more garden info contact Canty Worley: [email protected].
---
---