Through Generations
Written By: Luke Osteen | Issue: October 2023
M&Co., located at 782 Dillard Road in Highlands, is an invitation to take in the glorious Scudder Legacy, the quintessential Highlands Experience.
---
It's easy to be intrigued by M&Co., the gallery housed in the newly restored building with the broad door and red roof at 782 Dillard Road, just around the corner from Dusty's and DonLeon's and before you get to Highlands Country Club.
That wide oak door is like an invitation to browse, and that compulsion is multiplied when you peer through the windows and gaze at the collection of antiques and furnishings and knick-knacks, arrayed like a carefully calibrated bazaar. 
But the place takes on the properties of local legend when you discover that the proprietor is Marlene Scudder Buckalew, the daughter of Al and Joan Scudder. 
Al was, of course, the force of nature behind Scudder's Gallery, a Highlands Main Street institution for 41 years. Joan was there, too, every bit an equal partner in the business. 
Once you learn Al's story, you understand why people fondly recall summer evenings spent at "the auction," and why his spirit can still be discerned in his daughter's new gallery.  
His mother opened Scudder's Antiques in Silver Springs, Florida in 1925. Al was born into the business and, when his mother suffered a debilitating stroke, as a young man helped in its management and stabilized the business. 
In June of 1957, an enormous fire swept through Silver Springs and consumed the store and most of its inventory. 
Though it was engulfed in flames, Al ran into Scudder's Antiques and salvaged whatever he could.
This is where we first see the evidence of that Scudder zest for life. 
He and his best friends hung lights in the Palm trees in and around his mother's courtyard, donned dinner jackets, Bermuda shorts, and socks and conducted the first Scudder's Auction.
Everything sold, and Al was inspired to rebuild and start an auction business. But Silver Springs and all of Florida were beginning to radically change in the late 1960s and early 70s with the arrival of the Mouse Kingdom, and Al began to cast his vision toward greener pastures. 
He purchased a grocery store on Highlands' Main Street in 1976, and outfitted it with old theater seats, recovered in what would become their signature yellow and green plastic. 
Al and Joan began prowling Europe for antiques and induced son Frank to join the operation after college to manage the sprawling inventory and consignments and oversee the burgeoning staff. 
But at the center of it all was Al, shining like a new dime night after night. He'd regale his audience/bidders with a can't-miss repertoire of jokes and stories.
"This rug is like new and was located in the owners guest room," he'd proclaim, and then adding, "They had very few friends."
Or, if something isn't being bid on: "We will put this aside until the ladies from Walhalla arrive. They are bicycling up here and, if they don't get pulled over for peddling, they'll be here in about an hour."
Or, when the night is producing only low bids and minimal enthusiasm, "Please, Lord, send me some rich people tomorrow."
And when no bids are being made: "Does anybody know anybody who could use this table?"
No response.
"Does anybody know anybody who might know somebody who could
use it?" 
Or this chestnut, pulled out season after season: "My doctor told me to cut back on my drinking to one a day, and I've found my new drinking glass," and hoisting an enormous hurricane pitcher.
It was a perpetual stand-up routine, delivered with an auctioneer's assured cadence, interrupted by did-he-really-say-that remarks stage-whispered to a rapt audience. 
Naturally, all the sweet patter and quick asides wouldn't have kept the lights on, if Scudder's Gallery didn't serve up an endless stream of 18th century furniture, English estate silver, Czechoslovakian cut crystal, Chinese porcelain, Capodimonte Figurines, Minton China, and Bulgari, Tiffany, Cartier, and David Webb Jewelry, just to name a few of the name brand treasures. The staff educated the audience on dovetailing of furniture drawers, Black Forest furniture, and the art and time required to produce genuine oriental rugs. 
This curated cavalcade of treasures and Al's irrepressible showmanship created a May-to-November sensation that spanned decades. No seasonal getaway or Plateau holiday was complete without an evening at Scudder's.  
Finally, the unrelenting schedule and Frank's desire to retire led to the final auction on November 25, 2017.
During the three years it took to find a buyer for the sprawling Main Street building, Marlene began to entertain notions of relocating to Highlands from Atlanta. Al allowed their empty gallery to serve as her pop-up antique gallery. 
Her cowhide covered settees, footstools, and one-of-a-kind creations were an instant success and she decided to move her warehouse from Atlanta to the more pastoral setting of Highlands – and here we are with her gallery on the Dillard Road.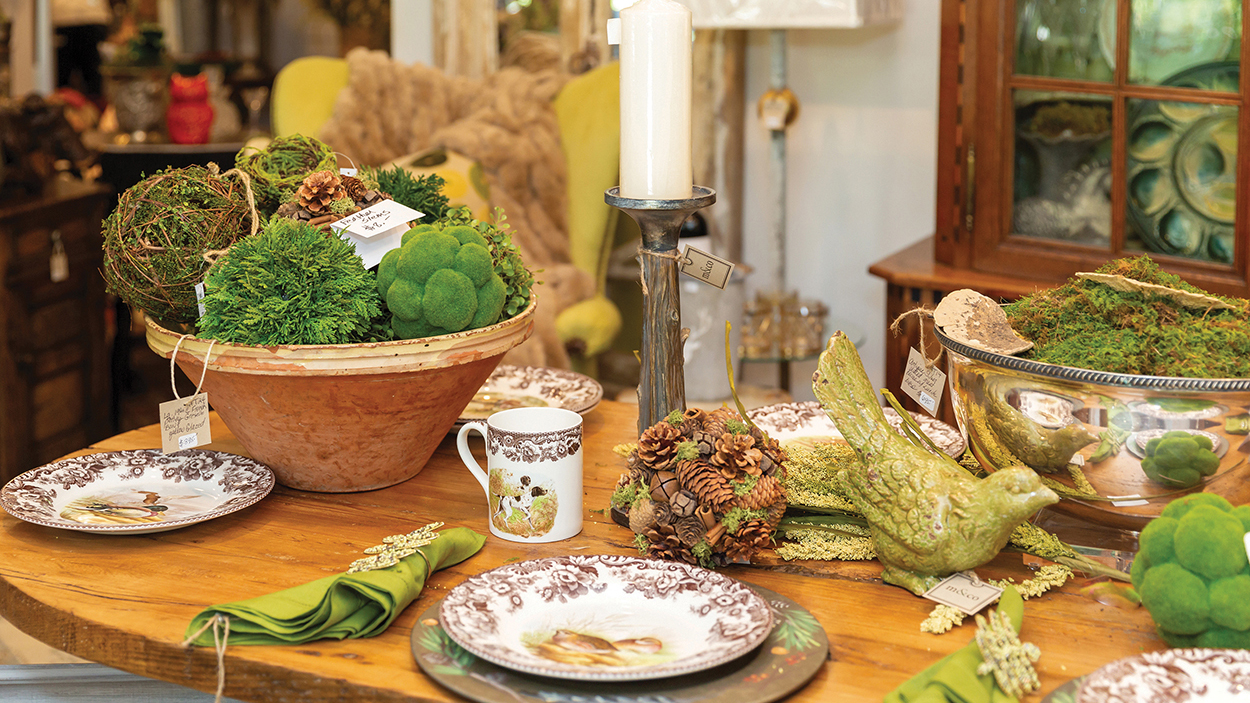 M&Co. have maintained the family legacy of purveyors of fine 18th Century European and English furniture, fine art, and tailor-made genuine oriental rugs. Marlene and her husband Michael regularly scour Belgium, the Netherlands, France, Wales, and England for unique treasures for their patrons.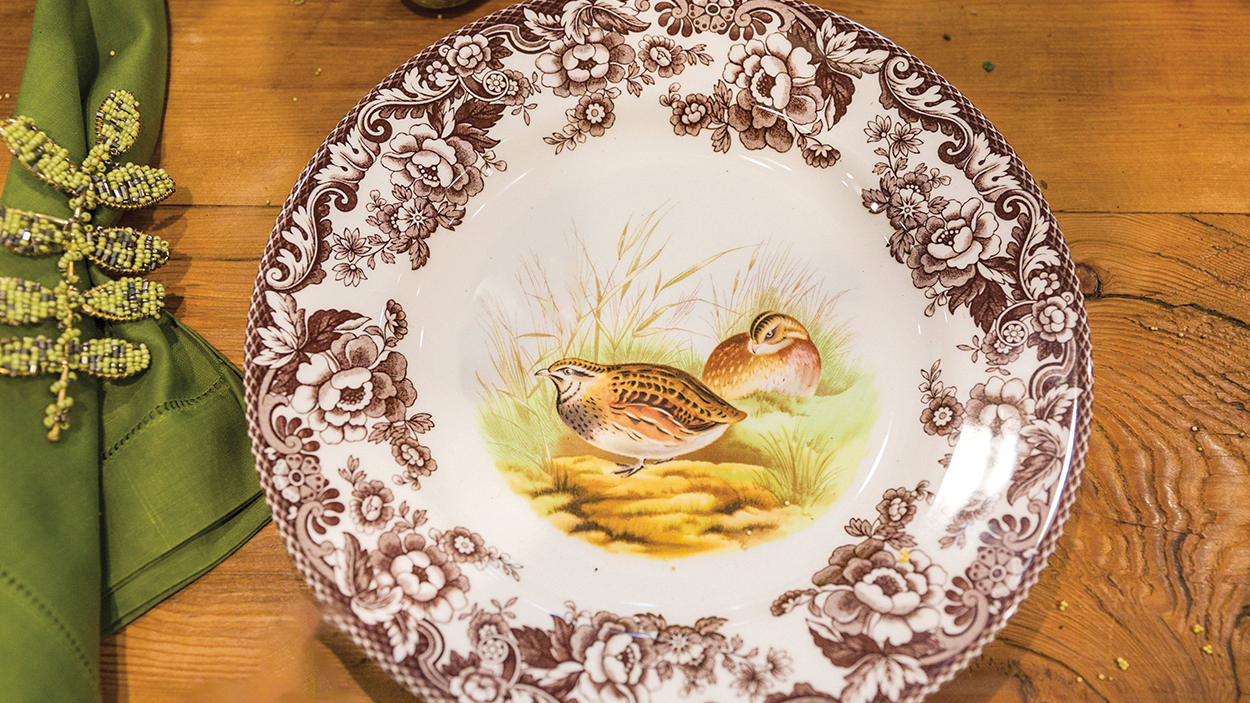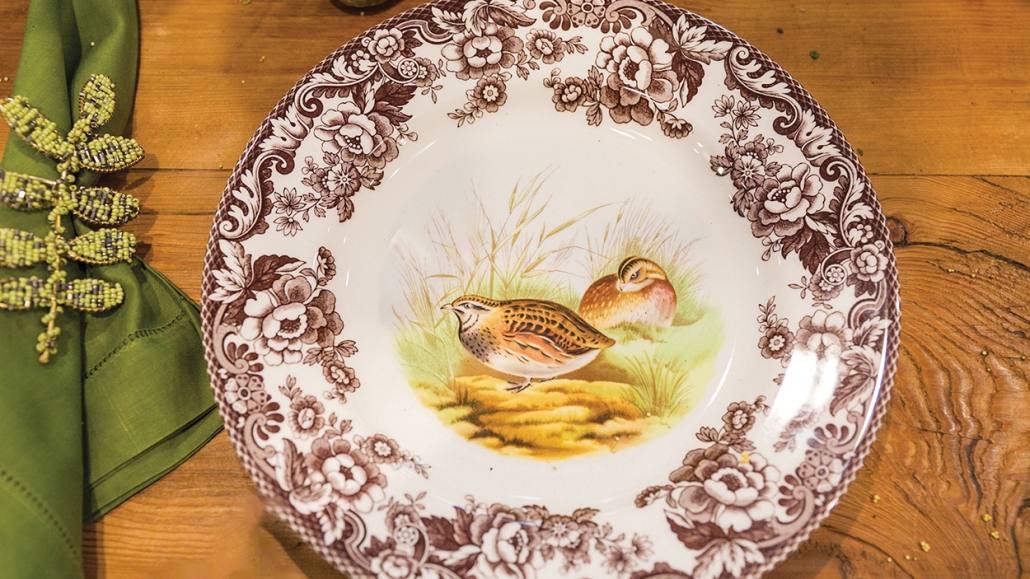 Marlene, a former designer, has a unique talent for repurposing architectural elements, old bookends, old brass, the steering wheels of vintage cars, and anything from crab traps to old barn wood into tables, lamps and wall hangings. Her aesthetic sense enables her to bring many elements together to create a warm, unique and interesting space.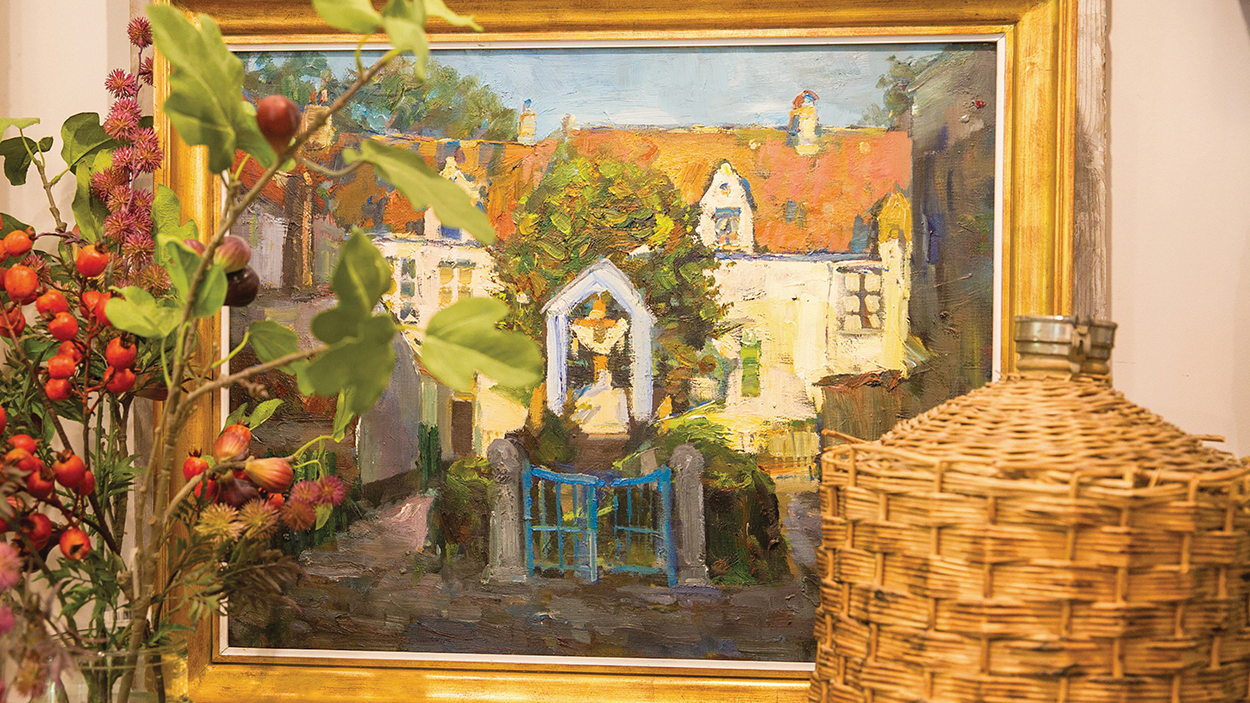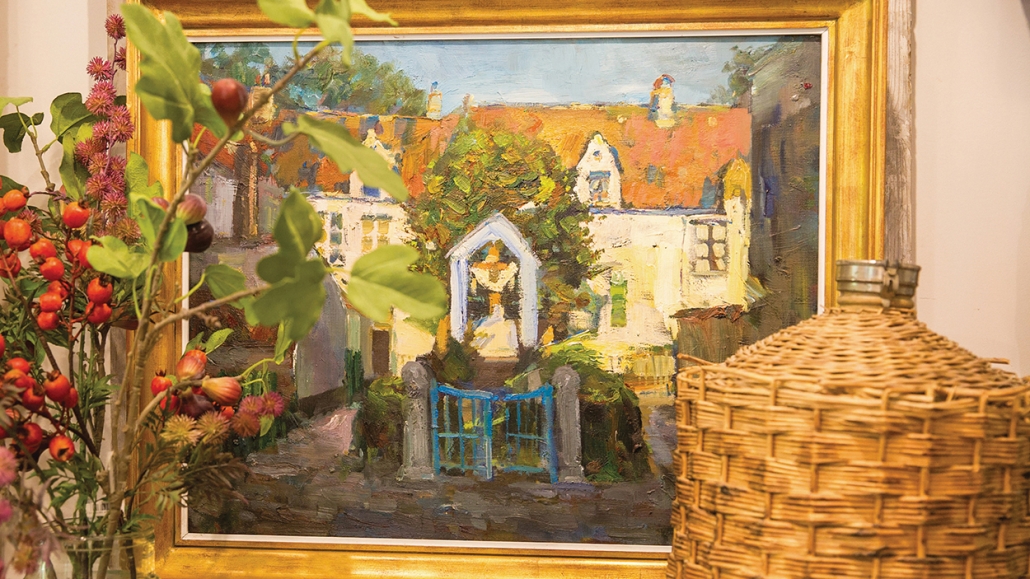 Michael's eye for art and his patient restoration talents bring old wood back to its former beauty and gives awesome lost art new homes.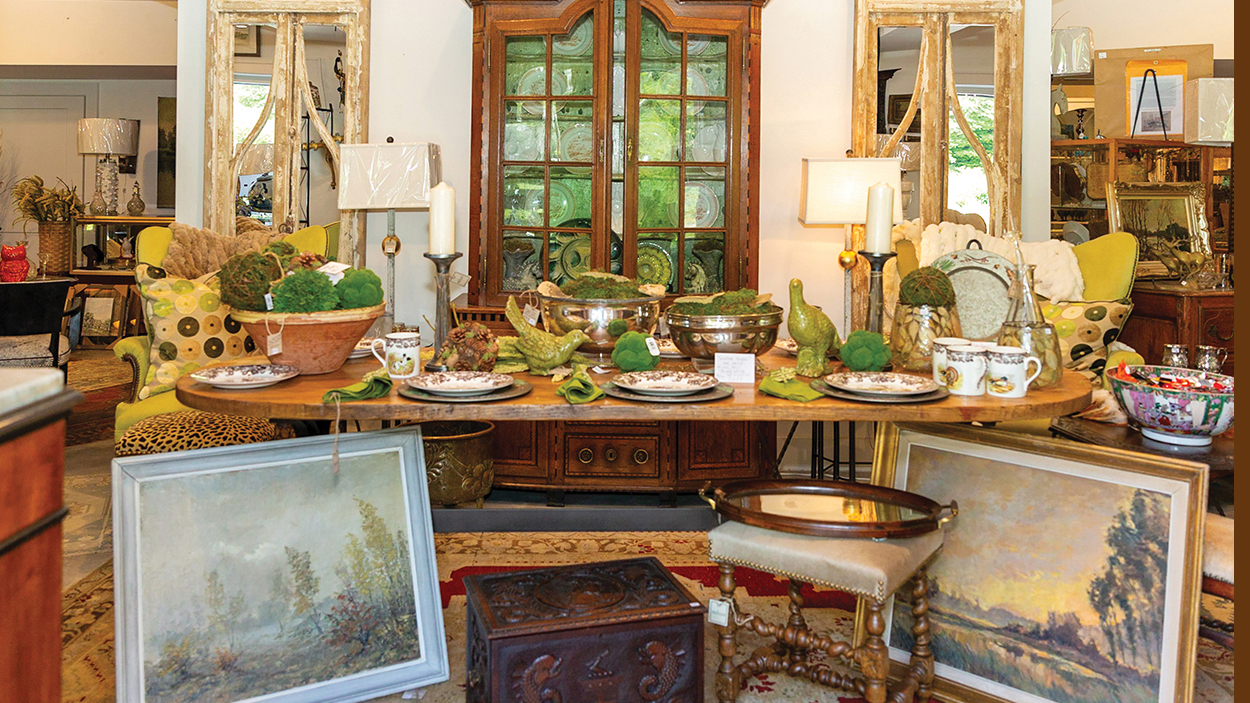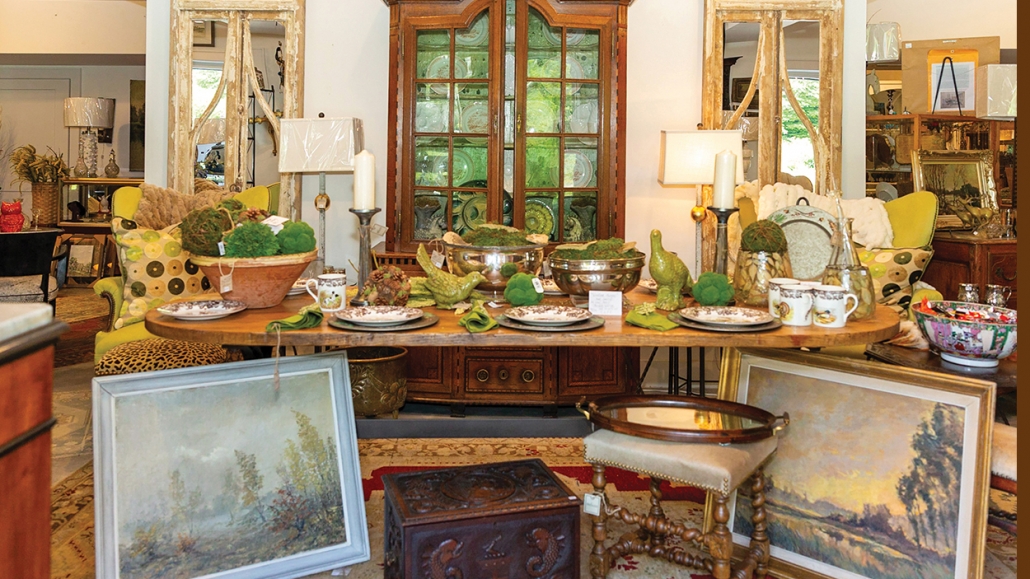 M&Co. offers an eclectic array of old and new furniture, art and decorative items. Farm tables can be made to order. Select consignments are sometimes available. Browsing the store is not to be missed. If you haven't visited already, Marlene and Michael cordially invite you to do so. 
Experience the Scudder Legacy's – 11:00 A.M. to 5:00 P.M. Wednesdays through Saturdays (seasonal hours). 
Who knows, Al Scudder may be there to reminisce or offer a startling story.
In a personal recollection, let me say that when my son Alex was in Mrs. Mayer's sixth grade class at Highlands School, he chose to write a report about Scudder's Gallery. For some reason, Al wasn't available for an interview, but both Frank and Joan patiently answered Alex's questions. They must have been thorough, because Alex earned an A for his report, but what stood out for him – more than an inventory of (nearly) priceless antiques and exquisite jewelry culled from estates across the globe – was the astonishing fact that Joan served him six cookies during the course of their interview. 
In putting this story together, Marlene mentioned that guests at M&Co. are sometimes treated to a glass of cognac and a cigar in the outdoor garden behind the gallery. 
I don't know if she'll serve you six cookies. Maybe you have to ask. Maybe you have to tell her you're writing a report.
---
---